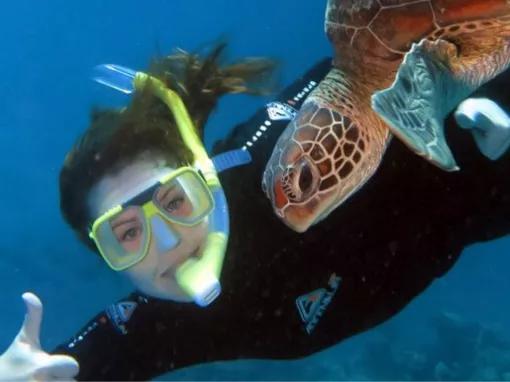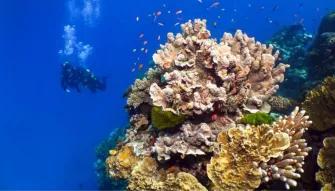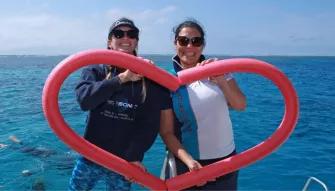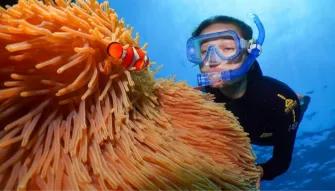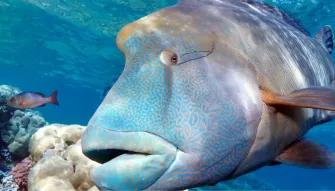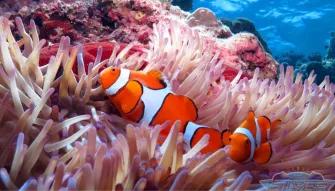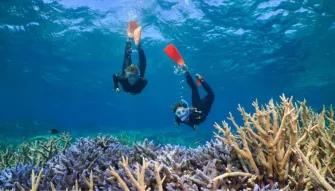 Silversonic Outer Barrier Reef Snorkelling and Diving from Cairns
Not Available
This ticket is currently not available
This could be because:
We have sold out
New seasonal tickets are not yet available
In the meantime:
Call us on 0800 223 0324
Sign up to hear the latest news and offers:
Sign up for our newsletter
no ticket modal
Full details
Visit three different Agincourt ribbon reef sites
Get set for an exhilarating day of fun, discovery and adventure with Silversonic, diving and snorkelling the wonders of the Great Barrier Reef. Visiting 3 different reef environments in one day, this is the perfect day for those that seek adventure.
Our guide to Silversonic Outer Barrier Reef Snorkelling and Diving Adventure with hotel transfers from Cairns
On this tour, you'll have access to explore three stunning and exclusive reef sites at the renowned Agincourt ribbon reefs, each chosen for their visual and ecological diversity with respect to your diving and snorkel adventures.
You will spend over five hours at the reef and enjoy unlimited snorkelling plus up to three certified dives (see ticket options below).
You'll be taking this tour in comfort and style with a friendly and knowledgeable crew and Silversonic has everything you'll need to experience an underwater world of colourful marine life in safety. With a large submerged platform, access to the water is so easy or you can simply relax on the spacious deck areas.
There are hot freshwater showers, changing rooms and even a licensed bar - a great place to share tales of your adventure on the homeward journey.
Example Itinerary - (subject to change without notice)
From 7.30am: Check-in at Quicksilver Cruises office at the Port Douglas Marina for your boarding passes.
8:00am: Vessel boarding. Complimentary morning tea/breakfast served.
8:30am: Depart Port Douglas Marina for the Outer Reef. On the outward journey, certified and introductory dive briefings begin.
10:15am: Arrive at first Agincourt Reef site. Divers gear up, while snorkellers' site briefing begins. Get ready to see the beauty of this natural wonder!
11:30am: Silversonic departs for the second reef location. Option for introductory divers and certified divers to do a second dive. Snorkellers site briefing.
12:00pm: Tropical hot and cold lunch served in the air-conditioned cabin.
1:40pm: Silversonic departs for the third reef location. Snorkellers are once again briefed as to the best areas to snorkel and Guided Snorkel Tour. Option for certified divers to do a third dive or second introductory dive.
2:30pm: Afternoon tea served.
2:50pm: All passengers board vessel for final passenger count.
3:00pm: Silversonic commences return journey to Port Douglas.
4:30pm: Silversonic arrives at Port Douglas Marina.
4:55pm: Coaches depart for accommodation.
Ticket Options
You can choose from the following types of ticket:
Standard Snorkelling Ticket - With a guided snorkel tour included, snorkel briefs at each reef site and lifeguard snorkel officers supervising, you'll be able to explore the underwater delights in complete safety. Access to the water is so easy from a large submerged platform on the back deck.
Certified Scuba Dive Ticket including dive gear and wetsuit - As a certified diver, you can enjoy up to three spectacular dives, experiencing three different Great Barrier Reef environments when you travel with the Silver Series for your dive adventure. With the most extensive range of dive sites to visit daily, divers of all levels from novice to experienced will be excited by the range of experiences our magnificent sites present including drift and wall dives, bommie and pinnacle, coral gardens and swim-throughs. Our professional instructors accompany all dives at no extra charge, ensuring maximum safety and enjoyment. They have intimate local knowledge of the reef systems we visit and are passionate about sharing this! Certified dives last approximately 40 minutes or more. You can choose from 1, 2 or 3 dives!
Certified Scuba Dive Ticket including tanks and weights only - As above but ideal if you intend to bring your own gear. Also available for 1, 2 or 3 dives.
Introductory Scuba Dive including dive gear and wetsuit - So you'd like to take the plunge! With an Introductory Dive (or sometimes known as a "Discover Dive" or "Resort Dive"), no previous experience is necessary and you'll be able to experience the excitement of scuba diving whilst under very close supervision of an instructor. Our onboard and highly skilled dive instructors will take you step by step through the whole experience, from the dive briefing lecture, the equipment and the dive, to ensure all facets of your dive are comfortable and most of all enjoyable.
Departs:
Monday, Tuesday, Friday, Saturday and Sunday 
Start times:
8.30am
Duration:
Around 8-9 hours.
Terms and conditions
Terms and conditions for Silversonic Outer Barrier Reef Snorkelling and Diving from Cairns
Diving is not included unless you select one of the diving tickets.
Those wishing to dive will be required to fill out a medical questionnaire onboard before diving. Certain medical conditions and medications may preclude some people from diving.
Silversonic recommends a wait of 12 hours but preferably 24 hours if doing multiple dives, before ascending to an altitude of 300 metres or greater.
Snorkelling can be a strenuous activity. Please use caution and inform the crew of any medical conditions.
The minimum age for diving is 12 years. Children under the age of 15 years are unable to travel without a parent or legal guardian. Children between the ages of 15 to 18 years can travel unattended but a dive waiver (either certified or introductory) and a letter signed by the parent/legal guardian, permitting the child to dive, must be presented to the crew on the day before travel. Please contact the Silversonic office for the required paperwork.
Bring along a towel, sunscreen, hat, swimwear and camera to capture your memories. Limited underwater digital cameras are available to hire on board.
On very rare occasions, services can be subject to the effect of weather or unforeseen circumstances. Should a cruise not operate for any reason passengers will be offered an alternative day or a refund authorised.
An Environmental Management Charge of $7.00 is levied on all adults and children 4 years and over entering the Great Barrier Reef World Heritage area. This charge is included in the above prices.
Surcharge: Due to potential significant volatility in supply & operational costs a surcharge may be applied due to unforeseen circumstances. In such cases any charge will be collected on departure.
*Cancellation Policy: Free cancellations for bookings cancelled before your holiday departure date. No refunds are given for cancellations made post-departure. 
FAQs
Frequently Asked Questions for Silversonic Outer Barrier Reef Snorkelling and Diving from Cairns
What is the difference between Silversonic and Silverswift?
Both are identical sisterships, 29-metre high-speed catamarans custom-designed for scuba dive and snorkel operations. Both visit 3 different reef sites and spend 5 hours at the reef. The difference is where they are based and the reef sites they visit. Silversonic departs from Port Douglas and has the choice of 22 stunning Agincourt ribbon reef sites to visit daily. Silverswift departs from Cairns and has the choice of 16 spectacular outer reef sites at Flynn, Pellowe, Milln and/or Thetford Reefs.
What is the difference between the reef sites Silversonic and Silverswift visit?
The reef systems that Silversonic and Silverswift visit are approximately 100 km apart giving rise to very different styles of reef formations and marine life. Both provide spectacular experiences for divers and snorkellers. Silversonic takes you to the Agincourt ribbon reef systems at the very outer edge of the Great Barrier Reef. Parallel to the Continental Shelf, they are recognized as the most pristine eco-systems in the reef's environment. Clear water provides the best possible underwater visibility, encourages rich coral growth and supports spectacular marine life. Agincourt's formations offer large wall dives as well as great bommie and pinnacle sites.
Are there any sharks on the reef?
Yes, there are sharks in every ocean and a variety inhabit the Great Barrier Reef. The most frequently seen sharks are white and black tip reef sharks which are quite timid and pose no threat to divers and snorkellers.
What is the "Outer Edge"?
The Outer Edge is where the Continental Shelf ends and the deep ocean begins. At the Outer Edge, the ocean floor drops from 30 – 40 metres to hundreds of metres. Ribbon reefs are situated on the edge, hence the name the "Outer Edge".
Do you really go to the Outer Edge?
Yes, Silversonic travels to Agincourt reef which is a ribbon reef on the very edge of the Great Barrier Reef. It sits approximately 5 km from the edge of the Continental Shelf.
How many hours are we at the Reef?
You will have over 5 hours at the reef sites combined.
What sort of marine life will we see?
All of the reef sites offer great ecological diversity and an abundance of marine life. Some of the commonly seen marine life includes turtles, anemone fish (Nemo), lionfish, cuttlefish, moray eels and reef sharks.
Will we see whales?
From May to September, there is a bonus of potential whale sightings as these gentle giants migrate to warm tropical waters to mate and give birth. The commonly sighted species are dwarf minke and humpback whales. A unique treat is to see the famous Migaloo, a rare white humpback whale. Silversonic has one of the few permits available from the Great Barrier Reef Marine Park Authority that allows guests to swim with dwarf minke whales if encountered. In season, these inquisitive creatures are frequently sighted at the Agincourt Ribbon Reefs where Silversonic visits. This activity is conducted under strict codes of practice.
What are Lycra Suits? Are there any stingers?
Lycra suits are available on board to reduce the possibility of stings and irritations while also offering protection from the sun. At certain times of the year (generally November – April), jellyfish, commonly called marine stingers, can affect the seas of Northern Australia. Most jellyfish are harmless to man, however certain varieties may cause a serious reaction. Incidents involving serious marine stings in this area are extremely rare. The crew are conscious of the danger of marine stingers and will take appropriate steps to ensure your protection if they believe conditions are such that there is a possibility of encountering these creatures.
Do you have foreign speaking dive/snorkel staff?
The crew do speak several different languages, however, a specific language cannot be guaranteed on any given day of travel due to staff rosters. We recommend you contact the Quicksilver office before travel.
Do you provide optical masks for snorkellers and divers?
Standard masks magnify objects underwater by 25%, however, prescription masks are also available ranging from -2 to -7 in strength. Prescription masks are available at no extra charge.
Do you need to know how to swim to dive?
Not technically. It is recommended however that if you can't swim but would like to do an introductory dive, that a reef platform such as Great barrier Reef Adventure or Outer Barrier Reef Adventure cruise would be better suited to ensure the best experience.