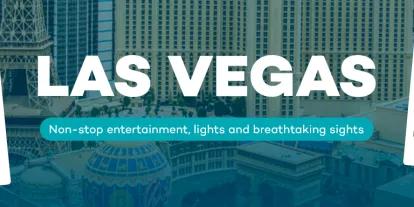 Book Las Vegas with AttractionTickets.com
Added Happiness! Enjoy the best of Las Vegas and the Grand Canyon. A great range of tours, attractions and shows are available to suit all budgets and time constraints.
When you think of Las Vegas maybe weddings, casinos and decadent hotels spring to mind. But there's much, much more to this city of excesses than you might think! From helicopter flights over the strip to hot air balloon rides and from Hoover dam excursions to shooting experiences there are plenty of Las Vegas attractions outside of the casinos. 
Las Vegas is the natural base from which to explore the spectacular Grand Canyon, and we are proud to offer a selection of exciting day trips and tours from Las Vegas to suit all budgets and time constraints.  As a general rule, a Grand Canyon helicopter tour will get you closer to the Canyon and many flights include a descent and landing within the actual walls. A Grand Canyon Plane tour will carry you further into the Canyon and offer spectacular aerial views of the West and South Rim. Grand Canyon coach tours will afford you the opportunity to really appreciate the vast wilderness around you and present some classic photo opportunities. Whatever you choose, we can help you visit the Grand Canyon from Las Vegas in style!
When it comes to the city itself, you can explore on foot, including the famous 'Welcome to Fabulous Las Vegas' sign, all the hotels and resorts along Las Vegas Boulevard and Fremont Street in Downtown Vegas. Alternatively, rest your feet and take to the skies and see all that the Strip has to offer by helicopter, whether you want to explore by day or prefer a Vegas night flight. 
If it's Las Vegas show tickets you're looking for, we offer an unrivalled and vast range of tickets for shows such as Michael Jackson One – Cirque du Soleil, the Blue Man Group and, of course, Britney: Pieces of Me! Experience an event like no other as the showiest place on Earth really goes all out, all in the name of your entertainment! With so much to do, it's important to plan and book tickets early with us to avoid disappointment and long waiting times.
Terms and Conditions:
People interested in also viewed...
Back to offers