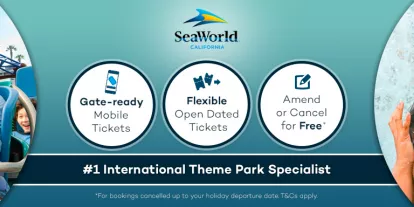 Great Reasons to Book SeaWorld California Tickets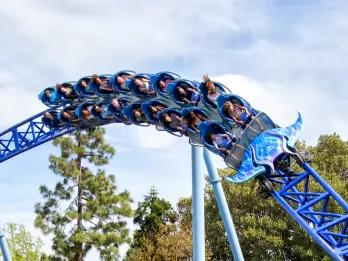 Mobile ticket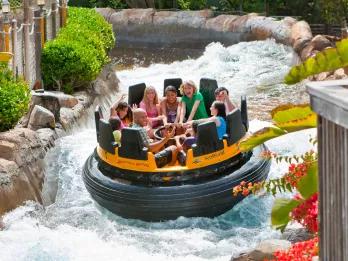 Mobile ticket
Mobile ticket
Added Happiness! Experience thrilling rides inspired by the force and power of the sea. Enjoy fabulous, family-friendly activities and presentations. Explore beautiful aquariums, visit sea animals and much more!
Thrill seekers should head straight to the heart-racing Electric Eel™, a multi-launch coaster with high-energy twists, electrifying loops and inversions. Feel the thrill of Tidal Twister™, a unique duelling rollercoaster ride featuring high-speed turns and upside-down twists. Connect with the sea through up-close animal encounters with sea lions, penguins and dolphins. Witness live natural killer whale behaviours up close in Orca Encounter™ then race, explore and play at the interactive attraction Turtle Reef where you'll experience the world of the sea turtle.
Now Open: Emperor Soaring more than 60 mph, SeaWorld's all-new coaster, Emperor, is the tallest and fastest floorless dive coaster in the state. Dangle and drop more than 150 ft on Emperor before plunging 90 degrees into exhilarating loops, a tribute to the Emperor penguins' journey from chilly, frosted cliffs to their deep dive into the depths of the ocean. Emperor is California's first floorless dive coaster.
Opening 2023: Arctic Rescue Experience every icy thrill as you navigate three exhilarating launches and reach wind-whipping speeds of up to 40 miles per hour.
Terms and Conditions:
People interested in also viewed...
Back to offers