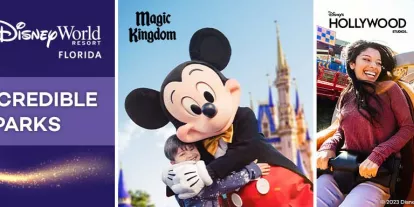 Walt Disney World Resort in Florida - Four Incredible Theme Parks
Added Happiness! There is one place on Earth where the power of magic ignites the wonder that lets everyone be a kid – no matter who they are. Walt Disney World Resort in Florida welcomes all to stunning worlds, favourite stories and far-off galaxies.
Explore incredible lands and attractions in four amazing Theme Parks that immerse you in fantasy, adventure, natural wonders and new possibilities. Discover magic in every drop at amazing Water Parks. Shop, dine and play at Disney Springs. And escape into imaginative Resort hotels as you stay in the magic and wake up in a dream. Here, the magic finds its way into every moment, every encounter and every heart to make memories magical enough to last a lifetime.
Terms and Conditions:
People interested in Orlando also viewed...
Back to offers