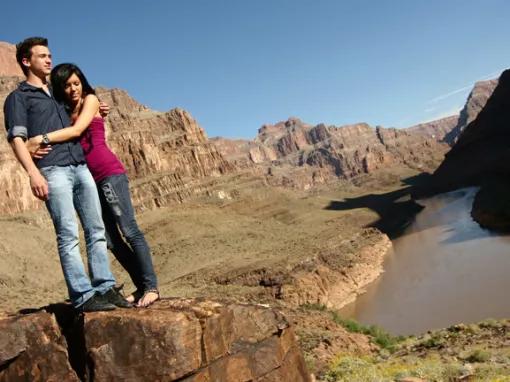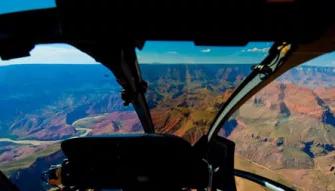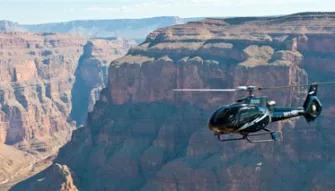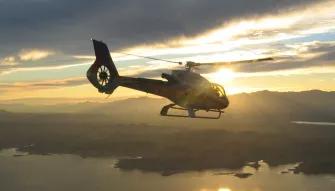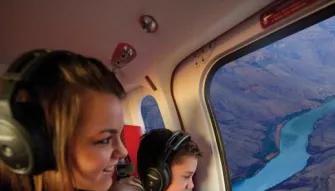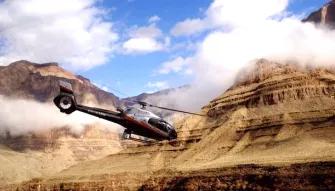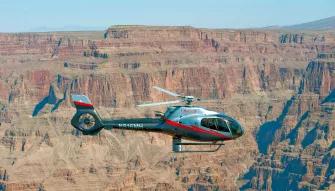 Grand Canyon Helicopter Flights
Full details
Exceptional views in a once in a lifetime experience.
Etched by the mighty Colorado River, the Grand Canyon is incomparable, incredible, seemingly infinite and rightly one of the natural wonders of the world. For the most spectacular panoramic views a Grand Canyon Helicopter Tour over the Canyon is a must.
Our guide to Grand Canyon Helicopter Flights
We have a great selection of Grand Canyon Helicopter Tours to cater for every budget and time constraint. All Grand Canyon helicopter tours from Las Vegas take you to the West Rim and as a general rule, a helicopter ride will get you closer to the Canyon than a plane flight with many Grand Canyon Helicopter tours including a descent and landing within the actual walls.  
Grand Canyon Helicopter Tours departing Las Vegas
Grand Celebration Helicopter Tour – Land in the depths of the Canyon's West Rim on the banks of the Colorado River for a champagne picnic. A sunset departure is also available, plus extended tour options that include visits to Grand Canyon Skywalk or a rafting trip through Black Canyon.
Golden Eagle Helicopter Tour – This non-stop Grand Canyon helicopter tour takes you soaring below the West Rim of the Grand Canyon and also takes you over sites such as Lake Mead and Hoover Dam. There is also an extended Golden Eagle Helicopter Tour option that visits Grand Canyon Skywalk.
Wind Dancer Helicopter Tour

 - A great option for those looking for a VIP Grand Canyon Experience. Soar over the Grand Canyon before enjoying Champagne and light snacks at an exclusive landing point on the floor of the Grand Canyon itself.

Silvercloud Helicopter Tour – This premium Grand Canyon Helicopter tour is perfect for those with limited time and offers a VIP helicopter experience to the Grand Canyon without landing on the Canyon floor itself.
Skywalk Odyssey Helicopter - This deluxe helicopter tour to the Grand Canyon combines an exciting helicopter flight with tickets to the Grand Canyon Skywalk.
Indian Territory Helicopter Tour – This extended version of the Wind Dancer Helicopter Tour takes you further into the Grand Canyon to explore the scenic West Rim including visits to Eagle Point and Guano Point. 

 
Grand Canyon Helicopter Flights Reviews
They are fantastic once in a lifetime trip

Kenneth Horwell reviewed Grand Canyon Helicopter Flights 18 May, 2023

If I could give 6 stars I would have done. Brilliant day and a fantastic experience. Awesome lady pilot (Michaela) very knowledgeable and made the day extra special

Steph Woodstock reviewed Grand Canyon Helicopter Flights 09 May, 2023

Nice size chopper with good leg room and A!

Ian Mallinson reviewed Grand Canyon Helicopter Flights 25 Apr, 2023

Fabulous experience, a definite must do!

Trusted Customer reviewed Grand Canyon Helicopter Flights 25 Apr, 2023

Would definitely suggest taking this trip

Luminita Nastase reviewed Grand Canyon Helicopter Flights 29 Mar, 2023
People who purchased Grand Canyon Helicopter Flights also viewed...