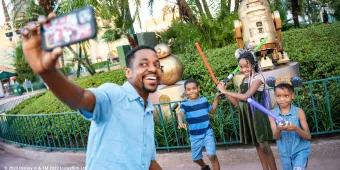 Can you find all 50 Characters?
Look out for some of your favourite Disney Characters throughout the Walt Disney World Resort as part of the 50th Anniversary celebrations.
The World's Most Magical Celebration is well underway at Walt Disney World Resort in Florida, celebrating 50 years of The Most Magical Place on Earth. As part of the festivities, the whole resort has been decked out with 'EARidescent' decorations including golden statues depicting 50 classic Characters! 
These statues are spread around the four parks, in places you might not always expect, making it great fun to try and find all of them throughout your holiday! But if you need a bit of help, here's our guide to the Fab 50 Character Statues and where you can find all of them!
Magic Kingdom Park
Lady and The Tramp - these two playful pups are likely the first statue you'll see, located at the top of Main Street U.S.A. in the Town Square. 
Winnie the Pooh and Piglet - these cuddly friends can be found in the Cinderella Castle Hub, on the way to Adventureland in front of Crystal Palace Restaurant. 
Dumbo and Timothy Mouse - this pair are on the other side of the Cinderella Castle Hub, on the way towards Tomorrowland. 
Mickey and Minnie - everyone's favourite mice take pride of place in front of Cinderella Castle and the Partners Statue. If you're lucky there might be a PhotoPass photographer at this location to take a few pictures between the two!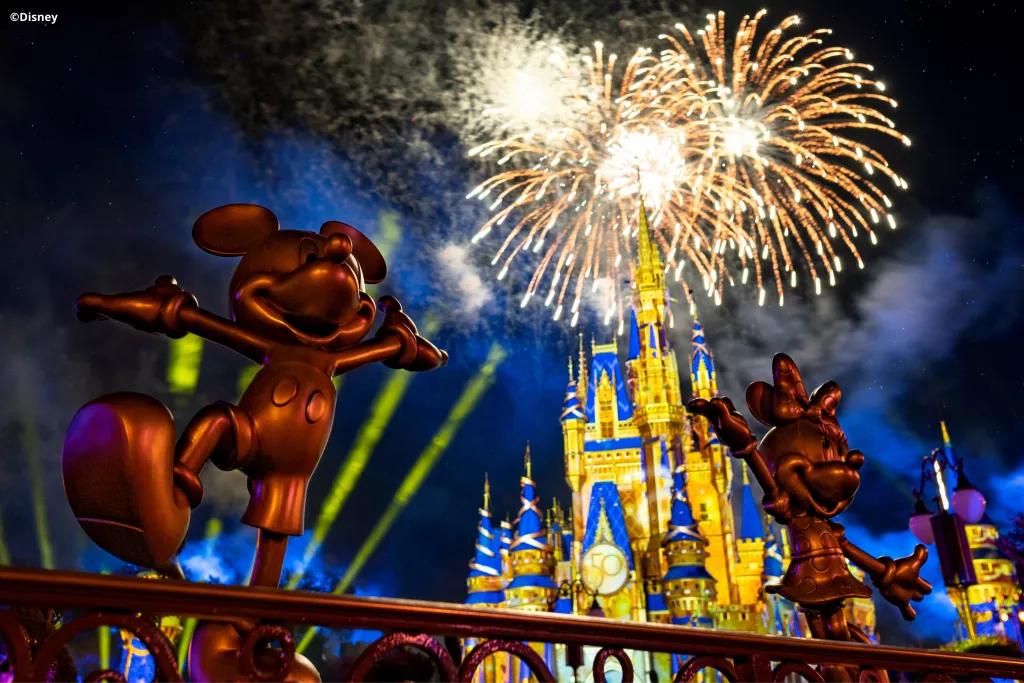 Donald and Daisy - this couple of ducks can also be found in the Hub in front of Cinderella Castle. 
Goofy and Pluto - these statues are close to their Fab 5 friends around the Cinderella Castle Hub. 
Chip and Dale - these cheeky chipmunks finish the character line-up around the Cinderella Castle Hub. 
Tinkerbell - this is one of the trickier statues to find, as it's hidden up in the trees close to Cinderella Castle. 
Gus and Jaq - of course Cinderella's best mouse friends can be found close to her Castle, underneath the turrets on the right-hand side. 
Cogsworth and Lumiere - this statue can be found in Fantasyland on the way toward Enchanted Tales with Belle and Be Our Guest Restaurant. 
Pinocchio - close to Cogsworth and Lumiere is Pinocchio, looking as if he's on his way for a bite to eat at Pinocchio Village Haus! 
The Mad Hatter - also in Fantasyland, the Mad Hatter is keeping a watchful eye over the Mad Tea Party. 
The Cheshire Cat - next to the Mad Hatter is the Cheshire Cat, between the Mad Tea Party and the Cheshire Café. 
Stitch - this mischievous blue alien is located on the way into Tomorrowland on the famous purple wall, so you can find him while taking a few snaps! 
Abu - look up to find this cheeky monkey above the signage as you head towards Adventureland from Main Street U.S.A. 
Orange Bird - not far away from his home at Sunshine Tree Terrace, Orange Bird can be found at the Jungle Skipper Canteen in Adventureland. 
Disney's Animal Kingdom Theme Park 
Bambi and Thumper - these two are located in front of the Tree of Life, to the left as you come into the park. 
Simba, Timon and Pumbaa - these three are also in front of the Tree of Life, on the right-hand side as you come into the park.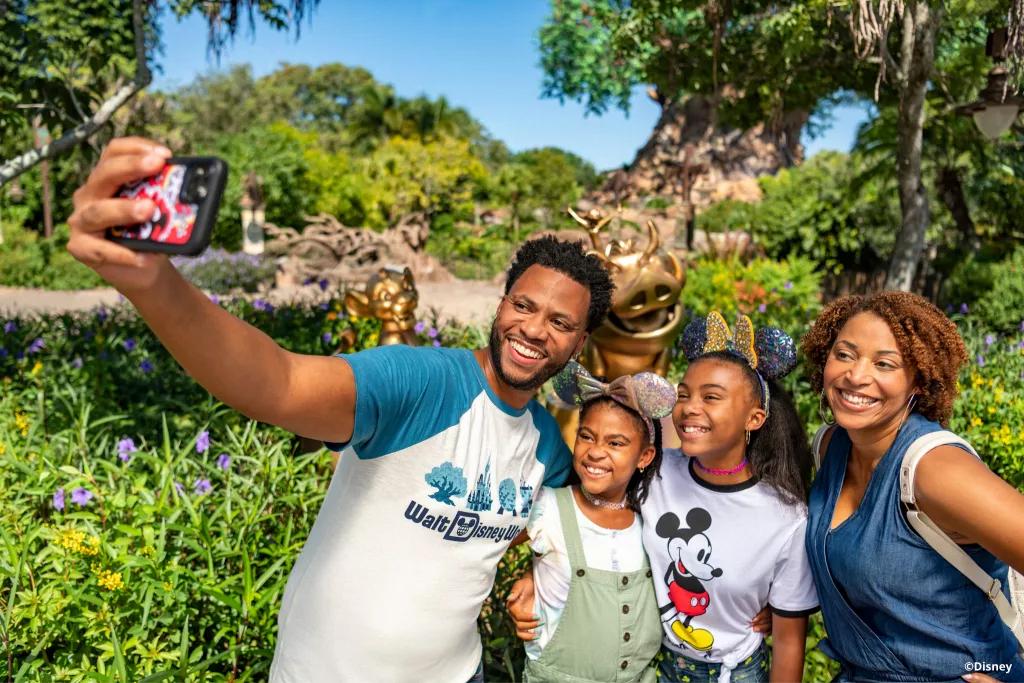 Nemo and Dory - even closer to the Tree of Life are Nemo and Dory in their own golden coral reef. 
EPCOT
Figment - no it's not just your imagination! Figment can be found close to Journey into Imagination to the west of World Celebration. 
Miguel and Dante - if you start your journey around the World Showcase by heading to the Mexico Pavilion, you'll find Miguel and Dante on your way.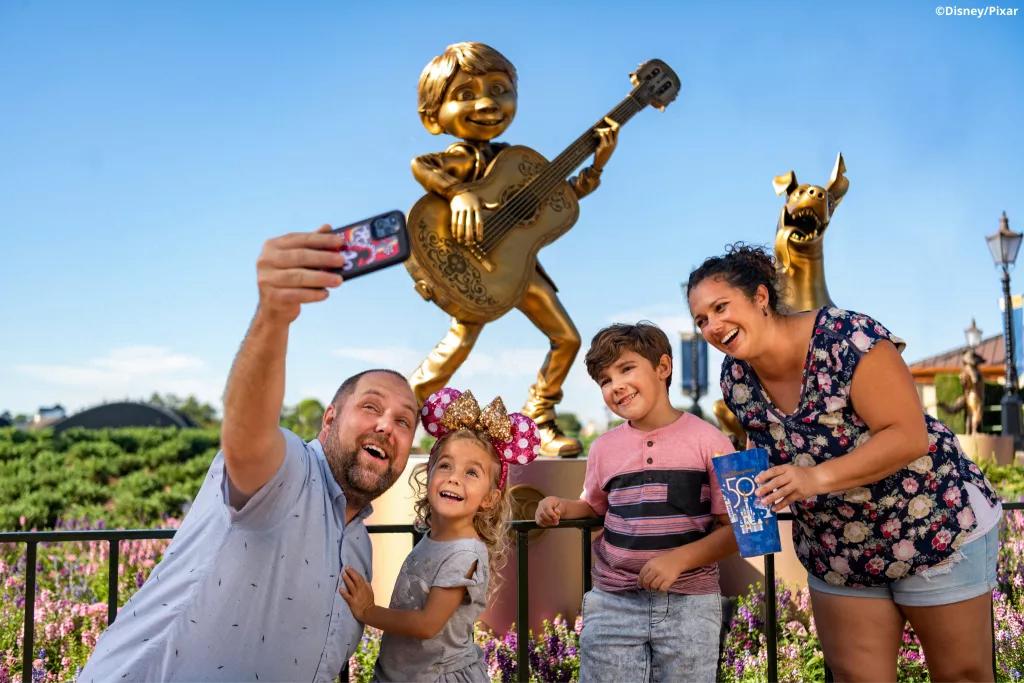 Rocket Racoon and Baby Groot - this galactic duo are located next to Miguel and Dante to the left as you head towards World Showcase. 
Olaf and Bruni - if you're heading to the Canada Pavilion first on your trip around World Showcase, these two can be found as you go.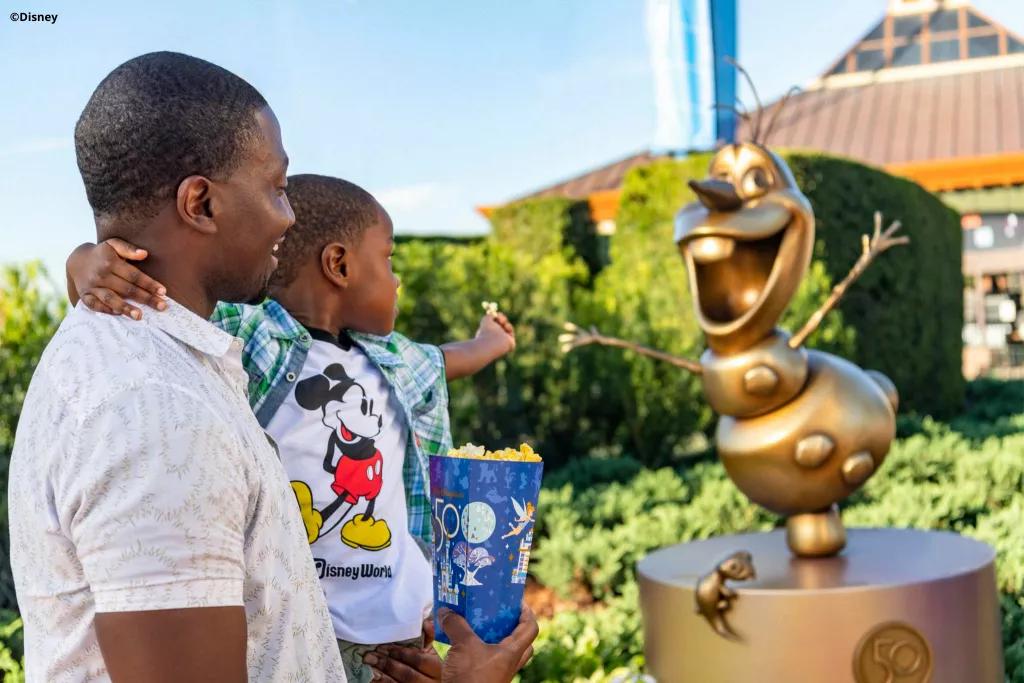 Pua and Hei-Hei - next to Olaf are Pua and Hei-Hei, looking as cute as ever as they welcome you to World Showcase.
Disney's Hollywood Studios
R2-D2 - head down Hollywood Boulevard towards the Chinese Theatre and you'll find R2-D2 looking a bit more like C3PO thanks to his golden makeover! 
BB8 - this fellow Star Wars robot is located next to R2-D2 at the end of Hollywood Boulevard. 
Frozone - he's found his super suit and is ready for action close to Mickey and Minnie's Runaway Railway. 
Edna Mode - next in this 'incredible' line up is Edna Mode, who can be found next to Frozone. 
Woody and Bo Peep - you'll find this couple as you head towards Toy Story Land from Hollywood Boulevard. 
Sebastian and Flounder - face towards Animation Courtyard and you'll see these two flipping their fins (or claws).
Joe Gardner - this statue is located outside the Hollywood Brown Derby restaurant, between Hollywood Boulevard and Sunset Boulevard. 
Pro Tip! Remember, there are 50 Characters to find, not 50 statues, so you might be closer than you think to finding them all! 
The 50th Anniversary celebrations at Walt Disney World Resort are continuing into 2023, so there is still plenty of time to experience the magic for yourself. Take a look at our Walt Disney World Resort tickets for exclusive offers including $20 Disney Spending Money!