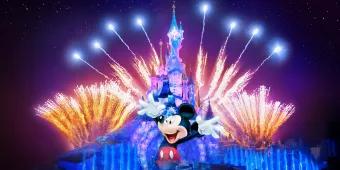 Zeit für glänzende Momente!
25 Jahre Disneyland Paris – anlässlich dieses Jubiläums wird es ab dem 26. März 2017 im Park glitzern und funkeln!
Vor 25 Jahren, am 12. April 1992, hat Disneyland Paris erstmals seine Tore eröffnet. Seit diesem Tag wurde der Park stetig erweitert und hat Gästen aus ganz Europa und darüber hinaus magische Momente beschert. 25 Jahre sind ein großer Meilenstein, deshalb hat Disneyland Paris beschlossen, eine entsprechend große und funkelnde Party für diejenigen Gäste zu veranstalten, die den Park ab dem 26. März dieses Jahres besuchen. Noch besser: die Feierlichkeiten werden mindestens das ganze Jahr lang andauern!
Während der Feierlichkeiten gibt es natürlich viele neue Erlebnisse und Attraktionen. Den Auftakt macht eine brandneue Show namens "Happy Anniversary Disneyland Paris" mit Mickey, Chip & Dale, Goofy und vielen weiteren Freunden. Wenn Sie ein großer Prinzessinenfan sind, sollten Sie sich den Starlit Princess Waltz auf der Royal Castle Stage im Disneyland Paris Park nicht entgehen lassen – hier tanzen Belle, Cinderella, Aurora und Snow White.
Neben diesen brandneuen Shows gibt es auch eine fantastische neue Parade, um diesen bedeutsamen Anlass zu feiern. Aufwändig gestaltete Umzugswägen, Disney-Charaktere und feuerspeiende Drachen machen die Disney Stars on Parade zu einem absoluten Muss! Mickey und seine Freunde sind natürlich auch vertreten, um bisher unbekannte Geschichten zu erzählen – begleitet von einem extra dafür komponierten Soundtrack.
Wenn Sie ein großer Disneyland Paris-Fan sind, ist Ihnen sicherlich schon längst bekannt, dass genau bis zum Beginn der Jubiläums-Feierlichkeiten die Star Wars Season of the Force läuft. Star Wars Fans kommen aber auch nach dem 26. März noch auf ihre Kosten – angefangen mit einem komplett überarbeiteten Space Mountain. Als einer von Disneys heftigsten Rides wird Space Mountain jetzt zum Star Wars Hyperspace Mountain, wo Gäste in die Rebel Alliance aufgenommen werden und gemeinsam gegen bedrohliche Schurken antreten können.
Zu guter Letzt wird ein prunkvolles und leuchtendes Disney Illuminations Feuerwerk, welches einem 25-jährigen Jubiläum nur gerecht werden kann, den Tag im Park abrunden. Die erneuerte Show wird altbekannte Disney-Klassiker sowie die neuesten Filme wie Frozen, Star Wars und Fluch der Karibik darstellen und Sie mit Spezialeffekten und einem unglaublichen Soundtrack sprachlos machen!
Lassen auch Sie sich von Disney verzaubern! Tickets fürs Disneyland Paris gibt es hier!
Ihnen hat dieser Blog gefallen? Diese könnten Ihnen auch gefallen: