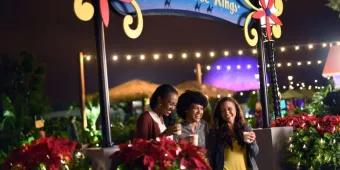 Ein globales Weihnachtsvergnügen im Walt Disney World Resort in Florida!
Verbringen Sie die Feiertage rund um die Welt im Epcot, im Rahmen des Epcot International Festival of the Holidays.
Dieses internationale Weihnachtsfest, das für ein weiteres Jahr stattfindet, ermöglicht es Ihnen, die fröhlichen weltweiten Feiertagstraditionen der 11 Nationen des World Showcase zu entdecken. 
Epcot International Festival of the Holidays im Walt Disney World Resort in Florida bietet viele Unterhaltungsmöglichkeiten, zum teilzunehmen und genießen. Hier ist, was das Festival 2019 für Sie bereithält:
Kerzenlicht Umzug
In dieser bewegenden Show berichten berühmte Erzähler die Geschichte von Weihnachten, begleitet von einem Chor und einem 50-köpfigen Orchester. Jeden Abend erzählt ein berühmtes Gesicht die biblische Geschichte, während wunderschöne Chorwerke in die Produktion eingearbeitet sind und ein Orchester und ein Chor mit ihren Liedern von Hoffnung und Freude eine atemberaubende Kulisse bilden.
Hier ist die Starbesetzung für 2019:
Ming-Na Wen - 29. November bis 1. Dezember
Neil Patrick Harris - 2. Dezember bis 5. Dezember
Whoopi Goldberg - 6. und 7. Dezember
Isabella Rossellini - 8. bis 10. Dezember
Chita Rivera - 11. bis 12. Dezember
Gary Sinise - 13. bis 15. Dezember
Pat Sajak - 16. bis 18. Dezember
Warwick Davis - 19. bis 21. Dezember
Steven Curtis Chapman - 22. bis 24. Dezember
Edward James Olmos - 25. und 26. Dezember
Marlee Matlin - 27. und 28. Dezember
Lisa Ling - 29. und 30. Dezember
Die täglichen Aufführungen beginnen ab dem 29. November um 17:00 Uhr, 18:45 Uhr und 20:15 Uhr.
Sie können dieses fantastische Erlebnis mit einem "Candlelight Processional Dining Package" kombinieren. Genießen Sie ein festliches Weihnachtsessen mit Ihren Lieben und haben Sie die Gewissheit, dass der Sitzplatz am Abend garantiert ist. Es gibt Pakete für Frühstück, Mittag- und Abendessen - jede Mahlzeit beinhaltet einen Aperitif, Vorspeise und Dessert ODER ein komplettes Buffet, zusammen mit einem alkoholfreien Getränk. Wählen Sie aus einem von 16 Restaurants rund um Epcot, von denen drei auch eine Frühstücksmöglichkeit bieten:
Ale & Compass - Disney's Yacht Club Resort (Frühstück möglich)
Biergarten Restaurant - Germany Pavillion
Chefs de France - France Pavillion
Coral Reef Restaurant - The Living Seas
The Garden Grill - The Land Pavillion (Frühstück möglich)
La Hacienda de San Angel - Mexico Pavillion
Nine Dragons Restaurant - China Pavillion
Restaurant Marrakesh - Morocco Pavillion
Rose & Crown Dining Room - United Kingdom Pavillion
San Angel Inn Restaurante - Mexico Pavillion
Spice Road Table - Morocco Pavillion
Teppan Edo - Japan Pavillion
Tokyo Dining - Japan Pavillion
Trattoria al Forno - Disney's Boardwalk (Frühstück möglich)
Tutto Italia Ristorante - Italy Pavillion
Via Napoli - Italy Pavillion
Weihnachtskeks-Bummel durch Europa
Genießen Sie die köstlichen Leckereien und machen Sie sich auf den Weg zum Epcot International Festival of the Holidays.
Holen Sie sich einen Festivalpass und erkunden Sie die Weltausstellung, um die fünf offiziellen Orte für Weihnachtsköstlichkeiten zu finden.
Sobald Sie alle fünf köstlichen Desserts gesammelt haben, bringen Sie Ihren Pass in die Sweets & Treats Weihnachtsbäckerei und erhalten Sie einen kostenlosen Santa Mickey Sugar Cookie!
Hier finden Sie die traditionellen Weihnachtsköstlichkeiten:
Bavaria Weihnachtsküche im Deutschen Pavillon - Linzerkekse
Amerikanische Festtafel bei The American Adventure - Lebkuchen
Yukon Festtagsküche im Kanada-Pavillon - Pfefferminzkekse
Fest der drei Könige in der Nähe des Mexiko-Pavillons - Schokoladenkekse
L'Chaim Weihnachtsbäckerei zwischen den Pavillons Marokko und Frankreich – Amerikaner Gebäck
Sie können auch eine Keksdose kaufen, um alle Ihre gesammelten Kekse für später aufzubewaren. Erhältlich sind diese auf den Weihnachtsmärkten überall in Epcot.
Weihnachtseinkäufe
Natürlich wären es nicht die Feiertage ohne ein wenig festliches Shopping.  Läden und Marktplätze in Epcot sind voll von einzigartigen Geschenken, darunter handgefertigte Kunsthandwerksartikel und andere Geschenkideen.
Gehen Sie zu "Mouse Gear" für all Ihre Disney-Bekleidung, Spielzeug und Plüschtiere, Parksouvenirs, PANDORA-Schmuck und vieles mehr.
Ausserdem finden sie auf den Weihnachtsmärkten Artikel aus aller Welt. Hier finden sie garantiert das perfekte Weihnachtsgeschenke für alll ihre Lieben:
Mexico Pavillion - Plaza de los Amigos
Norway Pavillion - The Fjording
Outpost - Reinhard Herzog
Deutschland-Pavillon - Die WeihnachtsßEcke und Der Teddybär
Italienischer Pavillon - Il Bel Bel Cristallo
The American Adventure
Frankreich-Pavillon - La Signature und Plume et Palette
Pavillon des Vereinigten Königreichs - The Tea Caddy
Kanadischer Pavillon - Northwest Mercantile
Es gibt auch exklusive Chip 'n' Dale Weihnachtsspecials, darunter Kleidung, Geschenkartikel und Schmuck - go nuts!
Chip'n' Dale's Weihnachtszauber
Kaufen Sie eine Karte und nehmen Sie an all dem Weihnachtsspaß mit Ihren Lieblings-Chipmunks teil. Sammeln Sie in jedem Pavillon der Weltausstellung Weihnachtsornamente und absolvieren Sie diese festliche Schnitzeljagd. Sobald Sie eines gefunden haben, fügen Sie den entsprechenden Ornamentsticker zu Ihrer Karte hinzu. Am Ende bringen Sie Ihre Karte dann zu "Disney Traders" oder "World Traveler" und tauschen Sie sie gegen eine festliche Überraschung ein!
JOYFUL! Ein Winterfest
Tauchen Sie ein in die Weihnachts- und Kwanzaa-Festivitäten durch Gospel-, R&B- und Weihnachtslieder, gesungen von einem fantastischen Sängerensemble.
Geschichtenerzähler und Festtagsunterhaltung
World Showcase wird lebendig, da Weihnachts- und Feiertagstraditionen auf der ganzen Welt geteilt werden.....
Mexiko: Las Posadas Celebration - Genießen Sie Tänzer, Pinatas und die Musik von Mariachi Cobre.
Norwegen: Ein verschmitzter magischer Santa - Santa besucht Sigrid, eine ahnungslose Weihnachtserzählerin.
China: Chinesische Löwentänzer - Eine farbenfrohe Performance, die Glück und Zufriedenheit im neuen Jahr bringt.
Deutschland: Chilli Da Mur - Eine versierte deutsche Gesangsgruppe feiert die Saison mit Volksmusik, Pop und Originalsongs.
Italien: La Befana - Hören Sie die Geschichte von La Befana, einer gutherzigen Hexe, die am Vorabend der Offenbarung schlafende Kinder besucht.
The American Adventure: Weihnachtsmann und Frau Claus - Das Weihnachtspaar ist aus der Werkstatt entwichen, um in dieser Weihnachtszeit gute Laune zu bringen.
Japan: Daruma Geschichtenerzähler - Hören Sie sich die Geschichte der Daruma-Puppe und die japanischen Neujahrsbräuche an.
Marokko: Feste in Marokko - Sehen Sie das festliches Straßenfest
Zwischen Frankreich und Marokko: Chanukka Geschichtenerzähler - Zachary beleuchtet Chanukka-Feiern auf der ganzen Welt und erzählt Legenden, Geschichten und Lieder.
Frankreich: Pere Noel - Entdecken Sie die Magie von Weihnachten durch den Brief und die Augen eines Kindes wieder.
Vereinigtes Königreich: Weihnachtsmann - Der Weihnachtsmann läutet die Weihnachtszeit ein und teilt britische Traditionen und feiert gute Laune.
Kanada: Kanadische Weihnachtsreisende - Machen Sie eine musikalische Tour durch den Großen Weißen Norden und die weiten Regionen Kanadas.
Voices of Liberty
Genießen Sie a capella Melodien, gesungen von dem Charles Dickens Chor!
Epcot SCROLLS
Möchten Sie mehr über die Tradition der Feiertage in den einzelnen Ländern erfahren? Achten Sie auf die Epcot SCROLLS in jedem Veranstaltungsort. Sammeln Sie alle 13 und lassen Sie sich von lustigen neuen Ideen zum Feiern Ihres eigenen Festes inspirieren, sowie Tipps zum finden einzigartiger Urlaubsfotospots im Park.
Festtagsküche
Vervollständigen Sie Ihre festlichen Feiertage mit leckeren Bissen, dekadenten Desserts und köstlichen Getränken. Jede Weltausstellung hat eine Reihe von thematischen Getränken und Leckerbissen, an denen Sie sich sattessen können.
Das Epcot "International Festival of the Holidays" begrüßt seine Gäste vom 29. November bis 30. Dezember 2019 im Rahmen des World Showcase. Sind Sie bereit, das Walt Disney World Resort in Florida zu erkunden? Klicken Sie hier, um jetzt unsere Attraction-Tickets zu durchstöbern.
Endecken Sie weitere Blogs: