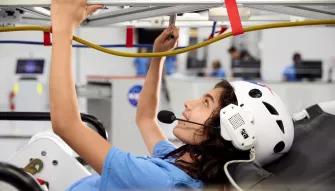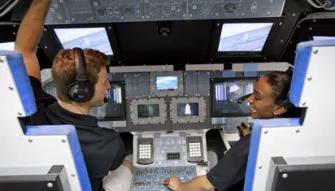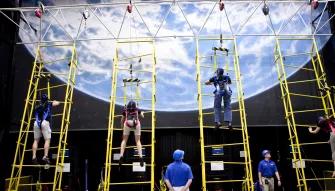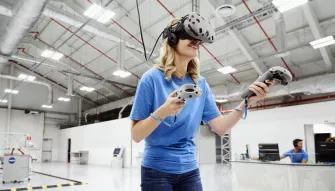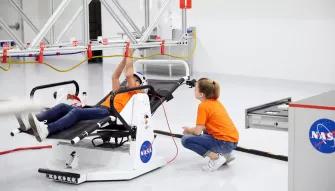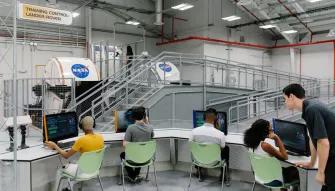 ATX™ Astronaut Training
17 booked
2,281 reviews rated 5 stars
Not Available
This ticket is currently not available
This could be because:
We have sold out
New seasonal tickets are not yet available
In the meantime:
Call us on 0800 223 0324
Sign up to hear the latest news and offers:
Sign up for our newsletter
no ticket modal
Full details
Take one giant leap toward the dream of being an astronaut or crew member on the Astronaut Training Experience at Kennedy Space Center! This amazing half-day extravaganza offers the closest possible experience to training for a space flight.
Our guide to ATX™ Astronaut Training
ATX® is a completely new program that provides guests with the opportunity to train as astronauts or the next generation of space explorers, by participating on simulators such as the Land-and-Drive-on-Mars full-motion simulator, the Walk-on-Mars virtual reality simulator, and the Micro-Gravity Floor simulator. 
Participants perform two spacecraft launch mission simulations using a full-scale Orion-style capsule and authentic Mission Control Center.
They receive briefings about living and working in space and on Mars while teamwork, communication and collaboration skills are developed as participants take turns in the Training Control Center, guiding one another through a series of challenges.
After the program, they receive an electronic report detailing their achievements along with a video log they recorded during the day. 
How does it work?
The five-hour experience is broken up into three, 90-minute sections detailed below. Participants will experience all components in each section.
Launch Mission
Astronaut Recruit: Learn to launch a spacecraft into low-Earth orbit to rendezvous and dock with an orbital target
Mission Control Crew: Assist Capsule Crew in completing tasks using instructions on touchscreen workstations with basic missions and emergency scenarios
Orion Capsule Crew: Practice hand-eye coordination under the supervision of the Mission Control Crew
Spacewalk Training
Microgravity Chair: Apply Newton's Laws of Motion to compensate for exaggerated pitch, roll and yaw while performing simple mechanical tasks
Training Control Center: Give instructions to assist the explorers in their tasks
Safety Support Handler: Helping those in the microgravity chairs the same way drivers assist those in Johnson Space Center's Neutral Buoyancy Lab
Mars Operations
Walk on Mars: Experience the sensation of walking on the surface of Mars, exploring four different terrains and solving challenges as they arise
Mars Lander Rover Control

:

Experience the sensation of landing a vehicle on the surface of Mars in a powered landing, and driving it over rough terrain to dock with a base
Operates:
The ATX programme runs on select dates throughout the year.
Duration:
Around 5 hours.
Location:
Check-in at the new ATX Facility right-hand side of the general entry gate at Kennedy Space Center Visitor Complex. 
Please Note: Your ticket does not include entrance to the exhibits at Kennedy Space Center Visitor Complex – you must purchase a separate admission ticket for Kennedy Space Center Visitor Center should you wish to explore these areas after your ATX Astronaut Training Experience.
Terms and conditions
Terms and conditions for ATX™ Astronaut Training
Advance reservations are required. You must select your chosen date at the time of booking. 
Your chosen date at the time of booking is on request. If this date is not available we will contact you. 
ATX participants must be 10 years of age or older. Participants aged 10  - 17 years old must be accompanied by an adult.
Some height and weight restrictions apply on certain simulators. 
Shorts or trousers are recommended (no skirts). Athletic footwear is preferred.
Participants should be free of neck and back injuries  Expectant mothers and those with abnormal blood pressure, adverse heart conditions, ear or sinus infections should not participate in certain activities. 
Transportation to the Kennedy Space Center Visitors complex is not included.
Your ticket does not include entrance to the exhibits at Kennedy Space Center Visitor Complex – a separate Kennedy Space Center Admission ticket must be purchased should you wish to explore these areas.
Car parking is not included in the ticket price, the approximate cost is $10 per car, payable locally
Guests 'check in' at the Visitor Centre to collect their tickets.
ATX may be altered or closed due to operational requirements - i.e. during shuttle launches - in this instance, an alternative date will be offered or you can receive a full refund.
Cancellation Policy: All tickets are non-transferable and non-refundable.
FAQs
Frequently Asked Questions for ATX™ Astronaut Training
How easy is it to get to Kennedy Space Center?
Kennedy Space Center is located in Cape Canaveral, an easy 60-minute drive east of Orlando.
Do I need to book a date for the ATX Astronaut Training Programme?
The ATX Astronaut Training programme is a reservation-only experience so you must book a date at the time of booking.
Does my ATX Astronaut Training Experience Ticket include access to the other exhibits at Kennedy Space Center Visitors Complex?
No, if you would like to explore Kennedy Space Center Visitors Complex, you must buy a separate admission ticket.