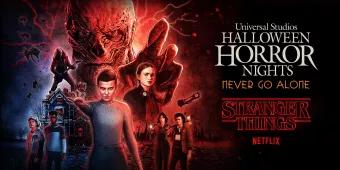 Don't let Vecna get in your mind
Stranger Things is officially returning to Halloween Horror Nights as a haunted house in both Universal Studios Florida and Universal Studios Hollywood
The second haunted house that will be terrifying guests at Halloween Horror Nights 2023 has now been announced and we can confirm that it will be inspired by Stranger Things 4, the latest season of the hit Netflix show! 
After making its debut at Halloween Horror Nights in 2018, and returning for a second time in 2019, Stranger Things is back with a brand-new house and we're sure it's going to be bigger (and scarier) than ever. Like Eleven, now's your chance to stop Vecna once and for all - if you can resist his gruesome curse. Band together with your squad for the ultimate showdown in Vecna's blood-red Mind Lair. 
Here's a preview of what's in store: 
And the return of Stranger Things wasn't the only exciting Halloween Horror Nights news we received today! Due to such popular demand, Halloween Horror Nights at Universal Orlando Resort has been extended and will now finish on November 4th… that's 4 more nights for you to summon your scream squad at the World's Premier Halloween Event*! 
Don't miss out this Halloween! Book your Halloween Horror Nights tickets today to experience Stranger Things 4 and The Last of Us in Orlando and California. 
*Named Best Halloween Event by Amusement Today's Golden Ticket Awards for 13 years (2006, 2008-2018, 2021).
Stranger Things:™/© Netflix. Used with permission.