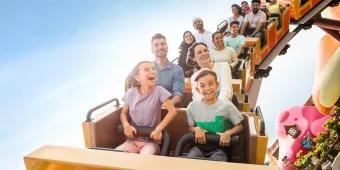 We've divided up the parks be genre to help you decide...
Dubai is increasingly taking on theme park giant Orlando for the title of theme park capital of the world and, when you see the variety of attractions on offer, you'll see why!
With two huge new theme park names recently joining the existing high-octane water parks Dubai is famed for - Dubai Parks and Resorts and IMG Worlds of Adventure - there are plenty of parks to explore with a wide range of target audiences. From thrill seekers to small children, everyone will find a park for them in Dubai. Find out which Dubai theme park is for you and your group right here…
Best for Thrill Seekers: IMG Worlds of Adventure
The fully indoor theme park IMG Worlds of Adventure boasts some of the biggest and best attractions Dubai has to offer AND you don't need to swelter in the hot sun! The Marvel theming in one zone of the park works perfectly with the thrill-seeking vibe and the two come together to create two huge attractions in this area lone: Thor Thunder Spin and Spider-Man Doc Ock's Revenge. Board Thor Thunder Spin and be pinned to your seat by the laws of gravity as you are sent on a dizzying spin in an epic battle between Thor and Loki or join Spidey and friends as they spin and swing through New York city on a coaster experience which boasts 2 different tracks.
Don't miss the Lost Valley – Dinosaur Adventure zone either though, where you'll find two huge roller coasters: The Velociraptor and Predator. The Velociraptor will launch you at speeds which reach up to 100kmph in 2.5 seconds before taking on 4 stomach-churning loops as you speed over the prehistoric jungles and desert which make up the zone's theming. The Predator, on the other hand, is all about giving you that drop feeling! Take a freefall at 90 degrees – one of the sharpest drops in the region.
Finally, our top pick for thrill seekers at IMG Worlds of Adventure is in fact not a huge roller coaster or drop ride at all. It's the Haunted Hotel in the IMG Boulevard zone, which has a minimum age rating of 15 years old. This terrifying walk through attraction is guaranteed to leave your heart racing and palms sweaty!
For thrill-seekers we would also recommend MOTIONGATE Dubai.  
Best for little ones: LEGOLAND Dubai
We know that big rides don't always suit everyone, especially when you're travelling with children, and so do Dubai Parks and Resorts. That's why they brought the LEGOLAND theme park franchise to Dubai! This amazing park spread over 6 themed lands boasts 40 rides and attractions that are all suitable for the whole family.
The 6 lands are Factory, Lego City, Imagination, Kingdoms, Adventure and Miniland which aim to inspire the imaginations of children aged 2-12. Some of the park's best rides include The Dragon, a gentle coaster which none-the-less has some adrenaline-fuelled moments and LEGOP Driving School, which allows kids to get a taste of what it's like to be an adult with their own car!
As Dubai is so hot all year round, don't miss out on the adjacent LEGOLAND water park which is the perfect place to cool off and chill out with your little ones in tow. The highlight for us is definitely the build a raft inflatable attraction in the lazy river.  
Little ones are also likely to love Motiongate Dubai, home of The Smurfs, Shrek and Kung fu Panda!
Best for experiencing new cultures: Bollywood Parks
If you're looking for something a bit different, that you haven't experienced before, we would highly recommend the Bollywood Park at Dubai Parks and Resorts. Although very different to your usual theme park experience, Bollywood Parks bring the light and drama of the world of Bollywood to life.
Whether you're a serious Bollywood fan or not, you'll be able to enjoy the attractions at Bollywood Dubai. This is the park to come to for live entertainment and shows, with each stunt-filled, explosive dance routine leaving you more blown away than the last.
Best for film lovers: MOTIONGATE Dubai
Home to some of your favourite films, MOTIONGATE Dubai, part of Dubai Parks and Resorts, is the perfect place for movie buffs of all ages – it's even been jokingly dubbed 'Hollywood in the Desert'! With film franchises as diverse as The Hunger Games to Shrek and The Smurfs, there's plenty to entertain the whole family.
The heart of the park is the DreamWorks area, where you'll find you heroes from Kung Fu Panda, Shrek, How to Train Your Dragon, Madagascar and Shrek. The adrenaline-fuelled 'Madagascar: Hot Pursuit' roller coaster will satisfy speed demons here, while little ones can enjoy a meet and greet with Shrek and friends. 
Heading through to the Lionsgate zone, you'll find yourself transported to the world of The Hunger Games. Hop aboard the Capitol bullet train if you dare and be thrown into a death-defying adventure which ends in a terrifying drop that only the bravest of souls will enjoy.
Film lovers are likely to also enjoy Bollywood Parks!
Best for water park lovers: Aquaventure or Wild Wadi
There are plenty of water parks in Dubai but our two favourites have to be Aquaventure and Wild Wadi. In fact, we love them so much that we can't choose between them! Dubai can get extremely hot in the summer months and rarely goes below the 20c's so it's always good idea to factor in a day or two splashing around at the water park.
Both offer everything from high-octane water slides down to colourful water play area for little ones but with their own unique theming and highlights. The highlight of Aquaventure is without doubt the Leap of Faith…a 27.5m tall, 61m long vertical plunge slide through a shark infested lagoon. Meanwhile at Wild Wadi don't miss Breakers Bay, the largest wave pool in the Middle East!
Liked this post? You may also like...