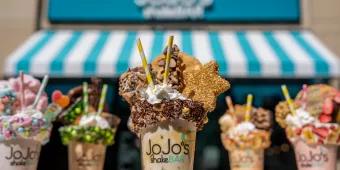 By AttractionTickets.com's Florida Experts, Susan and Simon Veness
JoJo's ShakeBar adds fun – and amazing milkshakes – to the Pointe Orlando centre
You know you're in for a different diner experience when the sign out front tells you:
"If you don't drink, how will your friends know you love them at two in the morning?"
Welcome to JoJo's ShakeBAR, the diner with a difference and the new International Drive hot-spot that grabs you by the eyeballs and tantalises your tastebuds at the same time!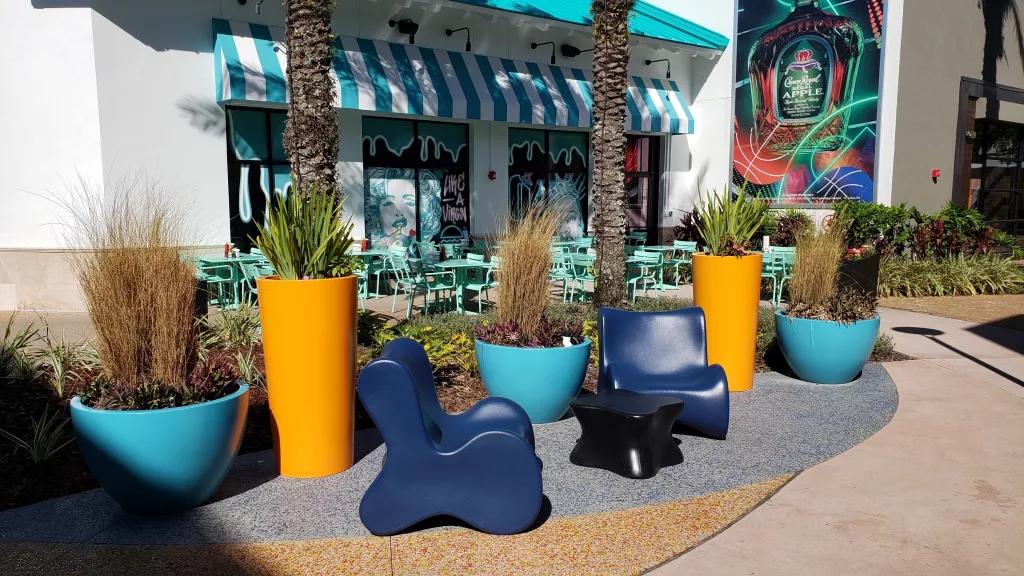 This is definitely going to be the new party-style venue for visitors to be able to enjoy a memorable drink or two accompanied by classic diner food and with a lively, retro style that is pure fun.
Just to start with, it gives the Pointe Orlando entertainment complex a real shot in the arm, as it has struggled to bounce back from the pandemic, when it saw quite a few venues close down permanently. But the eye-catching International Drive location saw the arrival of The Hampton Social in 2021 and the Mexican style of Kavas Tacos & Tequila is due to open later this spring, highlighting a more positive trend that bodes well for the future.
JoJo's promises a turbo boost for that progress after its official opening last weekend, which saw some significant crowds and great feedback from the initial rush.
We were able to have our own special tasting the day before, and we can attest to the fact that not only is the food wonderful and the drinks little short of sensational, but this has got such an infectious party vibe it's hard not to dance in your seat, thanks to the 1980s and 90s musical soundtrack that is impossible to resist. The service is equally upbeat and entertaining, and the interior décor makes sure the lively pace never slows down. In fact, the bright murals, clever lighting and fun all-round styling – which includes a vintage walk-up window for passing traffic – are as much a feature of the restaurant as the food, and it's hard not to smile at some of the messages.
It even has restrooms plastered with the front covers of period celebrity magazines, which makes for a highly amusing trip to the loo!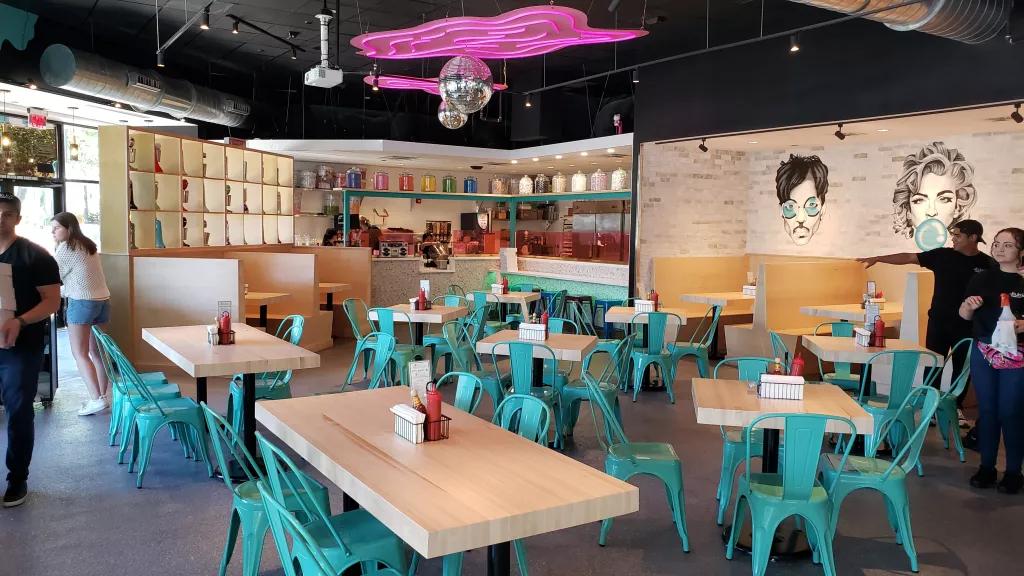 But, for all the fact that the atmosphere and styling are thoroughly original and entertaining, the product of the livewire owners from Chicago, you're actually here for the fab food and drink, because they are going to make a really big impression on you. In simple terms, this is classic diner territory, but that merely disguises the fact JoJo's likes to do things with a twist, with big, bold flavours, and with masses of everything that comes out of the kitchen or from the bar.
This is not for the faint hearted. You will be challenged to eat everything on your plate, and you will fill up your calorie intake for the next month. In fact, there's even a warning on the door: "This is no place for a diet!"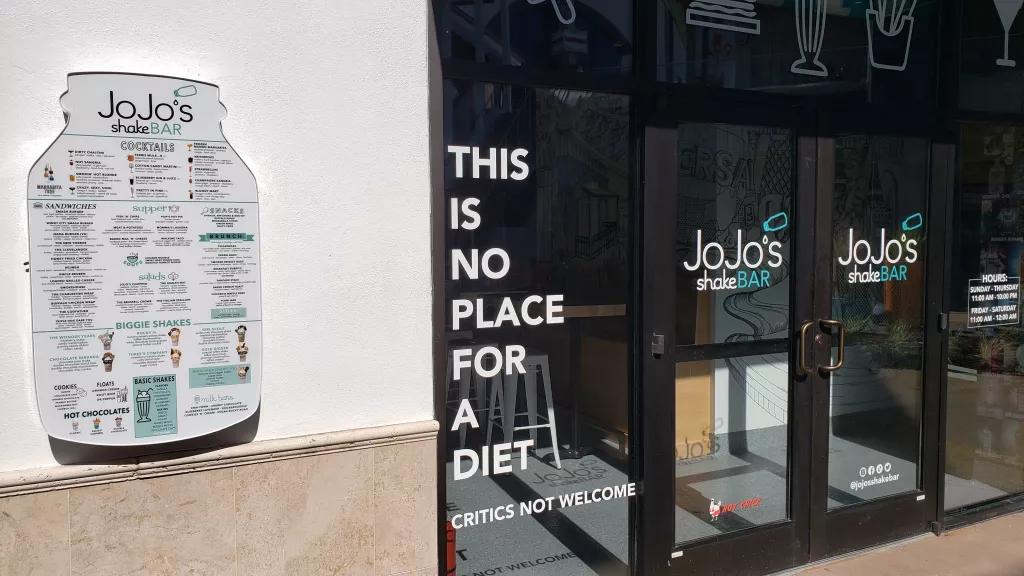 But you're on holiday, right, and you can afford a good blowout. It's what trips abroad are for. And JoJo's knows exactly how to feed that urge to splurge. 
The appetisers feature a startling array of crunchy, tasty and saucy offerings, including a magnificent Onion Ring Tower and the biggest serving of fries we've ever seen. The big, thick portion of waffle fries comes buried under a mountain of shredded mozzarella, provolone, cheddar, bacon, chives AND sour cream that is probably enough for four or even six. And that's just your starter.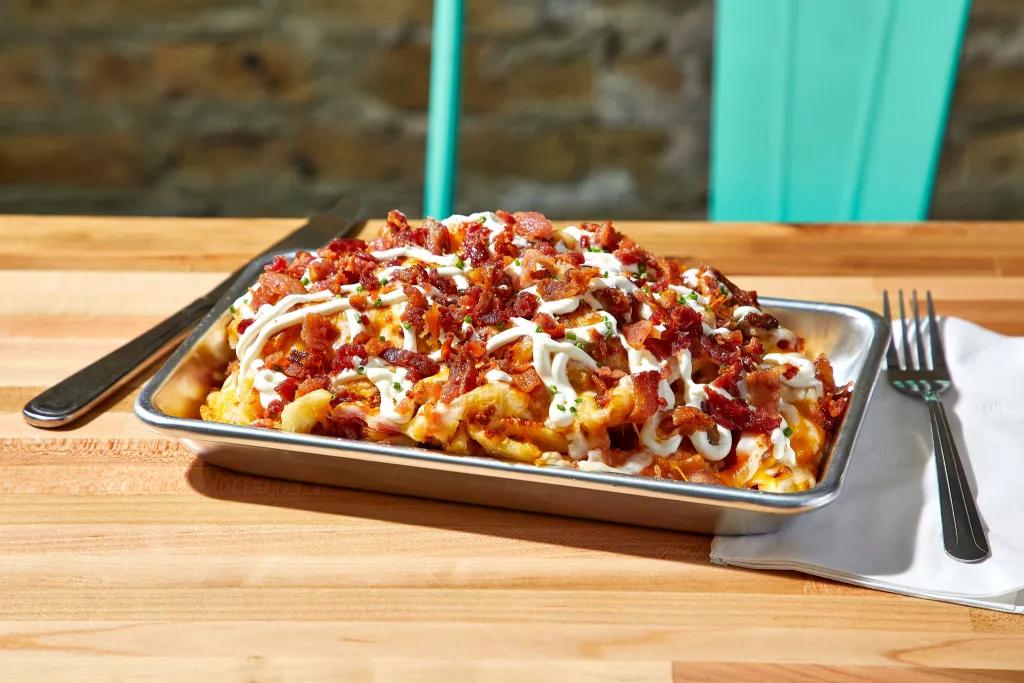 Next you have to choose from a mouthwatering selection of sandwiches, salads and "Supper" dishes that include Fish & Chips, Lasagna and Pot Pie. We tried the Triple Dog Dare You – three super-tasty mini Chicago hog dogs smothered in onions, tomato, relish, pickle and mustard – and the Honey-Fried Chicken sandwich. The latter was only partly contained under its brioche bun, a big slab of beautifully breaded chicken with lettuce, pickle and two types of spicy sauce for an absolutely overwhelming plate of tastiness (which we had to take almost half of home with us at the end!).
We also heard good things about the signature Windy City Smash Burger, which is also only slightly smaller than the average house, and the Reuben sandwich, which crams in enough corned beef to feed half of Ireland.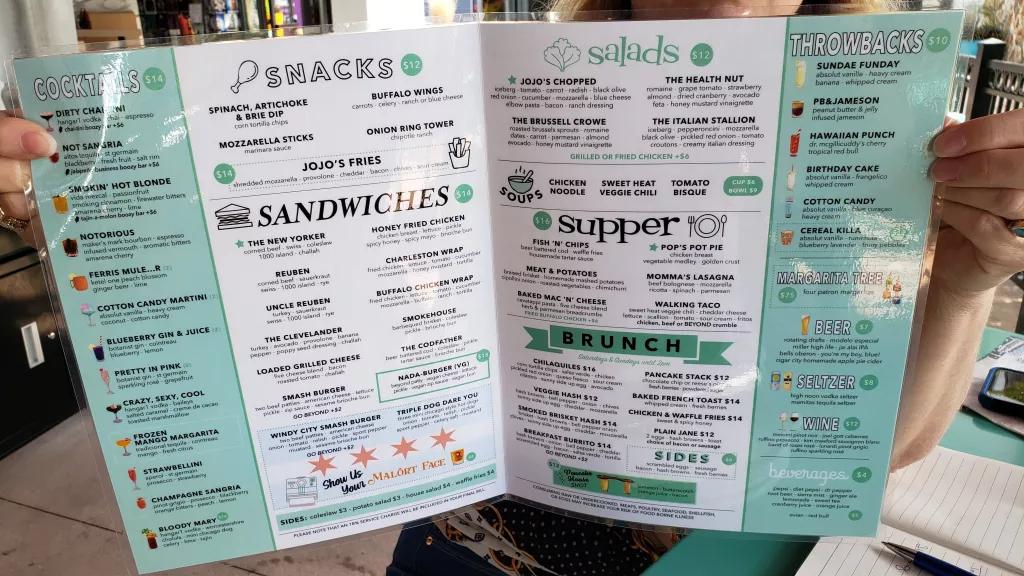 At the weekend, you can also take advantage of their additional Brunch menu, which offers even more decadence, such as the Smoked Brisket Hash, Breakfast Burrito and Chicken & Waffle Fries, while children are not forgotten with things like chicken fingers, PB&K and even a Milk & Cookies flight, with four types of each.
And then there are the drinks. The cocktail list features 13 signature libations that all have both eye appeal and palate-pleasing qualities, while there are another six 'Throwbacks' that feature fun elements like Fruity Pebbles cereal and cotton candy (candy floss to us).In a rare moment of modesty, we sampled just the Champagne Sangria and the non-alcoholic Mule between the two of us, but it was easy to see how people would be swayed by the likes of the Crazy Sexy Cool (Hangar 1 vodka, Baileys, salted caramel, crème de cacao and marshmallow topper) and Smokin' Hot Blonde (mezcal, passionfruit, smoking cinnamon, Firewater bitters and cherry-lime).
Did we mention that this is a real party place?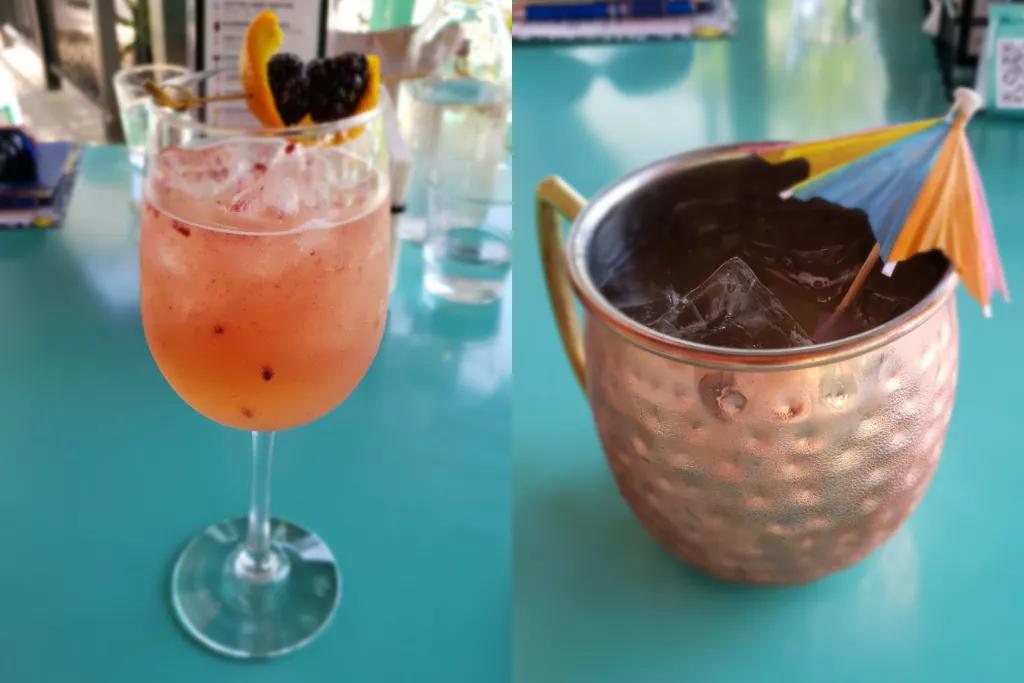 You will certainly want to save room for dessert, too, as the other signature menu item is the one that will most likely draw people in from far and wide. They call them their Biggie Shakes, and 'big' is a massive understatement. These are monumentally humongous shakes, with enough toppings and additions to sink a battleship. There are seven main choices, plus the six "classic" flavours that can all be mixed with various additions like Oreo cookies and chocolate chips.
But the main seven are truly magnificent, and should need no more introduction than to say that each one weighs several kilos! Plus, they come absolutely loaded with toppings, from whole (large) cookies, to chocolate-coated marshmallows, chocolate donut holes, chocolate pretzels (did we mention there's a whole lot of chocolate?), cotton candy and gummy candy ribbons.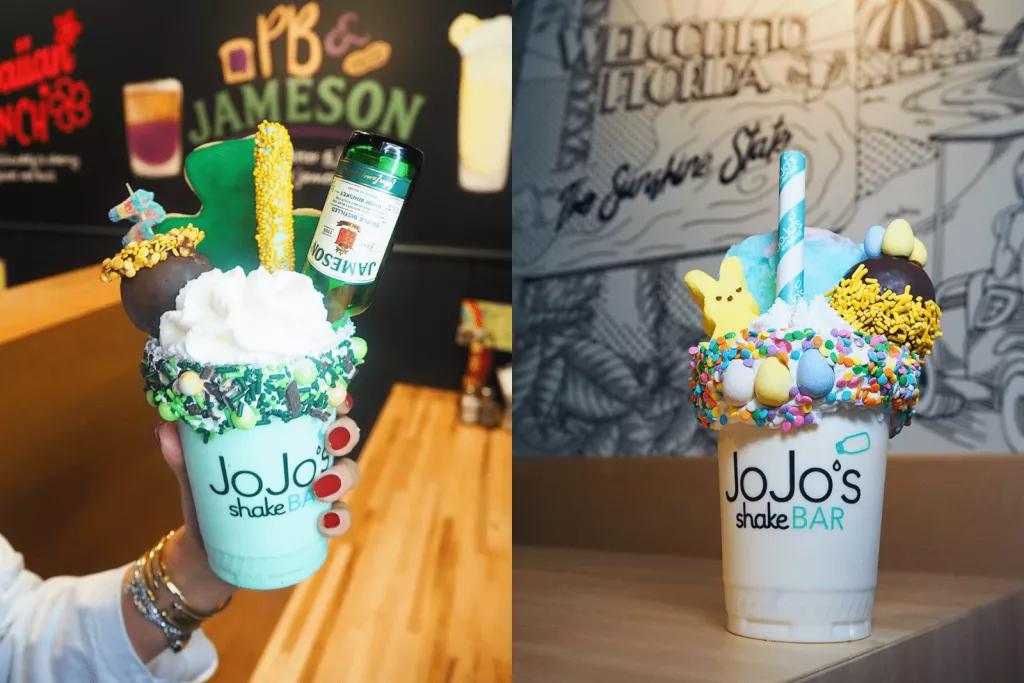 We tried the Gold Digger, a caramel toffee shake complete with toffee donut hole, gold star marshmallow, toffee pretzel and macadamia nut cookie. There is also a Nada Milkshake designed especially for vegans, which has its own array of sweet-toothed delights.
And, of course, you can get them all 'spiked' with your favourite alcoholic tipple, if you are so inclined.
In all seriousness, you WILL need a designated driver for any visit to JoJo's, unless you are lucky enough to have your hotel within walking (or staggering) distance. But that is the only thing to worry about. Otherwise, this is a heavenly exercise in over-stimulating your tastebuds and going for broke with your waistline.
It's fun, fancy and very, very decadent. And we heartily recommend it!
What is your favourite Orlando dining experience? Tell us about it on the friendly Attraction Tickets forums, our Community Facebook page, on Twitter or Instagram.