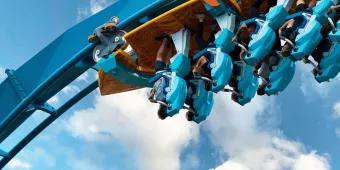 By AttractionTickets.com's Florida Experts, Susan and Simon Veness
Ready to take a ride on the wild side? Here comes SeaWorld's new Pipeline: The Surf Coaster
While Orlando proudly calls itself the Theme Park Capital of the World, there's a new title that is every bit as valid – Coaster Capital of Orlando. Step forward SeaWorld for this latest label. With the imminent opening of the new Pipeline: The Surf Coaster ride at SeaWorld, now is definitely the time re-evaluate what makes this park stand out from the crowd.
And yes, it IS a self-awarded title, but the marine-themed park has come a long way in recent years to create a new image for itself, one that relies as much on rides as sealife, hence we feel this honorary moniker is fully deserved. We are still more than a week away from the official opening of SeaWorld's latest ride (May 27), but with the media and passholder previews currently ongoing, it's fair game to look at what the park has created and revel in its coaster profile.
It all started, of course, with the 1998 debut of Journey to Atlantis, a water-coaster that delivered some big-time thrills in both sections of the ride, and was quickly followed by the 2000 arrival of the huge Kraken, at that point the biggest roller-coaster in Orlando. SeaWorld followed up in 2006 with its junior-sized coaster, Shamu Express (now Super Grover's Boxcar Derby in the Sesame Street land) and then another absolute humdinger, flying coaster Manta in 2009. From there, it has been full steam ahead for the park's high-thrill quotient, with the advent of the towering Mako – a hypercoaster named after the world's fastest species of shark – in 2016 and then last year's Ice Breaker.
Now, bringing the park's total to seven high-energy scream machines comes Pipeline: The Surf Coaster, the third major ride in the space of just eight years, and definitely the kind of creation to grab the headlines – and change SeaWorld's slogan!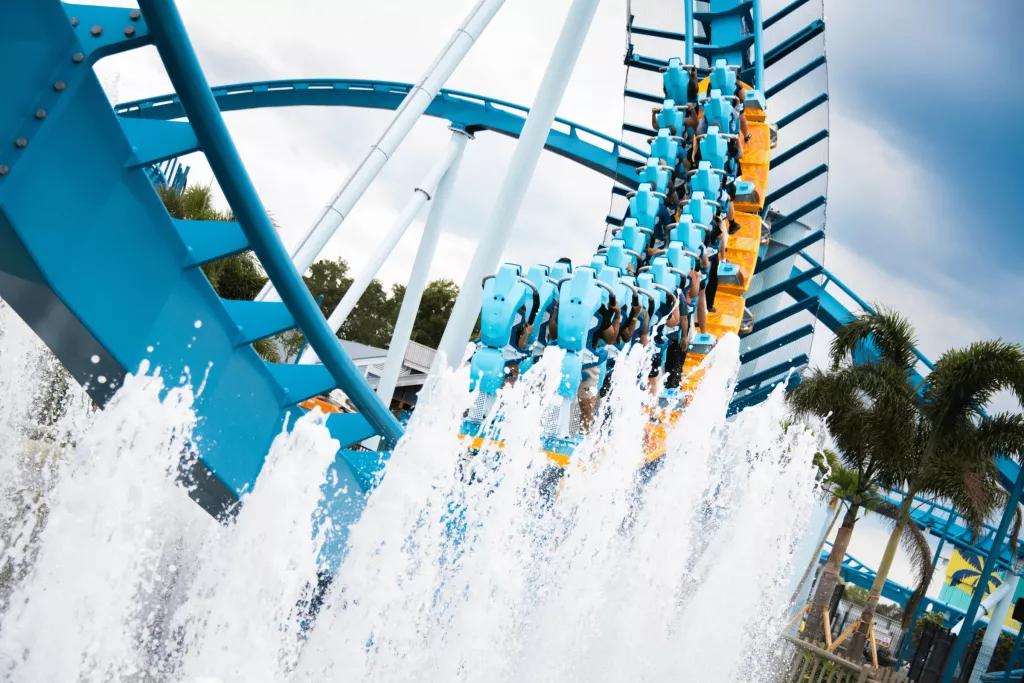 Because this is clearly an experience about thrill rides, with every one offering something different in the coaster genre. Pipeline pushes the envelope just that bit further, too.
Just to start with, this latest high-speed attraction is effectively the park's new iconic look, a sea-blue colossus that reaches 110ft high and a top speed of 60mph. It occupies the entire space that used to be SeaWorld's Festival Gateway area on the south side of the lagoon, where the likes of Rudolf the Reindeer and the Christmas Village provided seasonal cheer. Now the vibe is different. Very different. Instead of Christmas carols and mugs of hot cocoa, this part of the park is an adrenalin-charged jolt of pure energy as the Surf Coaster snaps into action with a real blast.
We have already seen Walt Disney World Resort increase its thrill level with the April opening of TRON Lightcycle/Run at the Magic Kingdom, while Universal Orlando added the fearsome VelociCoaster in 2021. Both of them featured a fast-launch start, and Pipeline follows in their coaster-steps with a dramatic launch of its own, racing from 0 to 60mph in just a few seconds and then roaring into a huge 110-feet-high overbanked turn that really takes your breath away.
From there, things just get wilder. From the initial turn, the coaster goes into a signature inversion element that SeaWorld calls its "wave curl inversion," which is basically an exaggerated helix, or corkscrew, through a full 360 degrees.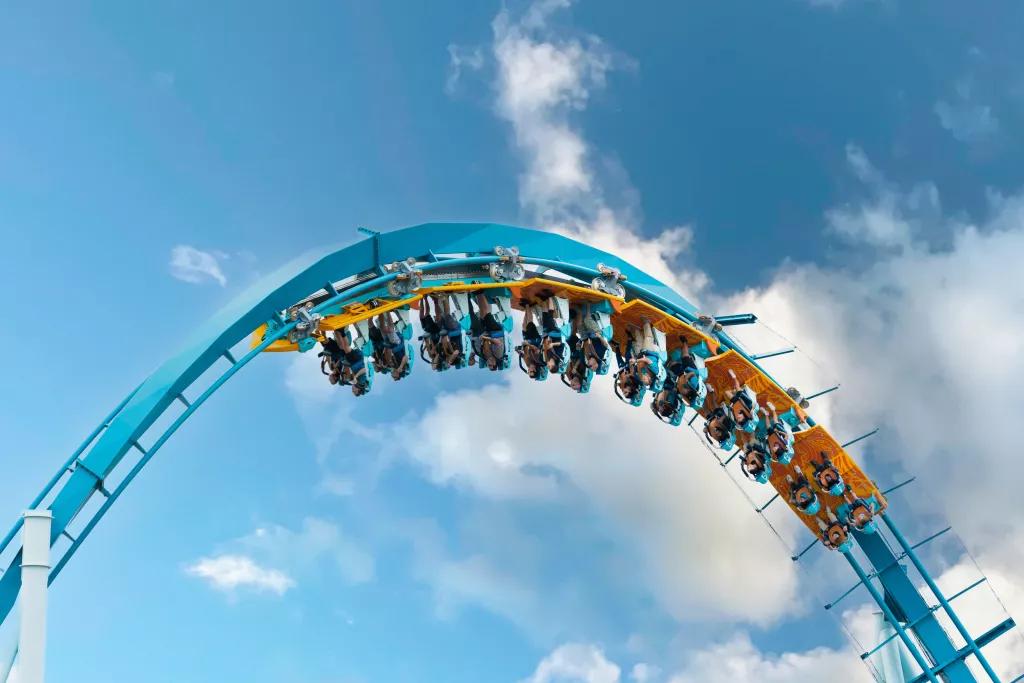 There is a second, swooping overbanked turn at the far extent of the ride, before the coaster turns back towards the start point, diving into another helix at 270 degrees. Finally, it turns right and enters the braking stretch, and riders can breathe again!
And did we mention that all this happens as the riders are standing up throughout the ride?
That's right, this is a stand-up coaster that aims to make riders feel they are whizzing along on the crest of a wave, dipping and swerving through the shifts and turns of the surf, letting their legs feel the force of the ocean's mighty powers.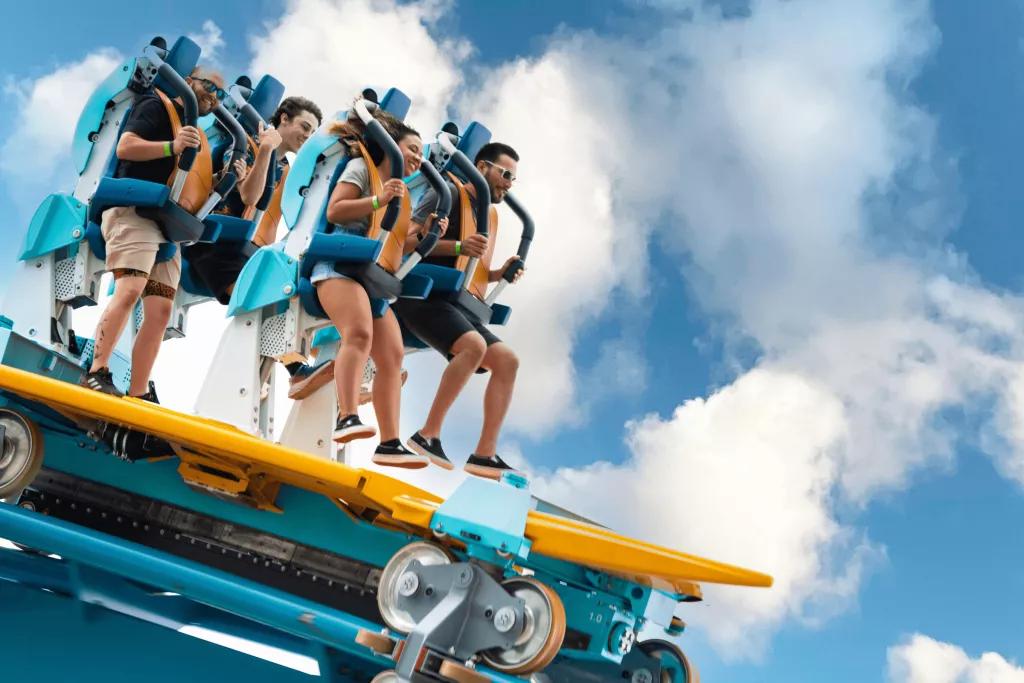 There is only the one inversion, but it certainly feels like there are more thanks to those overbanked turns that really provide an adrenaline rush as you hit the heights and then swoop down again. And the effects are fully accentuated by the coaster's stand-up style. There is a seat, of sorts, as you take your position ready for the big launch, but then it is largely a suggestion as you get going and you can lean into the banks and turns of the surf-like ride (and your feet actually come off the coaster floor at one point!).
It certainly has great repeat ride appeal, and it also makes for excellent spectator sport as the ride whistles around the track just a few yards from the heads of those on the paths neatly woven underneath the coaster track. The ride lasts a tick or two under two minutes, but it might feel longer to those who have never done a stand-up coaster before, and your legs might feel it for a little while afterwards!
Best of all, though, this is another unique ride experience in a park absolutely full of them. The Coaster Capital of Orlando is well on course to make itself a must-visit for adrenaline junkies. And where does it fit in SeaWorld's superlative portfolio of coasters these days? Well, it can't quite top Mako for height and speed, and it doesn't have the multiple inversions of Kraken. But it definitely grabs your attention for both style and its unique feel, hence we think this will be THE ride that thrill-seekers will want to seek out this summer.
Pipeline: The Surf Coaster opens on May 27, so why not book your SeaWorld tickets in advance while you wait?
Will you be heading to SeaWorld Orlando to ride Pipeline this summer? Let us know on the friendly Attraction Tickets forums, our Community Facebook page, on Twitter or Instagram.