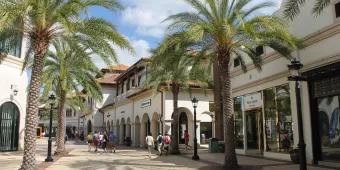 By ATD's Florida Experts, Susan and Simon Veness
You've theme-parked, you've dined until you can dine no more, and the time you've spent topping up your tan would give your dermatologist conniptions. What's left to do? Let's talk shopping.
The "artist formerly known as Downtown Disney" has grown up. It has a new name, a sleek new look, and a new backstory that transformed it from an island discovered by Merriweather Pleasure to an entire Floridian town built around a spring.
You know all about Disney Springs' fantastic dining options, because we've blogged about them often. You know all about its fabulous bars and lounges, because we've given you chapter and verse in our blog "The Super Six: Top Bars at Disney Springs." This time we'll take a stroll around Disney Springs' shopping venues, keeping an eye out for some of the most interesting and unique items that are worth maxing out your luggage allowance for.
You probably already know Disney Springs is segmented into four semi-distinct sections: Town Center, The Landing, Marketplace and West Side. Town Center has a 1920s feel, with stucco, terra cotta and coral accents that lend a Mediterranean feel to the area. The Landing is Disney Springs' "transportation and industrial" inspired centre, Marketplace has taken on a 1930s "American Craftsman" ambiance, and West Side recalls the expos of the 1950s.
That means you're going to find shopping outlets that fit—sometimes loosely—within those themes.
The Landing
There are only a handful of shops here, including SANUK and havaianas footwear, and The Art of Shaving, but there is one store that stands out, and it's good fun even if you don't buy anything.
Chapel Hats is a small-ish store, and it's nearly always crowded. Why? Because its shelves are filled with funky, funny, feathery and fabulous hats. And you can try them on (cue the selfies!).
Town Center
In terms of sheer numbers, Town Center is the shopping 'hub' of Disney Springs, with 45 stores, mainly of the standard outlet and mall variety. But there are some gems mixed in with the likes of Tommy Bahama, Vera Bradley, Coach and Zara.
Brand new is The Disney Corner, and while much of the merchandise can be found elsewhere, it's a delightful mix of princess-wear, all things Minnie Mouse, ultra-sparkly Mouse Ears and more. This is a girly-girl shop, so the men may want to grab a pint next door, at Polite Pig. The Disney Corner will only be open for a limited time, as World of Disney undergoes a major make-over.
British-owned Superdry blends Japanese, British and vintage American style in their men's and women's fashions, and while you can probably buy this brand at home, we've got two words for you: "exchange rate."
The Coca Cola Store is here, too, for those who like a little fizz with their branded-wear, and you'll find special keepsakes at PANDORA Jewelry or ALEX AND ANI, plus trendy gifts at the shop whose name is as much a mouthful as its burgers are, The Store At Planet Hollywood Observatory.   
West Side
Originally, West Side was the "hip and funky" side of Downtown Disney, and it's probably fair to say it still holds that distinction now that Downtown has been replaced with Springs. On-point brands such as Curl by Sammy Duvall, Columbia Sportswear, Lucky Brand, Something Silver, Sunglass Icon, and House of Blues Gear Shop are here, but there are two outlets that take "super cool" to another level.  
It's not as big or as comprehensive as Launch Bay in Hollywood Studios, but Star Wars Galactic Outpost has plenty of Force when it comes to clothing, toys, art, collectibles…and those all-important light-sabers. Hankering for a BB2 Rice Krispy treat? You'll find them here, too.
From Vinylmation Wonder Woman, Captain America, Thor and friends, to art, apparel, toys and games, Super Hero Headquarters is the place the cool kids shop. And a big part of the reason you must make this a stop on your shopping spree is the chance to take home Dancing Baby Groot.
Marketplace
For our money, this is the place to be for items that are truly "distinctly Disney." Yes, we know…there is a sentimental value to this part of Disney Springs, but even putting that aside, it's definitely the most "Disney" part of the Springs, and we're unashamedly appreciative of that.
The gargantuan World of Disney store has anything you could possibly want in themed merchandise, from tee-shirts and hats to snow-globes and kitchen utensils, and if it's original art you're seeking, look no further than the superb The Art of Disney.
Not only can you find unique items in Crystal Arts by Arribas Brothers, you can find one-of-a-kind items, too. If your budget extends to $37,500, there's a Cinderella Castle covered in Swarovski crystal for that. If you're inclined toward a more modest purchase, take a look at what the artist stationed in the shop is creating, and come away with a hand-made treasure.
Star Wars Trading Post opened last summer, and it carries (surprise!) a universe of Star Wars merchandise. So if you're regretting your decision not to Build Your Own Droid while you were at Launch Bay in Hollywood Studios, now's your chance.
One of our favourite stores in all of Disney Springs is the fab Marketplace Co-Op. Want to re-do your kitchen in a Haunted Mansion theme or dress like the Tightrope Girl from the same attraction? Need a parrot from Enchanted Tiki Room or theme-park inspired salt-and-pepper shakers? Yearning for a Dooney & Bourke or Vera Bradley Disney-themed handbag? They've got you covered.
And, of course, it's practically a law in Florida that you have to pop into Disney's Days of Christmas and pick up a new Christmas ornament for your tree, to remember the most magical of holidays.
So dig out those Disney Dollars from your last visit, or take advantage of Attraction Tickets Direct's current special offer (while stocks last), and warm up those wallets and purses for a serious spending spree at Disney Springs!
Liked this post? You may also like...