By AttractionTickets.com's Florida Experts, Susan and Simon Veness
If it's September, it must be time for that fun family fiesta at Magic Kingdom Park that highlights the spirit of the season in the most enjoyable way possible.
Yes, it's time for Mickey's Not-So-Scary Halloween Party and, after two years of pandemic-enforced hiatus, Walt Disney World Resort's big autumn event is back in business in high style.
The hugely-popular after-hours party was cancelled completely in 2020, and made a token reappearance last year as the Disney After Hours Boo Bash. Happily, the return of UK visitors to the US this year has coincided with the restoration of MNSSHP – to use its acronym – and this year's event definitely revives the full Halloween jamboree with Mickey and the gang.
For those completely new to Disney's big autumn festival, MNSSHP is a separately ticketed evening occasion at Magic Kingdom Park, lasting from 7pm to midnight, with a series of additional shows, special characters, fireworks and other live entertainment, in addition to the child-friendly tradition of trick-or-treating.
Every party-goer is given their own bag in which to collect Halloween candy (that's various kinds types of sweets, chocolates and other treats for UK visitors!) from 14 different Trick-or-Treat stations throughout the park.
They might be a small bag of M&Ms or Skittles, or they might be bite-size Snickers or other chocolate bars. Each station will dish up generous handfuls of their treats (and it's not frowned on if you visit stations more than once, especially late at night!).
Have allergies? Ask a Disney Cast Member for the special teal-coloured bags. These will tell the Cast Members at each treat station to give you a special token instead of the regular candy offering, and you can then visit one of the Allergy-Friendly Centres around the park and trade in the tokens for something more suitable.
Many people also go along in costume, and this is typically encouraged, as it lends a real festive atmosphere to the occasion. People going as Disney Characters is commonplace, as well as ghosts, witches and other suitably spooky types.
Once inside the park, you'll want to keep your map handy for the times of the big set-piece entertainment events that are the heart and soul of MNSSHP.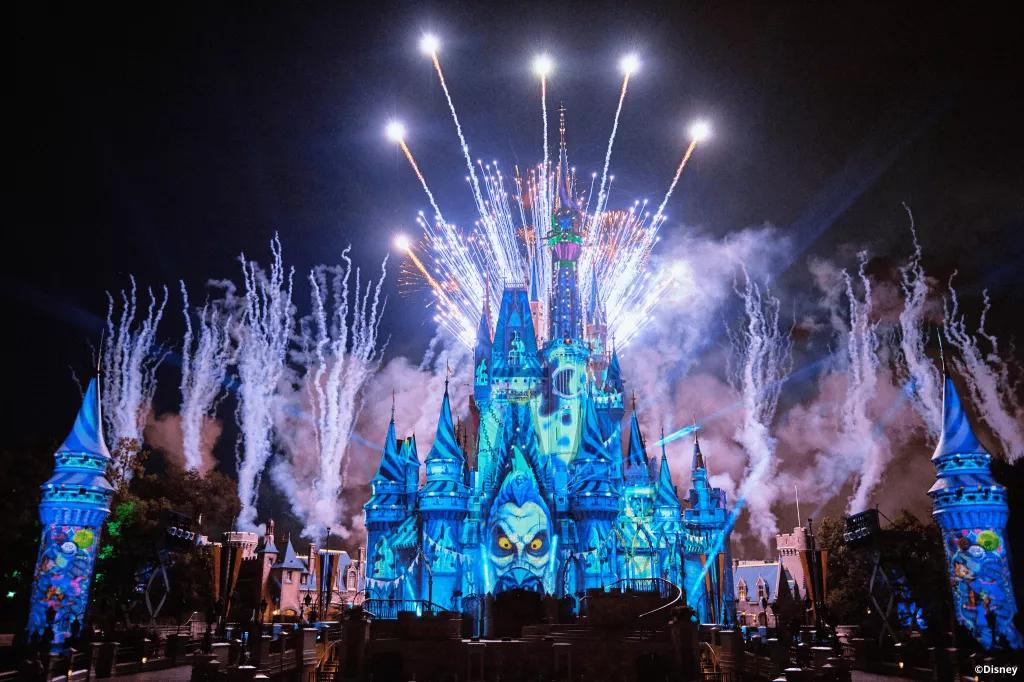 A major highlight is the Hocus Pocus Villain Spelltacular show on the Castle Forecourt Stage, featuring that wicked trio the Sanderson sisters from the hit film Hocus Pocus, as well as other assorted Disney baddies. This usually performs three times a night (weather permitting), and the second show is closely followed by another stand-out event.
Mickey's Boo To You Halloween Parade is an absolute show-stopper, a 15-minute extravaganza featuring all the usual Disney Characters, but also a fair sprinkling of the Disney Villains, who get their own showcase throughout the cavalcade. It also performs twice a night, at 9:15pm and 11:15pm, and the second showing is usually a lot less crowded.
PS: We filmed the full parade the last time it was held, in 2019, which you can see below. 
At 10:15pm, get ready for the aerial razzle-dazzle that is the new Disney's Not-So-Spooky Spectacular, a 12-minute showcase of the park's pyrotechnic wizardry, featuring more of those Disney Villains, and plenty of fireworks. It lights up the sky for miles around and is accompanied by a glittering, ghostly projection show on Cinderella Castle for an entertainment tour de force.
And there's more. Look out for periodic a capella performances from The Cadaver Dans in Frontierland (yes, they are the daytime Dapper Dans, but they are twice as funny for MNSSHP!), while there are also three fun dance parties with children in mind.
The Disney Junior Jam Dance Party takes place in the Storybook Circus section of Fantasyland, and the ZOM-BEATZ Bash highlights Cosmic Ray's Starlight Café in Tomorrowland, where you will also find the Monstrous Scream-O-Ween Ball Dance Party on the Rockettower Plaza Stage, featuring characters from Monsters Inc.
MNSSHP is also great for finding rare characters at the various meet-and-greets throughout the park. We especially like the one for Jack and Sally (from The Nightmare Before Christmas), just across from the Spooky Hollow counter-service café in Liberty Square, and Jasmine with Genie at the Agrabah Bazaar in Adventureland.
And look out for some special Step-in Photo-Frames, where you can use your exclusive Memory Maker ticket bonus to snap up some memorable Disney photos.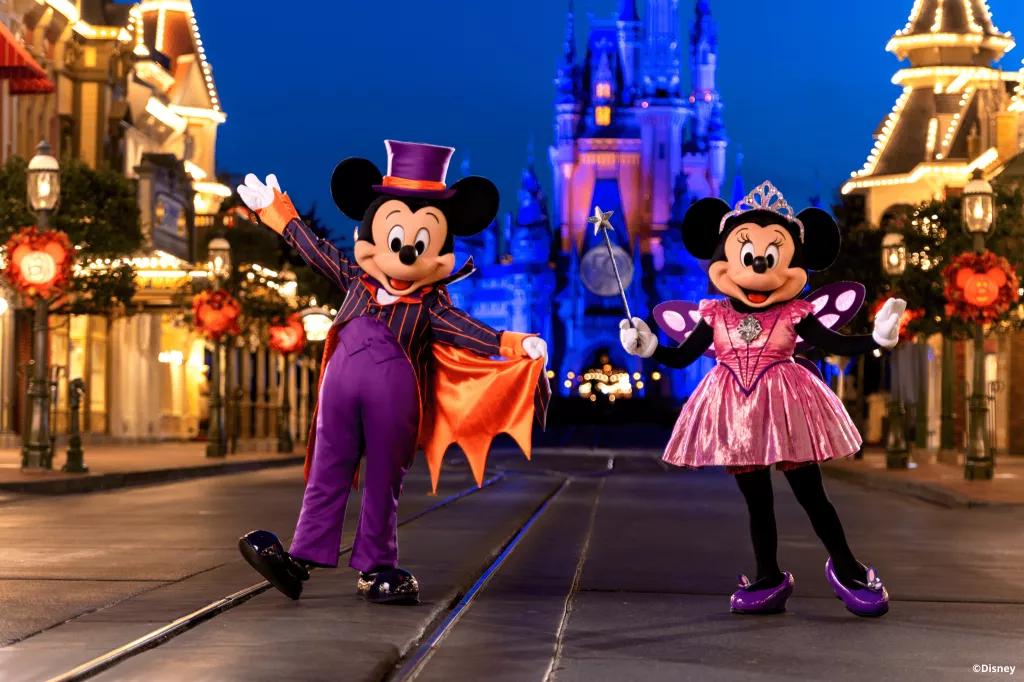 This year's event is also notable for an extensive array of highly tempting offerings at 15 of the park's food and beverage outlets, including the fab Grave Digger Milkshake at Sleepy Hollow and the tasty Bayou Burger at Cosmic Rays. Our top treat this year though is the Mexican-Spiced Hot COCO Brownie served at the Popcorn Cart in the Hub area in front of Cinderella Castle. Just gooey deliciousness!
Oh, and if you're into collecting souvenir merchandise, the Halloween Mickey popcorn bucket ($24) is a great example of that special item that is likely to sell out this year.
There are even four rides that have an added Halloween component to provide extra fun, notably with live characters in the queue and during the ride of Pirates of the Caribbean and outside The Haunted Mansion, the latter of which also makes for a superb extra PhotoPass opportunity.
It is a LOT to pack in to just one night at Magic Kingdom Park, but it definitely shows off the park in a completely different light. And, if you have the stamina to last until midnight, you'll find the crowds melt away in the last hour or so, meaning you can really stock up at all the Trick-or-Treat stations!
Mickey's Not-So-Scary Halloween Party runs on select nights until October 31st, and you can get your tickets in advance (and it's vital to pre-buy, as many nights will sell out weeks ahead).
Our top tip for going to the party is to arrive shortly after 4pm, as Party guests are allowed in well before the official 7pm opening time, and you can enjoy some of the great rides and other attractions during that time.
Have you been to Mickey's Not-So-Scary Halloween Party in the past? Tell us about your experiences on the friendly ATD forums, our Community Facebook page, on Twitter or Instagram.