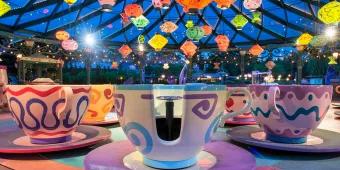 Guaranteed theme park fun!
From family friendly rides to big thrills and everything in between, check out our guide to the best rides at Disneyland Paris...
At Disneyland Paris there are SO many great rides! Whether you're looking for exciting rides with big drops and plenty of thrills or something the whole family can enjoy, there really is something for everyone. Take a look at some of the best Disneyland Paris rides…
For thrill seekers:
Space Mountain: Mission 2
If you love rides, you can't miss Disney's iconic Space Mountain! This famous ride has been a fan favourite ever since it opened, becoming even more popular after its Star Wars makeover. 'Star Wars Hyperspace Mountain' was born in honour of their 25th anniversary, which happened in 2017. The main parts of the ride are still the same, but there are lots of amazing new Star Wars features.  
Board your space craft and prepare to shoot through an intergalactic tunnel straight into outer space. A 36-metre high cannon launches you into total darkness where stunning shooting stars, comets and soaring meteors are the only source of light. Get ready to blast your way through a swarm of deadly TIE fighters before blowing up a menacing Star Destroyer! You'll hurtle through space at speeds of up to 44mph with an adrenaline inducing futuristic soundtrack blasting in the background. Beware, the only way out of Space Mountain is through a blazing red vortex!
Where? Disneyland Park
The Twilight Zone Tower of Terror
The Twilight Zone Tower of Terror is an iconic Disney ride, and a visit to the Disneyland Paris parks wouldn't be complete until you've tried it. Get ready to face your fears and take the plunge as you plummet 13-floors in total darkness! The Hollywood Tower Hotel is rumoured to be haunted, and if you're brave enough to step inside, you'll find out for yourself. As the hotel windows swing open, you'll hear screams echo across the park. You've been warned- this one isn't for the faint hearted.
Where? Walt Disney Studios Park 
Indiana Jones and the Temple of Peril
Release your inner Indiana Jones as you're called upon to investigate what happened to an earlier expedition team. When you arrive at the deserted base camp you'll notice the clothes and equipment left behind. Despite the warning signs, it's too late to turn back! As you make your way towards a mysterious looking temple you hear terrifying screams and the danger mounts. Get ready for twists, turns, inversions and out of control spirals.
Where? Disneyland Park
For the little ones:
Peter Pan's Flight
Children will absolutely love this fun filled ride that gives you the chance to follow in the footsteps of the mischievous Peter Pan. A sprinkle of magical pixie dust makes your ship fly through a sky filled with glittering stars. You'll soar high above the city of London, its iconic landmarks and the Darling family home. It's not long before you get to Never Land and find yourself in the middle of a deadly battle between Captain Hook and Peter Pan himself!
Peter Pan's Flight is one of the most popular rides at Disneyland Paris and also at the Magic Kingdom theme park at Walt Disney World in Orlando. If you want to experience a true Disney classic, put this famous ride on your must-try list.
Where? Disneyland Park
Dumbo the Flying Elephant
Take to the skies with Dumbo the Flying Elephant for great views of the Disneyland Park and Sleeping Beauty Castle. Choose for yourself which way Dumbo will fly. Swoop towards the sky and back down again with the lively sound of carnival music echoing in the background. Make sure you say hello to Dumbo's best friend Timothy Q while you're there and look out for that magic feather.
Where? Disneyland Park
For the whole family:
Buzz Lightyear Laser Blast
A ride on the Buzz Lightyear Laser Blast can get quite competitive so make sure you give it your best shot. It's a battle to defeat the evil Emperor Zurg and Buzz needs your help! Ride with friends or family and use your individual space cannons to shoot infrared lasers at the targets. Some targets are harder than others, but you'll be rewarded with extra points if you manage to get them. Spin your cart an entire 360-degrees to make sure you shoot as many as possible and beat your opponents. This is another Disneyland Paris classic that kids (and big kids!) will love. 
Where? Disneyland Park
Mad Hatter's Tea Cups
The Mad Hatter is hosting a tea party at Disneyland Paris and you're invited! Enter Wonderland and give the Mad Hatter's Tea Cups a try. Suitable for all ages with each teacup holding up to 5 people, this ride is great fun for the family. Choose your favourite colourful cup and get ready to start spinning. Want to go faster? Just turn the wheel to control how fast you go! The ride really comes to life at night, when it's illuminated with hundreds of sparkling fairy lights, which along with the glass roof and vibrant lanterns, combine to make the Mad Hatter's Tea Cups one of the park's most beautiful rides.
Where? Disneyland Park
Crush's Coaster
Crush's Coaster is a ride that the whole family can enjoy, and if you love Finding Nemo (who doesn't?) you're going to love this too. Board a turtle shell and get ready for an adventure through classic scenes from the movie. You'll encounter plenty of familiar faces along the way. Look out for the likes of Nemo and Squirt as you race through the Great Barrier Reef. Be warned, some of the ocean's unfriendly inhabitants are lurking in the darkness and it won't be long before you're faced with a swarm of jellyfish and sharks! 
Where? Walt Disney Studios Park 
For a big splash:
Pirates of the Caribbean
All aboard! Come face to face with the menacing pirates on this exciting water adventure. Pass by a Spanish fortress, dingy dungeons and haunting skeletal remains, before reaching a glimmering moonlit lagoon where a vessel is already waiting for you. Embark on a thrilling voyage passing Pirate's Grotto, The Dungeon and the Burning City! Look out for battling pirates, scallywags and plenty of surprises along the way, but above all, prepare to get wet!
Where? Disneyland Park
For something traditional:
It's a Small World
You can't visit Disneyland Paris without experiencing 'It's a Small World'. As one of the park's opening day attractions, this is without a doubt one of the most popular rides, although be warned, the famous soundtrack might be stuck in your head for hours afterwards! Great for the whole family, sail around the world and admire the beautiful scenery, vibrant décor and rich culture of each country. Providing the music are over 300 traditionally dressed dolls from across the globe singing along to the track in their native language.
Where? Disneyland Park
Fancy trying some of these amazing rides? All Disneyland Paris rides are included free in the price of your ticket. View our great value Disneyland Paris tickets.
Liked this post? You may also like...
A guide to the top attractions in Paris
8 reasons for adults to love Disneyland Paris