Destinations
New York Frequently Asked Questions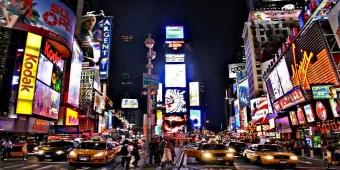 Read frequently asked questions about theme parks, attractions, tours and experiences in New York.

All of AttractionTickets.com's New York attractions, experiences and Broadway Show Frequently Asked Questions answered here...
How does Skip the Line admission work with the Empire State Building?

We send you actual Empire State Building tickets in advance which enable you to skip the ticket admission queue and head straight to the lifts. This can easily save you 45 minutes.

The date on my Empire State Building has passed?

The date displayed on your ESB ticket is the date the ticket was printed. Your ticket is open-dated and is valid for two years from the printed date.

How long does the Freestyle Package last for?

Your New York Freestyle package lasts 72 hours from first use.

Can infants take a New York Helicopter flight?

There are no age restrictions on the helicopter flights. Children or even babies are allowed to accompany their parent's flight. Children under 2 will be required to sit on their parent's lap.

Is Top of the Rock open every day?

Yes from 8am till midnight each day, although the last elevator goes to Top of the Rock at 11pm. The Average visit is around 45 minutes to 1 hour, but visitors can stay as long as they like once in the observation areas.

Can you use Top of the Rock tickets at any time of the day?

Yes, the ticket we issue you will be valid any time of the day. To avoid queuing, you can go along and pre-book yourself a viewing slot which will allow you to by-pass the queues when you return for your allotted viewing time.

Do we need to provide flight details for the New York airport shuttles?

There is no need to provide flight details for airport shuttles. Just follow the instructions to the shuttle from the airport terminal and board the next available shuttle bus to head off to your hotel.

How early can I pre-book a Broadway show with you?

We take bookings for shows approximately three months in advance.
If you have a query that hasn't been answered on this page, please don't hesitate to contact our sales team at [email protected].