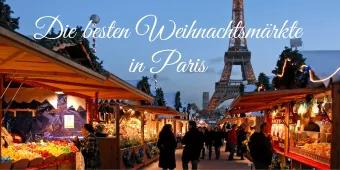 "It's the most wonderful time of the year…"
Werfen Sie einen Blick in unseren Guide über die besten (und festlichsten) Weihnachtsmärkte, die wir in Paris gefunden haben.
Besonders für einen kurzen Trip in die Stadt der Liebe ist es wichtig schon vorher eine Auswahl getroffen zu haben, da es dutzende Weihnachtsmärkte in Paris gibt. Hier ist unsere Auswahl der besten und abwechslungsreichsten Weihnachtsmärkte der Stadt:
Champs Elysées Weihnachtsmarkt
Der magische Weihnachtsmarkt am Champs Elysées reicht vom Anfang der Hauptstraße über die berühmten high-end Shoppingmöglichkeiten bis hin zum Place de la Concorde und ist einer der bekanntesten Märkte der Welt. Entzückende Holzhütten voller Weihnachtsstimmung, köstlichem französischen Essen und dem obligatorischen Weihnachtskitsch verzieren dieses Jahr über einen Monat lang die berühmteste Straße von Paris. Der Markt hat am 17. November eröffnet und kann noch bis zum 27. Dezember besucht werden. Etwas versteckt am Ende der Straße finden Sie den Marché Gourmand, den Sie keinesfalls verpassen sollten. Hier können Sie der luxuriösen Küche Frankreichs frönen und allerlei Köstlichkeiten wie Ente, Schnecken und Käsefondue genießen... einfach himmlisch!
Wir empfehlen Ihnen den Markt abends zu besuchen, wenn die Weihnachtslichter in den Hütten funkeln und Sie nach einem Tag voller Sightseeing am Arc de Triomphe oder am Louvre einen wohlverdienten Schluck vin chaude (Glühwein) trinken und sich aufwärmen. Der Markt hat während der Weihnachtszeit jeden Tag geöffnet, am Wochenende sogar bis spät abends.
Notre Dame Weihnachtsmarkt
Sollten Sie Notre Dame zur Weihnachtszeit besichtigen, planen Sie auf jeden Fall etwas mehr Zeit ein und schlendern Sie eine Runde über den Notre Dame-Weihnachtsmarkt, wo mehr als 50 Handwerker ihre ganz eigenen Kreationen anbieten. Hier finden Sie Kleidung, Accessoires, verschiedenste Dekoartikel und Souvenirs sowie traditionelles Essen, und sogar einen ganz besonderen Gast: den Weihnachtsmann selbst!
Der Markt hat vom 16. bis 25. Dezember unter der Woche von 10 bis 20 Uhr und Freitag bis Sonntag sogar bis 21 Uhr geöffnet.
Traditioneller elsässischer Weihnachtsmarkt am Gare de l'Est
Das Elsass an der deutsch-französischen Grenze ist besonders bekannt für seine traditionellen Leckereien wie z. B. Lebkuchen, Brezeln und Weihnachtsplätzchen. Wenn Sie also auf der Suche nach etwas Leckerem auf die Hand sind oder eine Kleinigkeit mit nach Hause nehmen wollen, gibt es keinen besseren Platz als den Weihnachtsmarkt am Gare de l'Est. Zudem ist das Elsass berühmt für seinen erstklassigen Wein, welcher sich perfekt als Begleitung zum luxuriösen Geschmack von foie gras, köstlichem Käse und geräuchertem Fleisch eignet.
Neben all diesem fabelhaften Essen finden Sie außerdem Weihnachtsdekoration, Stoffe und vieles mehr, um einen der klassischsten Weihnachtsmärkte Paris zu vervollständigen. Der Markt ist den gesamten Dezember über geöffnet und auf jeden Fall einen Besuch wert.
Eiffelturm-Weihnachtsmarkt am Quai Branly
Gehen Sie vom Fuße des Eiffelturms nur einmal kurz über den Fluss und schon befinden Sie sich auf dem Markt direkt beim Quai Branly. Besonders bei Besuchern des Eiffelturms ist dieser Weihnachtsmarkt sehr beliebt. Hier finden Sie tolle alte Karussells und andere Rides sowie charmante Kleinholzhütten, in denen es verschiedenste Leckereien zum Aufwärmen gibt, nachdem Sie in der Kälte die Spitze des Eiffelturms erklommen haben.
Der Markt öffnet am 17. Dezember, ist bis zum 3. Januar 2017 geöffnet und somit einer der wenigen Märkte, die Sie auch nach Weihnachten besuchen können. Sie sollten jedoch nicht zu spät kommen, da der Weihnachtsmarkt schon um 19 Uhr schließt.
Planen Sie an Weihnachten eine Reise nach Paris? Werfen Sie hier einen Blick auf unsere große Auswahl an Tickets, mit denen Sie Zeit und Geld für Ihren Trip sparen können.
Ihnen hat dieser Blog gefallen? Diese könnten Ihnen auch gefallen: