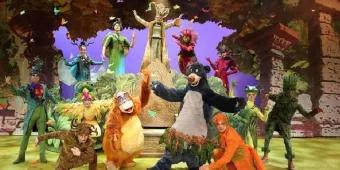 Nur diesen Sommer!
Gute Nachrichten für alle, die die "Forest of Enchantment" Show bereits letztes Jahr ins Herz geschlossen haben: sie kehrt diesen Sommer für 2 Monate zurück ins Disneyland Paris Resort!
Die neue Show ist am 1. Juli zurückgekehrt und wird bis zum 3. September laufen. Gäste werden in ein musikalisches Abenteuer mit den beliebtesten Disney-Charakteren aller Zeiten entführt. Unter den klassischen Disney-Charakteren sind Baloo, King Louie, Merida, Pocahontas und Tarzan sowie weitere Ehrengäste, die im Laufe der Show auftreten.
Die Aufführung ist ein magischer Mix aus klassischen Disneysongs, atemberaubender Akrobatik  und einer umwerfend schönen Kulisse, die Sie mit eigenen Augen gesehen haben müssen um zu glauben, dass sie echt ist. Wenn die Musik anläuft und die unglaublich talentierten Darsteller die Bühne betreten, wird Sie die Magie Disneys sofort in ihren Bann ziehen.
Die Show ist eine der wenigen Möglichkeiten um die Charaktere miteinander interagieren zu sehen. Ein Disneyland-Paris-Besuch in diesem Sommer ist daher auf jeden Fall eine Überlegung wert. Sehen Sie im nachfolgenden Video, was Sie von der Show erwarten können:
Die Show findet 5x täglich im The Chaparral Theatre statt und dauert ca. 20 Minuten - seien Sie dabei!
Klicken Sie hier um sich Ihre Tickets für einen magischen Sommer im Disneyland Paris zu sichern und profitieren Sie von unseren zahlreichen Sommer-Sparangeboten!