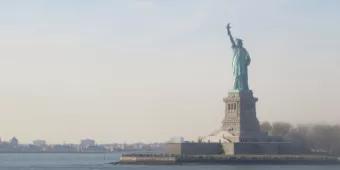 Wir haben eine ultimative To-Do-Liste für Sie zusammengesellt
Ein Mal im Leben in die Stadt, die niemals schläft. Damit Sie bei Ihrem ersten Besuch im Big Apple nicht von den vielfältigen Möglichkeiten erschlagen werden, haben wir Ihnen eine To-Do-Liste zusammengestellt, mit der Sie schon mal ein paar der wichtigsten Ziele auf dem Schirm haben.
Empire State Building
Schauen Sie sich New York aus der Vogelperspektive an, in einem der bekanntesten Bauwerke der Welt. Die Aussichtsplattform des Empire State Buildings ragt etwa 320 Meter über die Fifth Avenue. An klaren Tagen ist von hier aus eine Fernsicht von über 80 Kilometern möglich.
Sie nehmen lieber die Treppen als den Aufzug? Einmal jährlich findet der Empire-State Building Run-up statt. Ein Treppenstufen-Wettrennen bei dem besonders sportliche Treppensteiger von der Eingangshalle bis zum 86. Stockwerk sprinten. Der aktuelle Streckenrekord liegt bei 9min 22sek. Mit dem Aufzug sind Sie hingegen in unter einer Minute ganz oben.
Top of The Rock
Eine weitere Möglichkeit New York von oben zu sehen, bietet das Rockefeller Center. In etwa 300 Metern Höhe können Sie einen 360-Grad-Panorama Blick genießen und haben den gesamten Central Park im Blick. Wer den atemberaubenden Anblick, des in verschiedenen Farben erleuchtenden Empire State Buildings, nicht verpassen will, sollte unbedingt abends auf die Aussichtsplattform kommen.
One World Observatory
Mit knapp 540m ist das One World Trade Center sowohl das höchste Gebäude der Stadt, als auch das höchste der USA! Hier erleben Sie einen atemberaubenden Ausblick von New Yorks neuster Aussichtsplattform. Bereits die Fahrt mit dem Aufzug, dem so genannten "SkyPod" stellt ein Erlebnis dar. Steigen Sie in 47 Sekunden zur Spitze auf, während ein HD-Video in der Glaswand des Aufzugs Ihnen die Entwicklung der New Yorker Skyline vom Jahre 1500 bis heute darstellt. Wenn Sie dann zur Spitze gelangen, machen Sie sich gefasst, 3 Stockwerke voller Innovation und Inspiration zu erkunden. Der Besuch lohnt sich!
Hubschrauber-Rundflüge
Wer hoch hinaus möchte, ist in New York absolut richtig. Wer dazu nicht in auf ein Gebäude steigen will, kann dies auch in Form eines Hubschrauber-Rundflugs tun. Es erwarten Sie unvergessliche Eindrücke über die Freiheitsstatue, Ellis und Governors Island und das Empire State Building. Für einen besonders extravaganten Höhenflug empfehlen wir Ihnen den privaten New York Helikopter Flug.  
MoMa
Das Museum of Modern Art, kurz MoMA, beherbergt einige der bedeutendsten und einflussreichsten Sammlungen moderner und zeitgenössischer Kunst. Schiele, van Gogh, Klimt, Pollock, Warhol und viele weitere warten schon auf Sie. Über 150.000 Werke der bildenden Kunst, Design, Photographie, Videokunst und Architektur werden hier gesammelt und für die Allgemeinheit zur Besichtigung freigegeben.
Das Guggenheim Museum
Das von Frank Lloyd Wright entworfene architektonische Meisterwerk, mit seinem kreisförmigen Grundriss und seinen terrassenförmigen Etagen, ist ein absolutes Highlight für jeden Kunstliebhaber. Im Inneren befinden sich die Sammlungen Guggenheims, Thanhausers und Nierendorfs, die sich auf abstrakte Malerei, Expressionismus und Surrealismus konzentrieren. Freuen Sie unter anderem auf Kandinsky, Kokoschka und Klee.
Wenn Sie lange Wartezeiten und Geld sparen wollen, empfehlen wir Ihnen die Nutzung eines Mehrtagespasses.
Central Park
Im Herzen des Big Apples finden Sie den meistbesuchten Park der USA. Der Central Park wird an manchen Tagen von über 500.000 Menschen besucht und darf auch nicht auf Ihrem Reiseplan fehlen. Ob ein gemütlicher Spaziergang, eine romanische Kutschenfahrt durch die Parkanlage oder eine sportliche Runde joggen, der Besuch des Parks ist zwar kostenlos aber mit Sicherheit nicht umsonst.
Staten Island Ferry
Die Staten Island Ferry verbindet den Hafen von Manhattan und Staten Island. Die Fahrt bietet eine traumhafte Aussicht auf die Freiheitsstatue, eine der meistfotografierten Sehenswürdigkeiten der Welt. Zudem erhalten Sie eine herausragende Übersicht über Ellis Island und Lower Manhattan.
Broadway Shows
Machen Sie Theater! Ein weiteres Markenzeichen New Yorks ist der weltberühmte Broadway. Ob "Der König der Löwen", "School of Rock", "Aladdin" oder "Frozen", für jeden Geschmack wird eine sensationelle Show geboten. Sichern Sie sich noch vor Ihrer Reise Tickets und sparen Sie kostbare Zeit und Geld vor Ort.
Sie sollten nun eine gute Übersicht über ein paar der wichtigsten Locations in New York haben. Was noch fehlt, sind die passenden Tickets um das Maximum aus Ihrer Reise zu holen! Aber keine Sorge, wir haben sie bereits hier für Sie vorbereitet!
Dieser Blog hat Ihnen gefallen? Diese könnten Ihnen auch gefallen: