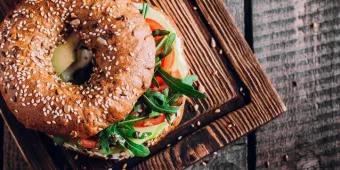 Da läuft einem glatt das Wasser im Mund zusammen...
Ob es nur ein schneller Bagel auf die Hand sein soll, oder ein gemütliches Frühstück, bei dem Sie rundum bedient werden – unter diesen 5 Frühstückslokalen ist definitiv auch das passende für Sie dabei!
New York hat viel zu bieten. Vor Ort ist man damit beschäftigt, von Attraktion zu Attraktion zu ziehen und atemberaubende Eindrücke aufzunehmen. Ob von einem Wolkenkratzer zum nächsten, ein gemütlicher Spaziergang im Central Park oder eine Shoppingtour durch die beliebte Fifth Avenue – um den Tag gut zu überstehen, darf ein sättigendes Frühstück nicht fehlen.
Wir haben 5 Top Frühstücksspots in New York für Sie herausgesucht, bei denen Sie nicht nur gestärkt in den Tag starten können, sondern bei denen außerdem das bekanntliche Auge mitisst.
(PC: @traveltongue)
1. Rustic Table
Wie der Name schon verrät, wird es hier rustikal und und geschmacklich vor allem mediterran. Die Philosophie des Cafes ist es, frisches Frühstück und und Brunch mit exotischem, mediterranen Touch zu servieren. Leckere Sandwiches, Bagels, Gepäck und toller Kaffee erwarten Sie hier.
"Wir wollten ein mediterranes Food Concept mit schnellem Service schaffen", sagt Rustic Table. Das Café möchte sich mit einem Schwesterkonzept Rustic Table Shuk erweitern. Auf der Agenda wird mediterrane Marktküche stehen. Jerusalem Bagels, gerösteter Blumenkohl und Tahini-Eissandwiches lassen die Besucher in die Welt der mediterranen Geschmäcker abtauchen.
Was Sie hier unbedingt probieren sollten:
The Early Lunch, The Veggie, The Avocado Smash Sandwich, Shakshuka, Slow Cooked Brisket, Feta Za'atar Scone
(PC: @mariebelleofficial)
2. MarieBelle Cacao Bar und Tea Salon
Haben Sie eine Schwäche für Schokolade? Dann sollten Sie Ihren Tag unbedingt mit einem leckeren Frühstück in MarieBelles Cacao Bar und Tea Salon starten. Umgeben von zauberhafter Einrichtung im Vintage Stil und einer Fülle an luxuriösen Schokoladengütern, können Sie hier die Kunst der Chocolaterie zelebrieren. "MarieBelle Cacao Bar und Tea Salon wurden im Jahr 2006 eröffnet", sagt uns eine Mitarbeiterin von MarieBelle. "Der Gründer, Maribel Liberman, hat ein geschmackvolles Pariser Café geschaffen, das Sie in eine andere Zeit versetzt. Sie sind von eleganten Kronleuchtern, Vintage-Spiegeln und Marmortischen umgeben, an denen Sie die handgefertigte Schokolade und die exquisite heiße MarieBelle-Schokolade genießen können. "Wir bieten einen Raum, in dem Sie sich entspannt fühlen und die exotischsten Süßigkeiten genießen können, darunter auch verschiedene Schokoladensorten mit Gewürzen und unterschiedlichen Kakaogehältern. Erlauben Sie uns, Sie auf ein Abenteuer des Geschmacks mit erstaunlichen Techniken und Rezepten zu entführen, die Maribel kreiert hat. Hier werden Sie sich immer wieder in Schokolade verlieben."
Was Sie hier unbedingt probieren sollten:
Moelleux au Chocolat Molten Lava Cake, Aztec 65% Dark Hot Chocolate, Grilled Chicken Avocado Sandwich with Spicy Mayo
(PC: @thegreydognyc)
3. The Grey Dog
Hier ist für jeden etwas dabei: Im Grey Dog finden Sie American-style Pancakes, French Toast, Breakfast Tacos und noch vieles mehr. Von süß über herzhaft wird hier jedes Geschmacksbedürfnis befriedigt.
Patty, eine Mitarbeiterin von The Grey Dog, erzählte uns alles über die Geschichte hinter dem Café. "The Grey Dog begann in einer ruhigen Straße im West Village, wo zwei Brüder, Dave und Pete, ohne jegliche Geschäftserfahrung oder auch nur einen wirklichen Plan, beschlossen, ein Restaurant zu eröffnen. Ihre Mission war einfach - einen Ort schaffen, an dem die Menschen gerne sind. Ein Künstlerpaar voller Geist und Kreativität nutzte ihren kleinen Laden als Leinwand. Sie benannten es nach ihren Hunden. "Der Grey Dog ist seit 1996 der beste Freund der Nachbarschaft. Die Community hat uns immer unterstützt und es ist unser Ziel, das Geschäft als eine treibende Kraft zu nutzen und etwas zurückzugeben. "
Was Sie hier unbedingt probieren sollten:
The Grey Dog's Breakfast, Challah French Toast, Fried Chicken & Egg Sandwich, Blueberry Mascarpone Toast
(PC: @eats_around_the_world)
4. Tompkins Square Bagel
Ist Ihr New York Trip wirklich eine New York Trip, wenn Sie nicht mindestens einen Bagel gegessen haben? Ein Bagel ist das perfekte Frühstück für unterwegs und somit auch das perfekte traditionelle Frühstück für echte New Yorker. Egal, ob Sie Ihren Bagel süß oder herzhaft bevorzugen, Tompkin Square Bagels ist auf alles vorbereitet.
Inhaber Christopher sagt auf der Webseite: "Ich wollte, dass TSB ein warmes, heimeliges und einladendes Gefühl gibt, ähnlich wie die Geschäfte in Brooklyn, mit denen ich als Kind aufgewachsen bin. Ein Ort, an dem sich niemand jemals fehl am Platz fühlen konnte. Student, Schauspieler, Polizist, Schriftsteller, Kleinkind oder Taxifahrer. TSB ist für alle da."
Obwohl TSB ein absoluter Hotspot für Bagelfans ist, bietet TSB auch andere klassische amerikanische Frühstücksgerichte wie Omeletts, Muffins, Salate und eine Vielzahl von Backwaren an.
Was Sie hier unbedingt probieren sollten:
Cinnamon Raisin Bagel, Bacon Scallion with Cream Cheese Bagel, French Toast Bagel, Birthday Cake Bagel
(PC: @blankslatenyc)
5. Blank Slate Coffee + Kitchen
Genießen Sie gesundes Essen und Getränke in einladender Atmosphäre im Blank Slate Coffee + Kitchen. Wählen Sie zwischen einer Auswahl an gesunden und nahrhaften Angeboten, einschließlich Sandwiches und Salaten, zum dort essen oder mitnehmen. Für was auch immer Sie sich entscheiden, Blank Slate bietet einen offenen Raum, in dem Sie sich entspannen, die Sehenswürdigkeiten bewundern oder kommen und gehen können, wie Sie möchten. "Blank Slate Coffee + Kitchen ist eine moderne Café-Bar im NoMad Stadtteil von NYC ", sagt Mitbegründerin Ashley Jaffe. "Wir sind stolz darauf, ein Qualitätsrestaurant mit Nachbarschaftscharm anzubieten. Unsere Speisekarte setzt neue Maßstäbe und erfindet die Klassiker neu, um eine unverwechselbare Küche mit frischem Geschmack zu bieten. Blank Slate zelebriert kulinarische Spitzenleistungen, freundlichen Service und inspirierte Kreativität."
Was Sie hier unbedingt probieren sollten:
Bacon Scramble, Avo & Egg Whites Egg Sandwich, Breakfast Bowl, Avocado Toast with Housemade Hot Honey
Mit einem gefüllten Magen und voller Energie können Sie dann gestärkt in den Tag starten! Sie brauchen noch Inspiration, was Sie in New York unternehmen können? Dann klicken Sie hier.
Ihnen hat dieser Blogpost gefallen? Das könnte Sie auch interessieren: