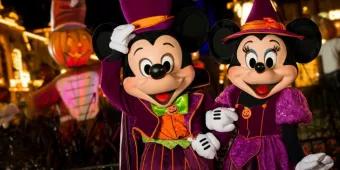 Erwerben Sie Ihre Tickets für die beste Halloween Party!
Sind Sie bereit für ein unvergessliches Halloween? Tickets für Micky's Not So Scary Halloween Party im Magic Kingdom Park sind jetzt online – greifen Sie zu bevor es zu spät ist!
Reisen Sie zum Walt Disney World Resort in Florida zwischen August und November? Dann sollten Sie einen Trip zur Micky's Not So Scary Halloween Party einplanen. Das Event findet vom 13. August – 1. November 2020 statt. 
Was können Sie erwarten
Das Event findet an ausgewählten Tagen im Magic Kingdom Park statt. Diese familienfreundliche Feier bietet jedem Gast die Chance seinen Halloween verkleideten Lieblingscharakter zu sehen und an fantastischen Events teilzunehmen.
Disney's Not So Spooky Spectacular - Bestaunen Sie, wie der Himmel über dem Magic Kingdom Park mit Lasern, Feuerwerk und vielem mehr beleuchtet wird!
Hocus Pocus Villain Spelltacular - Genießen Sie abgefahrenen Spaß bei dieser Feier, die von den berühmten Sanderson Sisters von Hocus Pocus veranstaltet wird.
Boo-to-You Halloween Parade – Ein familienfreundliches maskiertes Event mit Stars von Haunted Mansion.
The Cadaver Dans Barbershop Quartet - Begeben Sie sich ins Frontierland, um die Dapper Dans-Style "Band" zu finden, welche Sie vor Lachen zum weinen bringt!
Familienfreundliche Aktivitäten
Sammeln Sie Leckereien von Land zu Land im Magic Kingdom Park. Es gibt auch Optionen für Gäste mit Nahrungsmittelallergien.
Ziehen Sie Ihr bestes familienfreundliches Kostüm an (es gelten die offiziellen Kostümrichtlinien) und lassen Sie sich auf Halloween ein! Perfekt, um ihren eignen Disney-Charakter zu entdecken.
Kreieren Sie Erinnerungen, die ein Leben lang anhalten werden und sehen Sie einige Ihrer Lieblings-Disney-Charaktere, die alle für diesen gruseligen Anlass verkleidet sind. Machen Sie ein Foto und nehmen Sie es für Ihre Freunde und Familie mit nach Hause!
Attraktionen
Neben der teuflischen Deko, spezieller Unterhaltung und dem Feuerwerk, erhalten die Gäste der
Mickey's Not So Scary Halloween Party, Zutritt zu beliebten Attraktionen im Magic Kingdom Park.
Diese beinhalten:
Sorcerers of Magic Kingdom
The Magic Carpets of Aladdin
Pirates of the Caribbean 
Swiss Family Treehouse
Big Thunder Mountain Railroad
Splash Mountain 
Haunted Mansion
Prince Charming Regal Carrousel 
"It's a small world"
Peter Pan's Flight
The Many Adventures of Winnie the Pooh
Mad Tea Party
Under the Sea - Journey of The Little Mermaid
Seven Dwarfs Mine Train
Dumbo the Flying Elephant
The Barnstormer
Astro Orbiter
Buzz Lightyear's Space Ranger Spin
Monsters Inc. Laugh Floor
Space Mountain
Tomorrowland Speedway
Tomorrowland Transit Authority PeopleMover
Junge Gäste
Reisen Sie mit Kleinen? Storybook Circus stellt einige ihrer Disney-Junior-Favoriten vor. Auch für die Kleinen ist etwas dabei. Machen Sie sich auf den Weg zum Disney Junior Jam im Fantasyland und genießen Sie den Spaß mit Doc McStuffins, Timon und Vampirina.
Mickey's Not So Scary Halloween Party findet an ausgewählten Nächten zwischen dem 13. August – 1. November 2020 statt. Für das Event muss ein separates Ticket erworben werden. 
Bereit für Halloween mit einem Disney-Twist und an nicht so unheimlichen, lustigen Aktivitäten teilzunehmen? Schauen Sie sich unsere Tickets für Micky's Not So Scary Halloween Party 2020 an. 
Kommen Sie in einem Anlass entsprechenden Kostüm
Freuen Sie sich darauf sich zu verkleiden? Erfahren Sie mehr, welche Kostüme Sie zu dem Event tragen können – und welche nicht.
Lesen Sie bitte unsere offiziellen Kostümrichtlinien für Micky's Not So Scary Halloween Party durch - oder besuchen Sie einfach shopDisney, um die perfekte Verkleidung zusammenzustellen!
ALLGEMEIN

• Disney behält sich das Recht vor, Personen, die Kleidung tragen, die als unangemessen angesehen wird oder die Erfahrung anderer Gäste beeinträchtigen könnte, die Zulassung zu verweigern oder diese zu entfernen.
• Alle Gäste dürfen sich als ihre Lieblingsfigur verkleiden, dürfen jedoch nicht für Bilder posieren oder Autogramme für andere Gäste geben.
• Kostüme müssen familienfreundlich sein und dürfen nicht hinderlich, beleidigend, anstößig oder gewalttätig sein.
• Kostüme dürfen keine Waffen enthalten, die ähneln oder leicht mit einer tatsächlichen Waffen verwechselt werden können.
• Kostüme dürfen keine scharfen Gegenstände, spitzen Gegenstände oder Materialien enthalten, die versehentlich einen anderen Gast treffen könnten.
• Gäste, die diese Richtlinien nicht einhalten, kann der Zutritt zum Park verweigert werden, es sei denn, ihr Kostüm kann geändert werden, um den oben genannten Standards zu entsprechen.
GÄSTE IM ALTER VON 13 UND UNTER
Kostüme und einige Masken dürfen getragen werden, solange die Maske nicht das gesamte Gesicht bedeckt und die Augen sichtbar sind.
 GÄSTE IM ALTER VON 14 UND ÄLTER
Von mehrschichtigen Kostümen oder Kostümrequisiten, die den gesamten Körper umgeben, wird dringend abgeraten und möglicherweise einer zusätzlichen Sicherheitsüberprüfung unterzogen.
Kostüme dürfen den Boden nicht erreichen oder ziehen. (z. B. Prinzessinnenkleider in voller Länge).
Umhänge können getragen werden, wenn die Länge nicht unter die Taille fällt.
Motto T-Shirts, Blusen, Sweatshirts und Hüte sind akzeptabel.
Akzeptable Ac­ces­soires beinhalten: transparente Flügel, Lichtschwerter aus Kunststoff, Spielzeugschwerter, Tutus. Kopfbedeckungen dürfen getragen werden, solange sie das Gesicht nicht bedecken.
Masken jeglicher Art dürfen nicht getragen werden.
Alle Regeln und Vorschriften können ohne vorherige Ankündigung geändert werden.