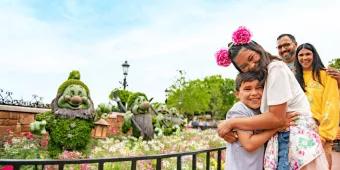 Unser Guide zu den Walt Disney World Events und Festivals - vom International Flower & Garden Festival bis zu Mickey's Very Merry Christmas Party.
Die Disney Themenparks und die dort herrschende Atmosphäre machen jeden Tag, den Sie dort verbringen, besonders und einzigartig. Über das Jahr hinweg gibt es jedoch mehrere Sonderveranstaltungen, während derer sich die Parks noch zauberhafter anfühlen!
Ein Walt Disney World Urlaub lohnt sich das ganze Jahr über und die Disney Themenparks versprühen durch die detailverliebten Themenbereiche, Disney Figuren, die zu einer Umarmung einladen und vielfältigen Attraktionen eine Atmosphäre, die Sie voll und ganz in die Welt von Disney eintauchen lässt. Doch zu verschiedenen Jahreszeiten und besonderen Anlässen verwandeln sich die Disney Themenparks und bieten neben den regulären Events und Shows besondere Unterhaltungsprogramme, die Sie sich - wenn möglich - auf keinen Fall entgehen lassen sollten! 
Überprüfen Sie also rechtzeitig, ob Sie Florida und Orlando während einer der Sonderveranstaltungen besuchen!
Das International Festival of the Arts in EPCOT (13.01.2023 - 20.02.2023)
Beim International Festival of the Arts steht alles im Zeichen der Kunst. Während des Events finden in EPCOT Shows von Künstlerinnen und Artisten und musikalische Vorführungen statt, die Sie sicher in Ihren Bann ziehen werden. Natürlich dürfen auch Snacks und Leckereien nicht fehlen, die in ganz besonderen Formen und Farben ein weiteres optisches Highlight bieten.
Für das Festival ist kein separates Eintrittsticket nötig - Sie benötigen nur ein gültiges Walt Disney World Ticket und natürlich eine Disney Park Pass Reservierung für EPCOT.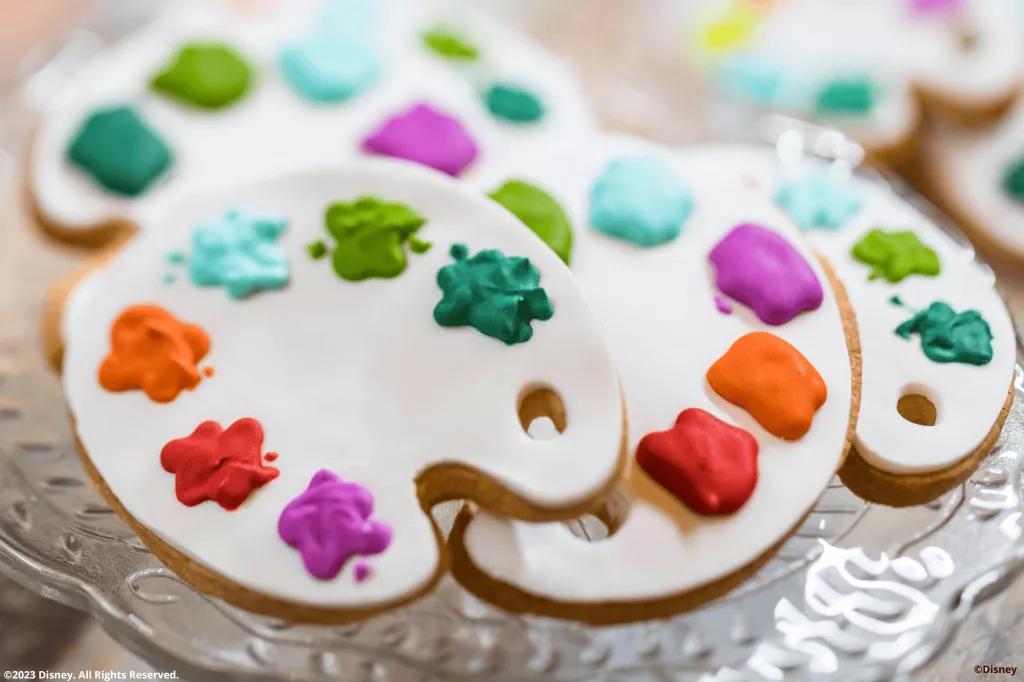 Disney After Hours im Magic Kingdom Park, Disney's Hollywood Studios und EPCOT (Januar - August 2023)
Disney After Hours sind drei zauberhafte Stunden nach offiziellem Parkschluss, in denen Sie mit limitierter Gästezahl und kürzeren Wartezeiten für beliebte Attraktionen drei der vier Walt Disney World Themenparks entdecken.
Disney After Hours sind nicht in Ihrem Walt Disney World Ticket inbegriffen und Sie benötigen ein zusätzliches Ticket. Um die Gästezahl zu begrenzen, ist nur eine geringe Zahl an Tickets verfügbar, also sollten Sie rechtzeitig buchen, um sich Ihren Platz zu sichern. Im Ticketpreis inbegriffen sind neben Eintritt in die Sonderveranstaltung auch Eintritt in den ausgewählten Disney Themenpark ab 19 Uhr - einige Stunden vor Eventbeginn - sowie exklusive Eiscreme, Popcorn und ausgewählte Getränke. 
Die Tickets sind für Disney After Hours im Magic Kingdom Park, in Disney's Hollywood Studios und in EPCOT erhältlich. Die Sonderveranstaltung im Magic Kingdom Park läuft nur bis in den März hinein, während Disney After Hours Tickets für Disney's Hollywood Studios bis Juni verfügbar sind und Disney After Hours in EPCOT bis in den August stattfinden.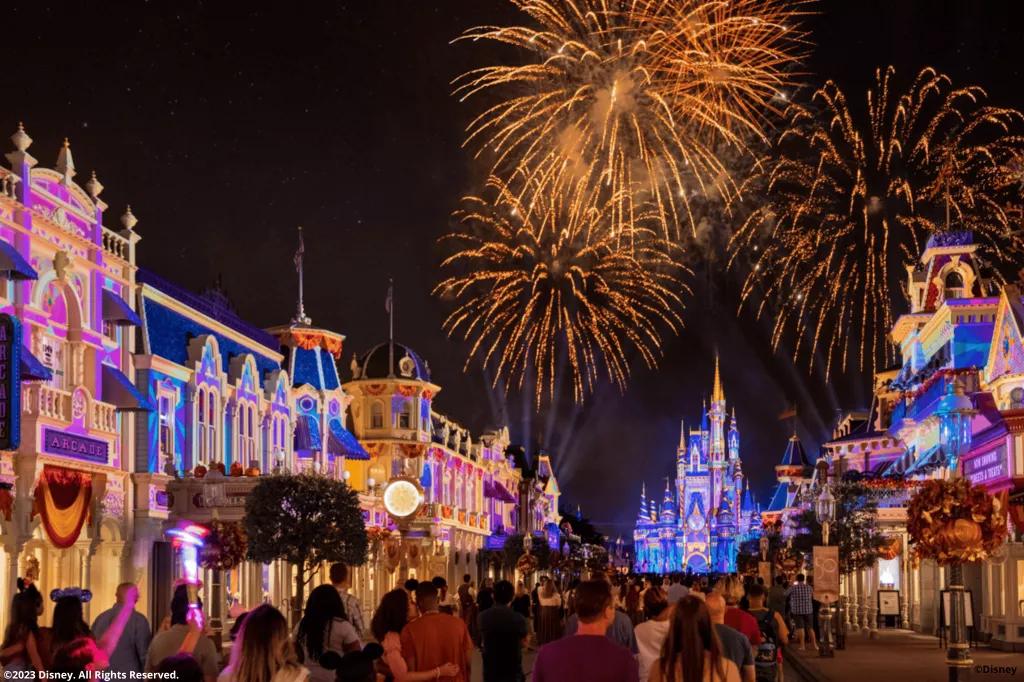 Das International Flower and Garden Festival in EPCOT (01.03.2023 - 05.07.2023)
Wenn der Frühling beginnt, blüht EPCOT jedes Jahr während des International Flower and Garden Festivals ganz besonders auf. Hier bewundern Sie Ziersträucher in Form von Disney Figuren, aus aller Welt inspirierte Gärten, Outdoor-Küchen und das Garden Rocks Konzertprogramm - und das alles in Ihrem EPCOT Ticket inbegriffen, denn es ist kein Zusatzticket für das Event erforderlich. Sind Sie also zwischen März und Anfang Juli auf Florida Reise, sollten Sie mindestens einen Tag in EPCOT einplanen, um Ihre liebsten Disney Charaktere in Blumenform zu erleben, die 18 Outdoor-Küchen zu probieren und zu der Live Musik am American Adventure Pavilion zu tanzen. 
Dieses Jahr sind Ziersträucher in Form der Charaktere aus "Encanto" neu dabei und auch zwei Gärten wurden neu zu der Ausstellung hinzugefügt!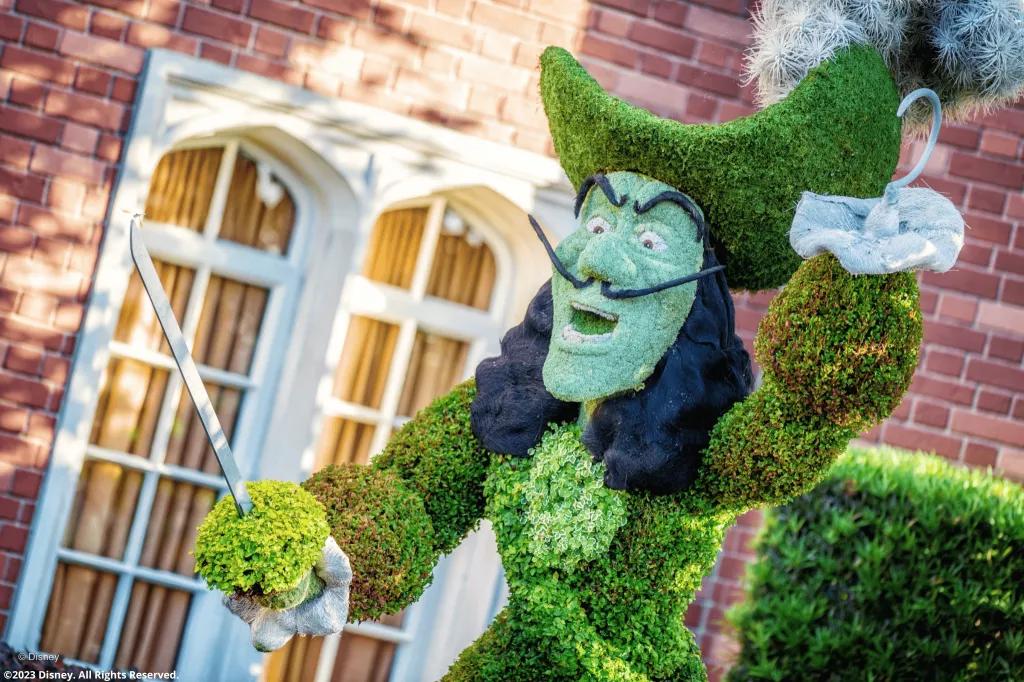 Ostern in Walt Disney World (13.03.2023 - April 2023)
Von März bis April - also rund um Ostern - sind einige der Disney Themenparks für den Feiertag dekoriert und bieten thematisch passende Leckereien sowie besondere Events an - wie das Meet & Greet mit dem Osterhasen auf der Main Street U.S.A. im Magic Kingdom Park, der Osterparade an Ostern (09.04.2023) oder der Ostereierjagd in EPCOT (Egg-stravaganza Easter Egg Hunt). 
Ab dem 13. März können Gäste in verschiedenen Geschäften in EPCOT eine Karte für die Ostereierjagd kaufen ($9,99 plus Steuern), auf der sie mit Stickern markieren können, welche "Ostereier" sie rund um den World Showcase gefunden haben. Sobald Sie alle gefunden haben, kehren Sie in das Geschäft zurück, um sich Ihren Preis abzuholen - ein kleines Ei mit einem Disney Charakter. Diese Ostereierjagd ist ideal für alle Familien, die Florida Urlaub über Ostern machen! 
Earth Month im Disney's Animal Kingdom Themenpark (April 2023)
Im April feiert Walt Disney World den Earth Month in Disney's Animal Kingdom. Bei der Animation Experience in der Conservation Station können Sie Künstlerinnen und Künstler von Disney dabei beobachten, wie sie ihre liebsten Figuren zum Leben erwecken, während Sie viel über die Erhaltung bedrohter Tiere erfahren. Sie können hier sogar selber lernen, wie Sie Disney Tiere wie Dumbo, Terk, Simba oder Scar zeichnen und natürlich sind auch Snacks und kleine Köstlichkeiten passend zum Thema Erde und Tiere erhältlich.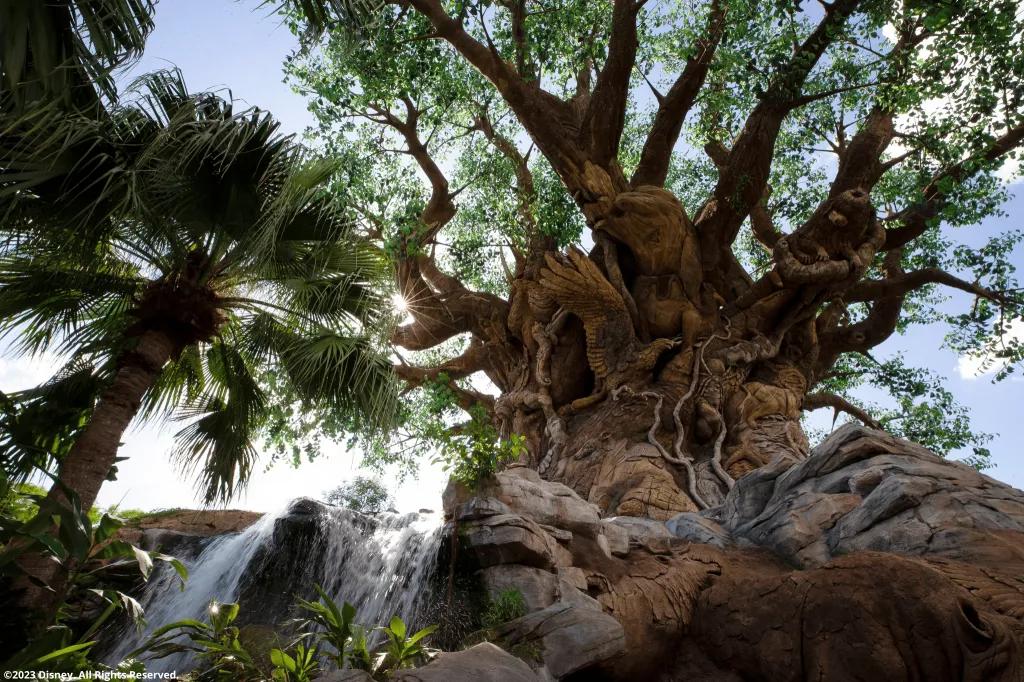 25 Jahre Disney's Animal Kingdom (22.04.2023)
Am 22. April feiert der Disney's Animal Kingdom Themenpark seinen 25. Geburtstag und zu Ehren des Parks wird es einige besondere Angebote geben, wie Leckereien für das Jubiläum, besondere Disney Figuren, die Sie normalerweise nicht in den Disney Themenparks entdecken und natürlich thematisierte Merchandise-Artikel.
Disney H2O Glow Nights in Disney's Typhoon Lagoon (20.05.2023 - 02.09.2023)
Disney's Typhoon Lagoon Wasserpark wird an ausgewählten Nächten diesen Sommers hell erleuchten, denn Disney H2O Glow Nights kehren vom 20. Mai bis zum 2. September 2023 zurück! Erleben Sie eine Nacht voller zauberhafter schillernder Stunden im Wasserpark und profitieren von kürzeren Wartezeiten für beliebte Attraktionen, da nur eine begrenzte Zahl an Tickets für das Event verfügbar ist!
Tauchen Sie in die schillernden Effekte und Dekorationen ein, schwingen Ihre Hüften während der DJ Tanzparty, rutschen, plantschen und genießen Disney's Typhoon Lagoon Wasserpark.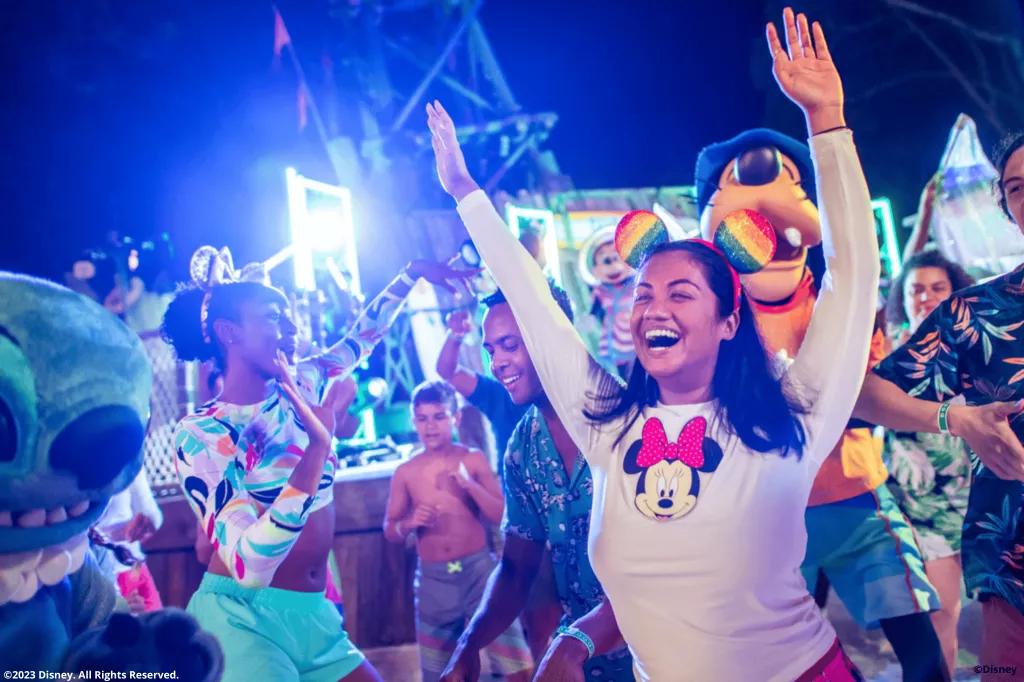 International Food and Wine Festival in EPCOT (27. Juli - 18. November 2023)
Sie müssen nicht um die ganze Welt reisen, um fantastische Gerichte verschiedener Küchen zu probieren. Während des EPCOT International Food & Wine Festivals erleben Gäste eine kulinarische Reise rund um den Globus. Innovative Küchenchefs präsentieren Leckereien wie kanadische Käse-Bacon-Suppe oder warmen Schokoladenpudding mit irischer Custard Creme. Dazu passende Getränke sind natürlich ebenfalls erhältlich und das Sahnehäubchen ist die Live Musik, die fast jeden Abend stattfindet. 
Der Eintritt zum International Food & Wine Festival ist in Ihrem EPCOT Ticket inbegriffen! 
Mickey's Not-So-Scary Halloween Party im Magic Kingdom Park (11. August - 1. November 2023)
Sobald die Blätter sich orange färben und der Herbst sich bemerkbar macht, ist es auch schon wieder Zeit für Mickey's Not-So-Scary Halloween Party, die jährlich im Magic Kingdom Park stattfindet. Neben den Disney Figuren in schaurig-schönen Halloween Kostümen und einer fa-buh-lösen Halloween Parade mit einigen der beliebtesten Disney Bösewichte können sich Gäste auf die Hocus Pocus Villain Spelltacular Show, Feuerwerk und Tanzparties freuen. Passend zu Halloween darf Süßes-oder-Saures natürlich auch nicht fehlen - traditionell sind im Themenpark verschiedene "Trick-or-Treat" Stationen verteilt, an denen sich große und kleine Disney Fans Süßigkeiten abholen können. 
Tickets für das furchtbar schöne Event sind im Laufe des Jahres erhältlich und Sie sollten schnell zuschnappen, wenn Sie planen, Orlando während Halloween zu sehen.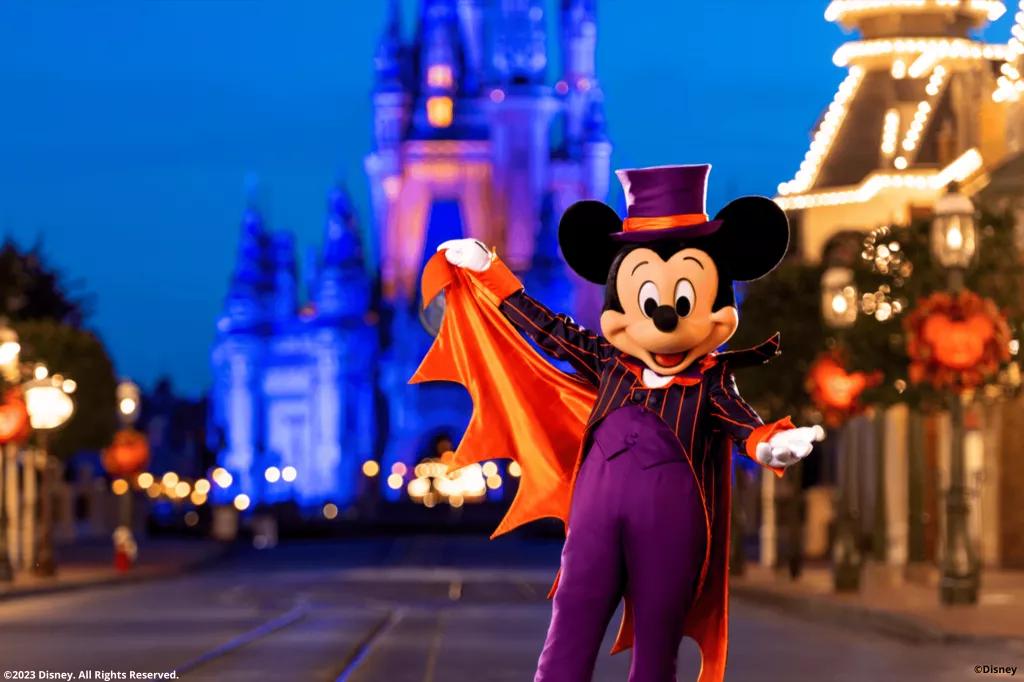 Mickey's Very Merry Christmas Party im Magic Kingdom Park (9. November - 22. Dezember 2023)
Zum Ende des Jahres schließlich findet die Weihnachtsparty statt, die selbst den größten Weihnachtsmuffel in festliche Stimmung bringt. Während Mickey's Very Merry Christmas Party verwandelt sich der Magic Kingdom Park in ein Winterwunderland und hält eine extra Portion Disney Weihnachtszauber für Sie bereit. Gäste können sich auf Treffen mit Disney Figuren in weihnachtlichen Kostümen, an das Fest angepasste Attraktionen, Live Unterhaltung, Tanzparties und thematisch passende Leckereien freuen. 
Zwei Highlights der Veranstaltung, für die Sie ein separates Ticket benötigen, sind Minnie's Wonderful Christmastime Fireworks Show und Mickey's Once Upon a Christmastime Parade, während der Sie sogar Schnee in Florida erleben - ein wirklich großartiger Abschluss für eine Florida Reise!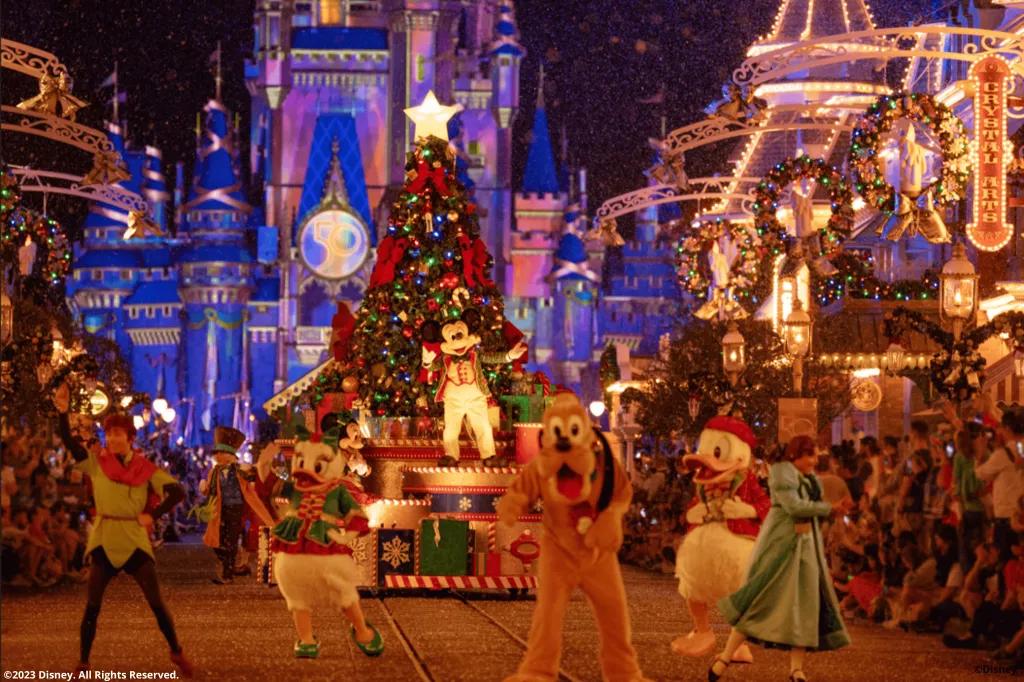 Weitere Events, die Ihren Walt Disney World Aufenthalt beeinflussen könnten
4. - 8. Januar 2023: runDisney Walt Disney World Marathon Weekend
14. Februar: Valentinstag
18. - 24. Februar: Mardi Gras Woche
23. - 26. Februar: runDisney Princess Half Marathon Weekend
5. - 27. März: Spring Break
17. März: St. Patrick's Day
3. April: Die Happily Ever After Feuerwerk Show kehrt in den Magic Kingdom Park zurück
3. April: Das EPCOT Forever Abendspektakel kehrt in EPCOT zurück
4. April: TRON Lightcycle/ Run eröffnet im Magic Kingdom Park
13. - 16. April: runDisney Springtime Surprise Weekend 
4. Mai: Star Wars Tag (May the Fourth Be with You!)
31. Mai - 5. Juni: Gay Days Orlando
1.- 5. Juli: Feierlichkeiten zum 4. Juli
16. Oktober: 100. Jubiläum der Walt Disney Company
18. November: 95. Geburtstag von Micky und Minnie
18. - 26. November: Thanksgiving (23. November)
31. Dezember 2023 - 01. Januar 2024: Silvester und Neujahrsfeier
Wollen Sie noch einen besseren Überblick über die bekanntesten Walt Disney World Events und Festivals, schauen Sie unser Video an:
Jetzt, da Sie die wichtigsten Events in Walt Disney World kennen, müssen Sie nur noch versuchen, Ihre Reisedaten so zu legen, dass Sie auch während einer der Sonderveranstaltungen dort sind. Wir freuen uns, wenn Sie Ihre Bilder der zauberhaften Events mit uns auf Facebook oder Instagram teilen.