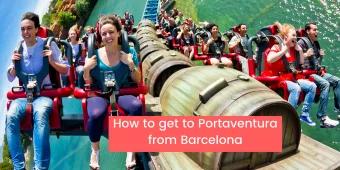 Wondering how to get to PortAventura from Barcelona?
Located in the south of Catalonia, Spain's most popular theme park is easy to get to from Barcelona. Check out the different ways to make your journey…
*Updated 03/04/17*
PortAventura is the most visited theme park in Spain, attracting around 4 million visitors each year. Located in Salou, this theme park provides a fun filled day out for all the family, with the perfect combination of high speed rollercoasters and a range of children's rides and entertainment shows. Ranked as the 10th best theme park in the world, this is not one to miss, so make sure you get your PortAventura tickets before you go! But how do you get to PortAventura from Barcelona? If you're staying in Barcelona and looking for a day of adventure, you can get to PortAventura in a number of ways including train, bus, car and taxi.
You may have thought that the park was too far away, but with the wide range of transportation available, it is easily accessible wherever you're staying in the city in just over an hour. If you've already booked your theme park tickets, and are now wondering how to get there, here are the different ways you can travel.
Train:
To travel by train, you can board at Barcelona Sants train station. You can check the train departure times online, but if you're not feeling confident booking online you can book when you get to the station using the ticket machines or booths which can be changed into English or manned by an English-speaking operative. PortAventura has its own stop on the R-16 line which makes finding the park hassle-free. An alternative is to travel via Tarragona, with more frequent trains running from Barcelona Sants throughout the day. From here, you can transfer to a train that takes you to PortAventura in 10 minutes.
Journey time: Between 1 hour 20minutes - 3 hours 45 minutes (make sure you get the fast train!)
Cost: Around €18 returnpp 
Bus
If you are heading to PortAventura straight from the airport, the bus is an option, although routes are very limited. There is one bus each way per day.
Use this website to plan your journey. 'Origen' is your leaving point, 'Destino' is destination, 'Ida' is one-way and 'Ida y vuelta' is return. 'Fecha da ida' is outbound date and 'fecha de vuelta' is return date. 
Journey time: Between 1 hour 35 minutes and 1 hour 55 minutes.
Cost: A return ticket is just under €30pp. 
Taxi:
Taxis are of course an option, but are by far the most expensive one. To travel to PortAventura from Barcelona you'd be looking at a fare of around €150! A more practical  idea you may choose, is to use a taxi to get to the park from a nearby train station. If you're arriving at Tarragona rail station, a taxi will take you straight to the entrance for a much lower fee of around €20, or even better, a taxi from Salou will cost around €7 and only take you 5 minutes.
Journey time:
Tarragona station - PortAventura approx. 15 minutes
Salou station - PortAventura approx. 5 minutes
Car:
If you have chosen to hire a car for your holiday, you can fit the whole family in and head to PortAventura for a day of fun! You'll be able to travel in comfort (great for tired kids on the way home!) and have plenty of space to pack everything you need for the day. Travel time will vary depending on the traffic, with the journey (just over 66 miles) taking around 1 hour 25 minutes from Barcelona's city centre. The AP-7 highway will take you there, and has a specific exit for PortAventura, so you can't miss it. Make sure to check your route beforehand and be aware that some routes have toll fees.
Journey time: Approx 1 hour 25 minutes
Make sure you don't miss out on the fun! To find tickets for this unforgettable day out click here.
Liked this post? You may also like...