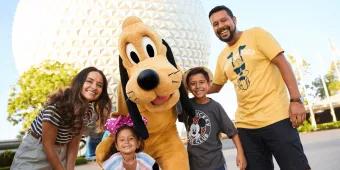 Our top budget- and family-friendly tips!
Planning a trip to Walt Disney World Resort in Florida soon and travelling as a family? Then you'll want to read our advice on getting the most out of your budget.
Walt Disney World Resort in Florida is a fantastic destination for young families seeking an exciting and unforgettable holiday. There's so much to enjoy at the Disney Parks, and it can easily be a holiday suitable for every budget. Here's how you can save money as a family during your next trip to Walt Disney World Resort.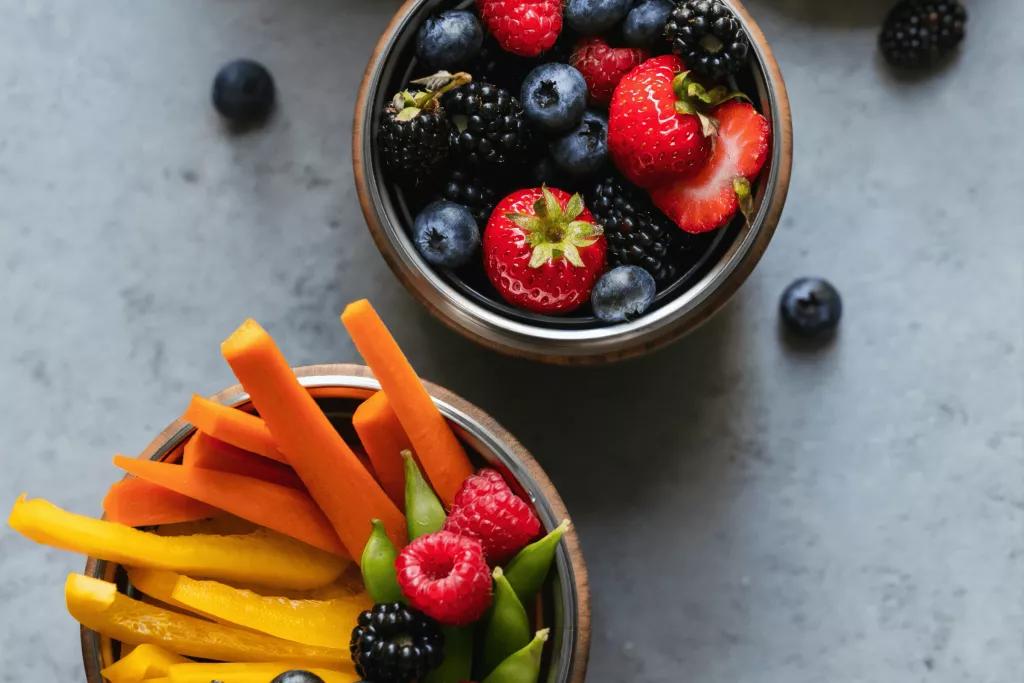 Bring in your own food
Did you know that you're allowed to bring in your own food (that does not require heating) to the Disney Parks at Walt Disney World Resort? Taking in your own snacks is a simple yet effective way to save money during your trip, and also keeps the kids satisfied. Visit local grocery stores like Walmart and Target to stock up on healthy treats during the beginning of your stay, or pack the kids' favourite cereal bars and other non-perishable treats in your suitcase (if you have room of course!).  
Bring your own Disney merchandise 
Make your holiday even more magical by bringing your own Disney costumes, ears and other goodies with you if you already have them. That way, the excitement can start immediately and won't cost you any extra. Jazz up your photos, hotel room and daily outfits with your own gear, and carry the wonder of Disney throughout every aspect of your trip. Your kids will love the added holiday magic and will be less inclined to want a goodie when in the Disney Parks too. Win-win!
Take advantage of kids eat free offers
Many restaurants around the Orlando area offer kids eat-free discounts on selected days and meals, so do your research beforehand and plan your dinners wisely. When holidaying at Walt Disney World, many guests often choose an off-site hotel along International Drive, and many of the food places around that area are fantastic choices for family-friendly dining. If they don't offer kids eat-free offers, they'll at the very least do a cheaper kids menu, offering healthy, filling meals that are perfect for little ones. Read our guide to family-friendly restaurants along Orlando's International Drive here.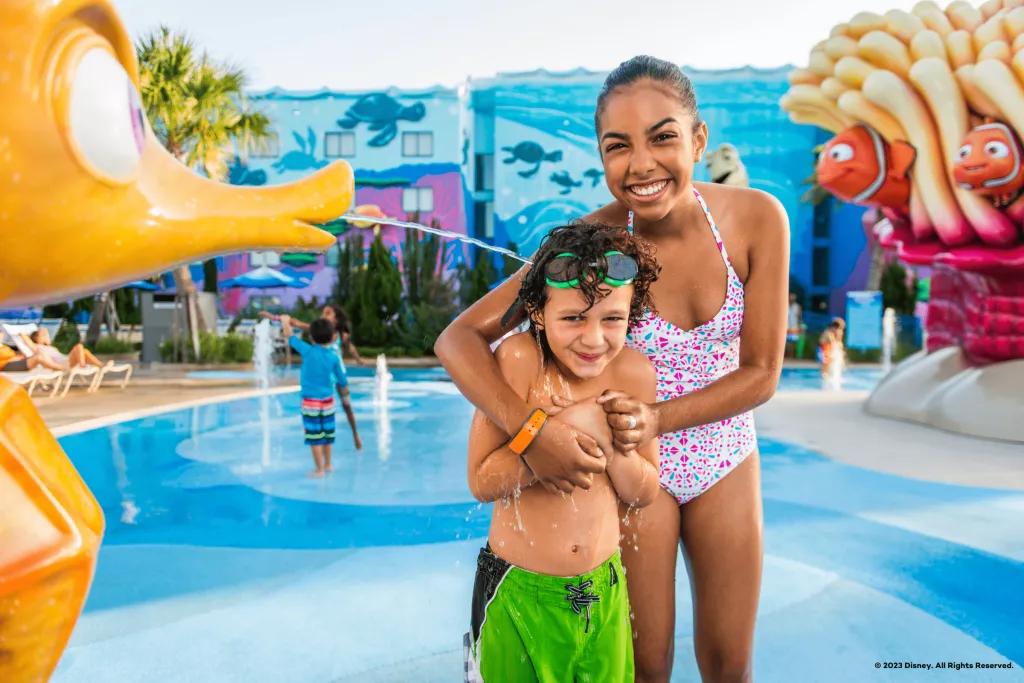 Choose accommodation with good facilities for children
Picking a fantastic hotel with excellent facilities can even be a whole other form of entertainment for kids to enjoy. A good, family-friendly pool is a great way to spend some relaxing time away from the parks, offering some well-deserved downtime for the adults as well. Some hotels will also have things like kids' clubs, soft play areas, and other activities, or babysitting services so the adults can enjoy a mini-holiday all on their own. 
Of course, a lot of these added entertainment facilities are included in your room rate, so you'll be paying no extra for essentially another added 'attraction'. Spending time making the most of your hotel offerings varies your holiday, without any extra expense - perfect!
Ice Water is Free
A small but simple tip here - ice water is free across the Quick-Service dining locations throughout Walt Disney World Resort that also sell fountain drinks. Quench your family's thirst without spending a penny! To save on plastic, bring in your own water bottle and ask for this to be filled up instead. To make it more exciting for the kids, bring in some juice sachets to mix in with the water, readily available at most grocery stores. In the colder months (rare in Orlando, but still a possibility!) free cups of hot water are also available to Disney Park guests. Again, you can even make your own tea using store-bought tea bags, or maybe treat the kids to a hot chocolate, using a sachet. 
Buy a cheap pushchair
If you need a pushchair for your Walt Disney World trip, it may be more cost-efficient to buy a cheap one when you arrive in Florida. Rather than deal with the hassle (and extra expense) of bringing your own pushchair, many families recommend buying a cheaper one somewhere like Walmart, then donating it to a charity at the end of your holiday. This will also save you money on pushchair rental, which can cost more than a budget pushchair from a supermarket, especially if you need it for the whole holiday, and you won't have to worry about your own, likely more expensive, pushchair being damaged on the plane.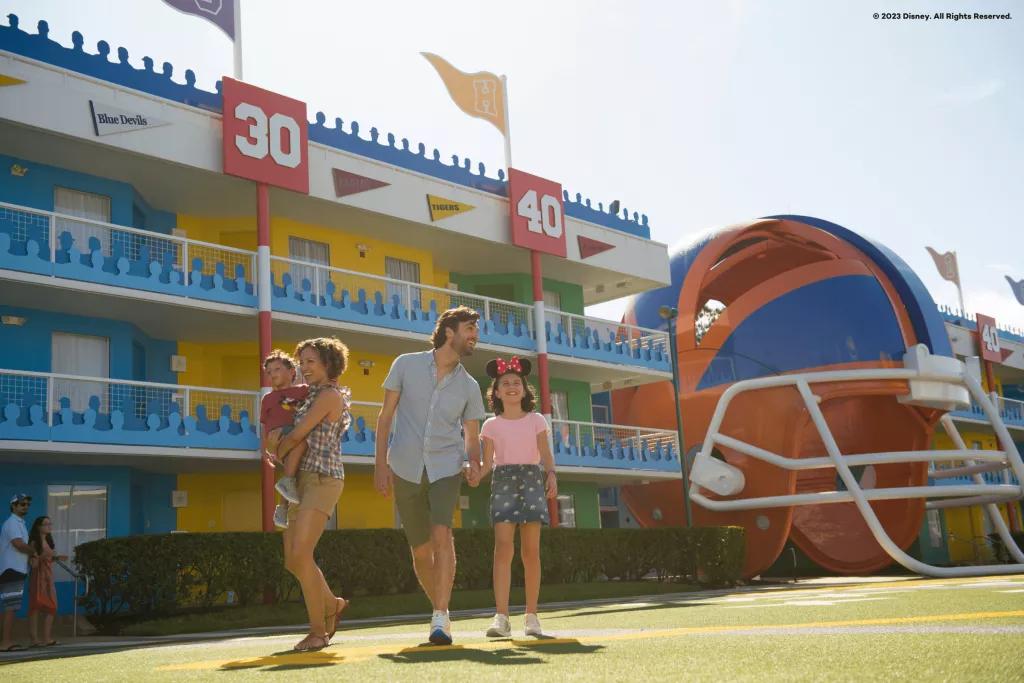 Stay at a Disney Resort hotel
While staying in a Disney Resort hotel may not be the first thought when it comes to having a budget-friendly family holiday, it can work out cheaper and more efficient than staying elsewhere.
There are different Disney Resort Hotel categories, and the ones in the value range generally cost the least. Despite the lower price tag, these are fantastic and exciting places to stay, incorporating many Disney themes throughout the hotels, like the Toy Story characters at Disney's All-Star Movies Resort and the Three Caballeros at Disney's All-Star Music Resort. 
Take your kids sooner, rather than later
While Walt Disney World Resort can of course be enjoyed at any age, taking your children while they are still under 10 will mean that they take advantage of the kids' prices for tickets, and also enjoy other perks like kids' menus at restaurants. If you're really keen to stick to a budget during your trip, this is definitely something to keep in mind - and also justifies you visiting Orlando ASAP!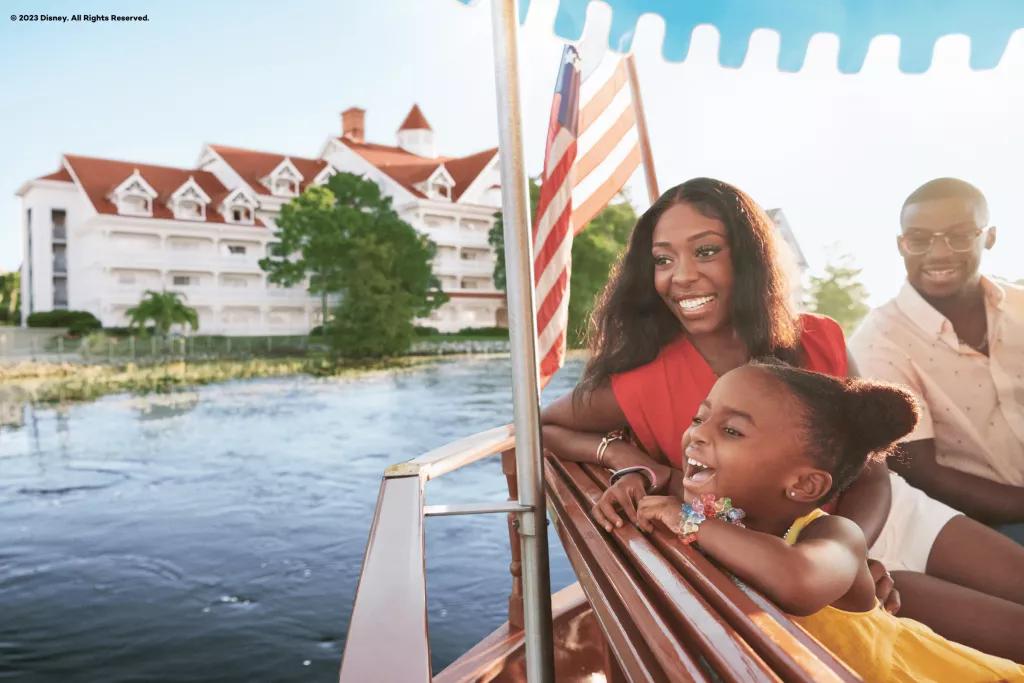 Plan 'free' activities when in the Disney Parks
Mix up your holiday and take advantage of all that the Disney Parks have to offer. These are some great things to do when your little ones need a break from the attractions, and will come at no extra cost to you:
Spot the hidden Mickeys - one of the most popular and fun things to do. Find the hidden Mickeys across the Disney Parks
Stroll along Disney's Boardwalk - a lovely, relaxing thing to do later in the day
Spot animals at Disney's Animal Kingdom Lodge - you don't need to be staying in the hotel to walk around the grounds of Disney's Animal Kingdom Lodge. A short stroll around the area will see your kids encounter zebras, giraffes, gazelles, flamingoes and much more! 
Explore the Disney Parks in a scenic way, using boats or the Disney Skyliner
Have a family picnic - bring your own treats and unwind in one of the many spaces in the Disney Parks
As you can see, there are all kinds of ways that you and your family can achieve an affordable, budget-friendly holiday to Walt Disney World Resort in Florida. With just a little bit of careful planning, the trip of your dreams can easily come to life, so you can make those special family memories. 
Ready to explore all that Walt Disney World Resort in Florida has to offer? Browse our Disney tickets and hotel packages now!