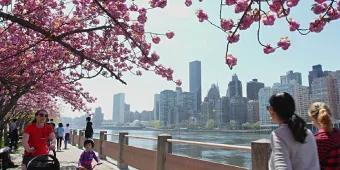 Erleben Sie den Frühling im Big Apple!
Kissenschlachten, Osterparaden und farbenprächtige Blumenmeere – der April in New York hält etwas für jeden bereit. Hier sind unsere Top 5 Frühlings-Events im Big Apple.
Pillow Fight im Washington Square Park
Die weltweit größte Kissenschlacht findet wieder statt! Ein Ereignis, das Sie nicht verpassen dürfen - egal ob Sie selbst aktiv mitmachen möchten oder lieber zusehen.
Wann: 1. April, 15:00 Uhr
Wo: Washington Square Park, New York, NY 10012
The Orchid Show im New York Botanical Garden
Der Botanische Garten New Yorks zählt zu den bekanntesten weltweit. Hier erstrecken sich farbenprächtige Blumenmeere, die an Exotik und Professionalität nicht zu überbieten sind. Zu den absoluten Highlights des Parks gehört das Gewächshaus Enid A. Haupt Conservatory. Wie jedes Jahr begrüßt der Botanische Garten auch dieses Jahr den Frühling mit der herausragenden The Orchid Show – diesmal unter dem Motto "Thailand". In der tropisch warmen Luft und dem Duft von tausenden blühenden Orchideen vergisst man schnell, dass man sich eigentlich in der Bronx befindet. Faszinierend sind hierbei vor allem die Details: von kleinen Teichen mit Seerosen über thailändische Holzschreine bis hin zu exotischen Palmen – hier finden Sie weitaus mehr als "nur" Orchideen.

Für uns ist der Botanische Garten ein absolutes Muss - für Inhaber des New York Pass ist der Eintritt in den New York Botanical Garden übrigens inklusive!
Wann: noch bis zum 9. April
Wo: 2900 Southern Blvd, Bronx, NY 10458, USA
Macy's Flower Show
Anlässlich des Frühlings sind Blumen natürlich überall präsent - wenn dabei allerdings der weltbekannte Kaufhausname Macy's fällt, darf man sich auf eine Blumenausstellung der Extraklasse gefasst machen – und man wird nicht enttäuscht! Das ganze Einkaufszentrum am Herald Square wird zum Blumenmeer. Ein Ereignis, welches Sie auf keinen Fall verpassen dürfen!
Wann: bis zum 9. April
Wo: 151 W 34th St, New York, NY 10001, USA
Easter Parade & Bonnet Festival
Anders als bei uns feiert man Ostern in den USA nur am Ostersonntag, und, wie sollte es auch anders sein, überdimensional - wie die Stadt selbst. New York City ist geschmückt mit 300 bunt bemalten XL-Ostereiern, die überall in der Innenstadt zu finden sind. Die Osterparade zieht von der 49th bis zur 57th Street und verläuft entlang der berühmten 5th Avenue Richtung Central Park. Start ist 10:00 Uhr morgens (Ende: 16:00 Uhr). Jeder kann mitmachen und Verkleidungen sind gern gesehen! Wenn Sie lieber zuschauen, ist die St. Patrick's Cathedral auf der Fifth Avenue ein beliebter Ort dafür.
Wann: 16. April
Wo: entlang der Fifth Avenue
Sakura Matsuri im Brooklyn Botanic Garden
April ist offiziell die Zeit der Kirschblüte - jedes Jahr erwarten die New Yorker voller Vorfreude diese farbenfrohe Zeit. Mit dem Kirschblütenfest "Sakura Matsuri" feiert der Brooklyn Botanic Garden den lang ersehnten Frühlingsanfang. Erleben Sie über 60 Events und Performances, die die japanische Kultur zelebrieren. Auch der Botanische Garten an sich ist ein Ausflug wert – zwischen all den exotischen Pflanzen vergisst man schnell, das man sich eigentlich im Herzen einer Großstadt befindet.
Wann: 29. – 30. April
Wo: 990 Washington Ave, Brooklyn, NY 11225
Genießen auch Sie den Frühling im Big Apple - klicken Sie hier für unser umfassendes Ticketangebot!
Ihnen hat dieser Blog gefallen? Diese könnten Ihnen auch gefallen: