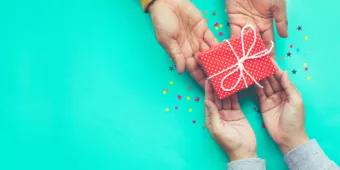 Überraschen Sie einen Disney-Fan und sorgen Sie für funkelnde Augen unter dem Christbaum
Jedes Jahr die gleiche Frage: Was schenken wir unseren Liebsten zu Weihnachten? Hier finden Sie die besten Empfehlungen für einen Disney-Fan!
Tiny Big Feet Kuscheltier, ca. €6
Image credit: @lizeindisney, Instagram
Es gibt eine große Anzahl an verschiedenen Disney-Plüschtieren, aber Micky ist mit Abstand das beliebteste und eignet sich perfekt, um jedem Weihnachtsgeschenk einen Hauch Disney zu verleihen.
Gehäkelte Tassenwärmer, ca. €7
Image credit: @lizeindisney, Instagram
Für jeden Disney-Liebhaber, der auch noch heiße Getränke To Go mag, ist dieser entzückende Häkel-Tassenwärmer das perfekte Geschenk. In Handarbeit hergestellt verleiht dieser Artikel jedem Geschenk einen Hauch von Liebe und Fürsorge.
Danielle Nicole Handtasche, ab €50
Image credit: @sianpoppins88, Instagram
Ideal für alle Disney-Fanatiker: Eine Micky-Handtasche! Diese eignet sich perfekt für einen Ausflug in's Disneyland, aber ist auch im Alltag ein absoluter Hingucker.
Minnie-Spardose für den nächsten Disney-Trip, ca. €12
Image credit: Kat Last
Eine Büchse voller Träume! Mit diesem einzigartigen Geschenk können Disney-Fans für Ihren nächsten Urlaub sparen und haben das Ziel immer vor Augen.
Micky Maus' 90. Geburtstags-Ohrringe, ca. €55
Image credit: @couturekingdomuk, Instagram
Dieses modische Geschenk begeistert sicherlich jeden Disney-Fan! Dieses Jahr feiert Micky seinen 90. Geburtstag und was gibt es Besseres, als dazu passende Ohrringe zu Weihnachten zu verschenken?
Vera Bradley – Mode im Disney-Design, ab €25
Image credit: My Caffeinated Chaos
Kennen Sie jemanden, der stilsicher und Disney-verliebt ist? Dann ist die Mode von Vera Bradley das ultimative Geschenk. Diese Marke verleiht jeder Alltagsgarderobe den speziellen Disney-Zauber und bringt Augen zum Leuchten.
Disneys Anstecknadelsammler Starterpaket, ab €10
Image credit: My Caffeinated Chaos
Für alle, die Disney-Sammlerstücke lieben, sind diese Anstecknadelsets das perfekte Weihnachtsgeschenk. Kinder und Erwachsene können sich am Disney Pin Trading-Trend in Parks und Resorts auf der ganzen Welt beteiligen. Der Nervenkitzel, wenn Sie Ihre Sammlung beginnen oder nach dem perfekten Pin suchen, um Ihr Set zu vervollständigen, macht das Geschenk erst so besonders.
Disney-Armreifen von Alex and Ani, ab €35
Image credit: My Caffeinated Chaos
Für hochwertigen Schmuck mit einem Hauch von Disney empfehlen wir die Armreifen von Alex und Ani, welche übrigens unglaublich gut zu den Disney-Ohrringen passen. Eine bezaubernde Kollektion, bei der Sie die Freiheit haben, die Anhänger des Armreifs selbst auszuwählen und somit perfekt an Ihre geliebte Person anzupassen.
Maus Apple Watch Accessoir Set, ca. €26
Image credit: My Caffeinated Chaos
Für den technisch versierten Disney-Liebhaber in Ihrem Leben können wir dieses Mickey Mouse-Zubehörset für Apple-Uhren nur empfehlen. Die Farbe des Armbandes dürfen Sie selbst aussuchen und die Micky-Schutzhülle ist perfekt für einen langen turbulenten Tag in einem Disney Park.
Micky Maus Waffeleisen, ca. €25
Image credit: @ibeekrazy, Instagram
Haben Sie auch schon einmal in einem Disney-Park die köstlichen, Micky-förmigen Waffeln probiert? Diesen Zauber können Sie nun auch zuhause haben! Ein unglaublich gutes Geschenk für jeden Disney- und Waffel-Liebhaber.
Walt Disney World Tickets, Erwachsene ab €114
Image credit: @imaginography71, Instagram
Das ultimative Geschenk für jeden Disney-Fan sind natürlich Tickets zu deren Lieblings-Themenpark. Hier werden Träume wahr, egal, ob man zum ersten oder hundertsten Mal hingeht. Sehen Sie Cinderella's Schloss im wahren Leben, treffen Sie Micky live und erleben Sie die großartigsten Achterbahnen.
Ihnen hat dieser Blog gefallen? Das könnte Sie auch interessieren: