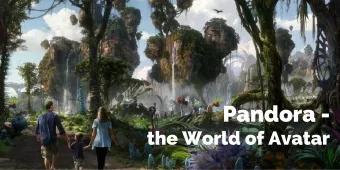 Erfahren Sie hier wann der brandneue Bereich im Walt Disney World Resort eröffnet
Erst letztes Wochenende hat Disneys Kreativ-Team das Eröffnungsdatum für den brandneuen Bereich "Pandora" im Animal Kingdom angekündigt und uns mit weiteren tollen Bildern noch neugieriger gemacht.
Diese Woche wurde sowohl die Brücke zu Pandora (direkt neben Tiffins Restaurant), als auch die fantastischen schwebenden Berge enthüllt und dem Publikum vorgestellt. Die Berge können Sie immer wieder von unterschiedlichsten Punkten aus dem Park erspähen.
All das bedeutet, dass die Eröffnung des neuen Pandora – The World of Avatar im Disney's Animal Kingdom immer näher rückt und bereits für Sommer 2017 geplant ist. Der neue Themenparkbereich wird die Besucher in jene Zeit nach dem Krieg versetzen, in der Pandora wieder aufgebaut wird. Biolumineszentes Licht (Ausstrahlung von Licht aus lebenden Organismen) ist eines der Schlüsselthemen des neuen Bereichs. Wenn man auf diesem Pfad entlang geht, kann man Pflanzen bestaunen die auf Bewegungen und Berührungen der Gäste reagieren und in wunderschönen Farben erstrahlen.
Außerdem wird es zwei brandneue Attraktionen geben. Zum einen die familienfreundliche Na'vi River Journey und zum anderen – Flight of Passage – der bestimmt schnell zum neuen Liebling der Actionfans wird. Die Na'vi River Journey nimmt Sie mit auf eine Bootsfahrt am heiligen Fluss und durch den beeindruckend leuchtenden Wald, wo Sie dem Na'vi Shaman von Angesicht zu Angesicht begegnen werden – eine Figur aus dem Film, welche eine tiefe Verbundenheit zum Wald empfindet. Sehen Sie sich doch kurz dieses Video zum Na'vi Shaman an…
Mit dem Flight of Passage werden Sie eine atemberaubende Fahrt mit den Todesfeen durch die gesamte Welt von Pandora erleben. Sollten Sie die Figuren der Todesfeen nicht kennen, hierbei geht es um drachenartige Geschöpfe, die durch die Luft schießen und dem Ride einen adrenalingefüllten Blick auf diese neue Welt garantieren. Wir sind jetzt schon gespannt diesen neuen Ride auszuprobieren und vermuten es könnte einer der spannendsten des ganzen Parks werden.
Sollten Sie nächstes Jahr im Sommer die Walt Disney World Welt besuchen, dürfen Sie diesen neuen Bereich im Disney's Animal Kingdom auf keinen Fall verpassen. Er wird als der unglaublichste und spannendste aller Parks angekündigt. Buchen Sie jetzt Tickets für 2017 und sichern Sie sich so die besten Preise.
Ihnen hat dieser Blog gefallen? Die könnten Ihnen auch gefallen: