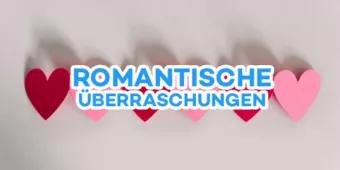 An alle Verliebten da draußen
Der Valentinstag rückt immer näher. Sie sollten sich also langsam Gedanken machen, was Sie mit Ihrem Partner an diesem besonderen Tag unternehmen wollen. Vielleicht der perfekte Anlass für einen Kurztrip? Hier also eine kleine Auswahl dreier einzigartiger Metropolen, in denen Verliebte ganz sicher auf ihre Kosten kommen...und ein ganz besonderes Geschenk unsererseits...
Zum Tag der Liebe möchten wir ihnen nämlich eine ganz besondere Freude machen. Wir schenken Ihnen drei Rabattcodes, mit denen Sie in der Destination Ihrer Wahl einiges sparen können:
€5 auf alle London Cluster Ticket Varianten: sharelove01
€5 auf alle Paris Pass Varianten: sharelove02
5% auf alle New York Tickets: sharelove03
London's calling...
 
Die britische Hauptstadt hat soviel zu bieten – gerade für Verliebte. Da kann es schon mal schwieirg werden, sich zwischen all den Sehenswürdigkeiten zu entscheiden. Hier zwei Höhepunkte des London Cluster Tickets, die Ihr romantisches Wochenende zu einem unvergesslichen Erlebnis machen. Sparen Sie €5 mit folgendem Rabattcode: sharelove01
"Über den Wolken..."
Mit einer Höhe von 135 Metern und einem Durchmesser von 120 Metern ist das London Eye  das viertgrößte Riesenrad der Welt. Insgesamt sind 32 Kapseln am London Eye angebracht, die jeweils Platz für bis zu 25 Personen bieten. Aus den komplett verglasten Gondeln haben Sie eine atemberaubende Aussicht auf London. Aus dieser Höhe können Sie all die berühmten Sehenswürdigkeiten entdecken und Ihre perfekte Route planen. Auch wenn das Wetter nicht perfekt ist, lohnt sich ein Besuch definitiv. Insbesondere für alle Turteltäubchen da draußen...
"Under the Sea..."
Das SEA LIFE ist auch in unserem London Cluster Ticket enthalten und perfekt für alle entdeckungsfreudige Pärchen unter Ihnen! Hier können Sie über 600 Arten faszinierender Meeresbewohner bewundern. Darunter seltene Schildkrötenarten, Quallen, Rochen und vieles mehr. Der perfekte Ort also, um mehr über das maritime Leben zu erfahren und um gemeinsam in die Wunder dieser Meere einzutauchen.
Oder ganz klassisch in der Stadt der Liebe? Paris, je t'aime...
 
Mit dem Paris Pass haben Sie freien Zutritt zu über 60 Attraktionen, von Museen über Galerien bis hin zu historischen Monumenten. Sparen Sie zusätzlich €5 mit unserem Rabattcode sharelove02. Hier drei besonders romantische Hotspots für alle Verliebten da draußen: 
Als Royales Pärchen im Schloss Versaille
Bei einer Reise nach Paris darf ein Besuch im Versailler Schloss unter keinen Umständen fehlen. Das prächtige Gemäuer ist eines der spektakulärsten königlichen Residenzen Europas. Erkunden Sie die königlichen Gemächer und den beeindruckenden Spiegelsaal, während Sie alles zur Geschichte und dem Leben Ludwig XIV erfahren. Anschließend bleibt genügend Zeit für romantische Momente in den wundervollen französischen Gärten.
Liebe auf dem Wasser
Ein zärtliches "Je t'aime vor beeindruckender Kulisse? Wieso nicht bei einer circa einstündigen Seine River Cruise auf der Seine? Bestaunen Sie die prunkvollen Wahrzeichen der Stadt der Liebe, während Sie sich Ihrem Parnter in den Armen liegen.
Faszinierende Begnungen im Musée Grevin
Die etwas weniger romantischen Pärchen unter Ihnen sind bei diesem Wachsfigurenkabinett an der richtigen Adresse: Mit seinen mehr als 300 Wachsfiguren berühmter Persönlichkeiten und lebensecht nachgestellten Szenen aus dem historischen und modernen Paris, begeistert es seit 1882 seine Besucher.
All das und vieles mehr können Sie mit unserem Paris Pass erleben, der Ihnen freien Zutritt zu über 60 Attraktionen, von Museen über Galerien bis hin zu historischen Monumenten ermöglicht.
Und zu guter Letzt zeigen wir Ihnen zwei romantische Attraktionen der Stadt, die niemals schläft...New York, New York! 
Erhalten Sie 5% auf alle New York Tickets mit unserem Rabattcode sharelove03.
Es geht hoch hinaus
Das Empire State Building zählt unbestritten zu den ikonischsten Gebäuden der Welt. Jeder New York Besucher sollte das 381m hohe Gebäude besucht haben. Im klassischen Stil der 1930er Jahre gehalten, stellt es eines der wichtigsten Gebäude der Art Deco Epoche dar. Vom 86. Stockwerk hat man einen der besten und weitesten Ausblicke über die Stadt. Gerade zu Beginn eines New York Trips bietet es sich an, das Empire State Building zu besuchen, um sich einen Überblick über die Weiten Manhattans zu verschaffen. Und für all diejenigen unter ihnen, die noch nicht unter der Haube sind: der perfekt Spot für einen Heiratsantrag. Selbstverständlich genauso gut geeignet für alle anderen Liebesbekenntnisse...
"There Is No Business Like Show Business"
Und das doch immer schöner zu zweit... . Ein weiteres Markenzeichen New Yorks ist der weltberühmte Broadway. Ob "Der König der Löwen", "School of Rock", "Aladdin" oder "Frozen", für jeden Geschmack wird eine sensationelle Show geboten.