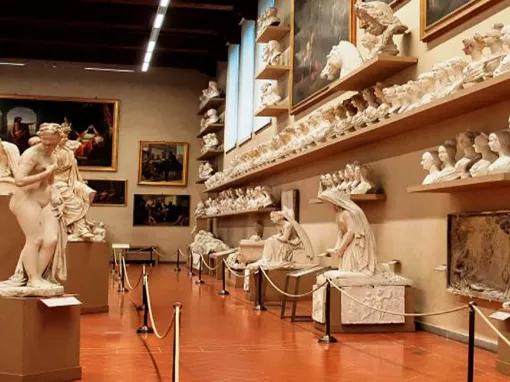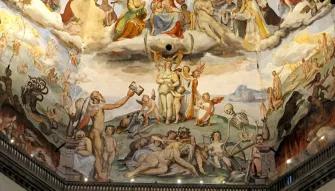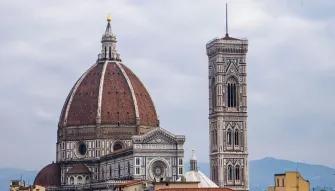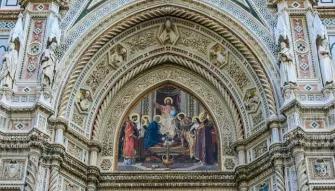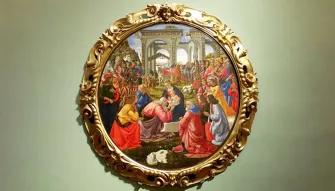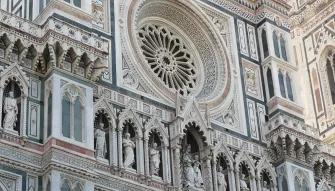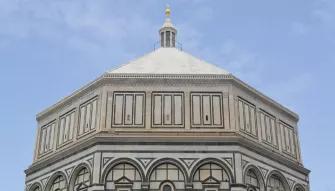 Florence Art Pass
Guided Visit to Accademia, Uffizi & Florence Cathedral
Not Available
This ticket is currently not available
This could be because:
We have sold out
New seasonal tickets are not yet available
In the meantime:
Call us on 0800 223 0324
Sign up to hear the latest news and offers:
Sign up for our newsletter
New
no ticket modal
Full details
Discover Florence's Artistic Masterpieces and Cathedral Secrets
Explore Florence's most renowned art galleries, where you can marvel at the works of Botticelli, Michelangelo, Leonardo, and countless other masters. Afterwards, embark on a journey to uncover the hidden treasures of the Santa Maria del Fiore Cathedral, guided by an official expert by your side.
Our guide to Florence Art Pass
Immerse yourself in Florence's iconic art and cathedral treasures.
Your knowledgeable guide will start your journey at the Accademia Gallery, where you'll explore Michelangelo's masterpiece, "David," alongside other remarkable works like "I Prigioni," "San Matteo," and the "Palestrina Pietà." Michelangelo's David, sculpted from a massive block of marble in just three years, stands as a symbol of the Renaissance's power and the Florentine Republic's invincibility during its zenith.
Next, your guide will lead you to the renowned Uffizi Gallery, which houses an impressive collection featuring Botticelli, Michelangelo, Leonardo da Vinci, Raffaello, Giotto, Cimabue, Masaccio, and more. The highlight is Botticelli's "Primavera" and "Birth of Venus."
Finally, you'll arrive at the Duomo Square, ready to explore the Santa Maria del Fiore Cathedral's interior—a treasure trove of priceless artistic wonders. Guided by an expert, you'll admire the elegant three-nave layout, the exquisite marble choir by Bandinelli, intricate stained-glass windows by Donatello, Ghiberti, and Andrea del Castagno, a unique clock by Paolo Uccello, and a striking polychrome marble floor. Gazing upward, you'll behold Vasari's frescoes adorning the immense Dome, an iconic marvel of Renaissance architecture designed by Brunelleschi and constructed entirely in masonry.
Departs:
Start:
Duration:
Please allow approximately 3 hours and 15 minutes
Check-In 
You must arrive 30 minutes prior to the start of the tour
Terms and conditions
Terms and conditions for Florence Art Pass
We suggest to wear comfortable shoes.
Appropriate clothing is mandatory to visit places of worship and access to the Cathedral is allowed only if equipped with suitable clothing: It is forbidden entry with shorts, bare shoulders, sandals, hats and sunglasses.
If you arrive late it will not be possible to join the visit, nor to have a refund or reschedule the guided visit.
It is mandatory to arrive 30 minutes early at the Cathedral meeting point because, before the visit, after receiving the entrance ticket, it is mandatory to deposit all the objects required by the Regulations and the following types of bags at the cloakroom (Piazza Duomo, 38/r):
Backpacks of any bulk or size and any bag designed to be worn on the back;
Bags, suitcases, parcels, bags and containers in general that exceed the dimensions of 35cm x 30cm x 15cm:
Any object which, in the unquestionable judgment of the staff in charge, may constitute a danger to other visitors or to the integrity and safety of the structure.
Attention: baggage retrieval must take place at the end of the visit according to the scheduled time. In any case, the duration of the deposit cannot exceed the closing time of the cloakroom.
You will receive a voucher for this experience. Please read it thoroughly.
The itinerary and order of the visit are subject to change without notice.
During periods of increased inflow of visitors, despite our reservations, admission to the museums may be subject to delays, mainly due to security reasons for which the access to the museum is regulated according to the number of people inside it.
Cancellation Policy: There will be no penalty for cancellations of tour or service communicated in writing to Caf Tour & Travel up to 48 hours before departure time of the tour or service. Less than 48 hours before departure time of tour or service 100% of the total price will be due and no reimbursement will be granted. No reimbursement will be granted to any client who is not at the place of departure at the time established; similarly, no reimbursement will be granted to clients who lose contact with the guide or who do not complete the tour.