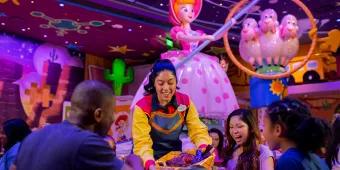 By AttractionTickets.com's Florida Experts, Susan and Simon Veness
Roundup Rodeo BBQ makes a stylish debut at Disney's Hollywood Studios
We've had to wait a l-o-n-g time for Walt Disney World's latest restaurant, but we're here to tell you it has been worth the wait. The all-new Roundup Rodeo BBQ is a big ol' helping of delicious barbecue style, and a lot more besides.
True, it HAS taken a while for this adventure into the world of the Toy Story characters to be completed. It was originally scheduled as part of the opening to the resort's 50th anniversary celebrations in 2021 but, as with many aspects of Orlando's tourist wonderland, it was severely affected by the pandemic. A 2022 opening was also subsequently postponed, and a "Spring 2023" date was tentatively added instead. Happily, this week finally saw the construction boardings and temporary hedges come down, and visitors could finally enjoy the chance to dine in Andy's toy room.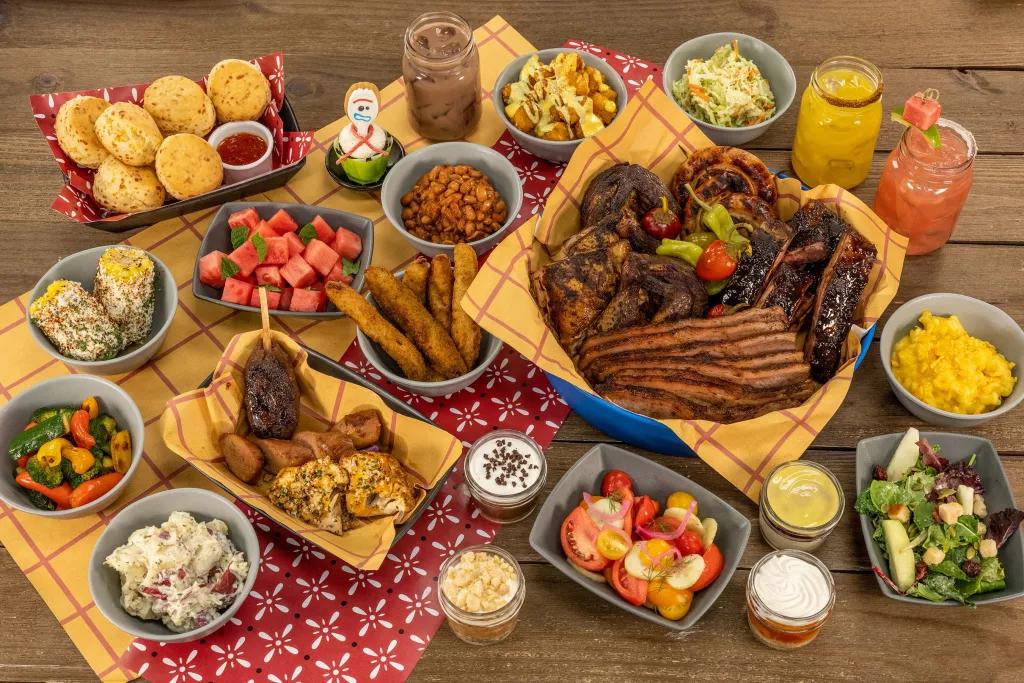 So, what is it all about, we hear you ask! The basic premise is a good one, much like the whole of this Disney's Hollywood Studios 'land.' Here, you are shrunk to the size of honorary toys and are surrounded by the character-rich world of Woody, Buzz and Co. In the Roundup Rodeo BBQ, you are effectively entering a realm of games and toy play-sets, where two-dimensional board games have come to life and visitors are absolutely surrounded by the imagery of the films. It's on the walls, the ceilings and even in the restrooms. And it's a total blast.
The over-riding theme is from Andy's Rodeo Roundup play-set, but the other Toy Story characters are well represented, including a magnificent Bo Peep figure, Rex, Zurg and others. Also sprinkled through the décor are over-sized game pieces, notably from a Scrabble set, Monopoly and a Brio train set.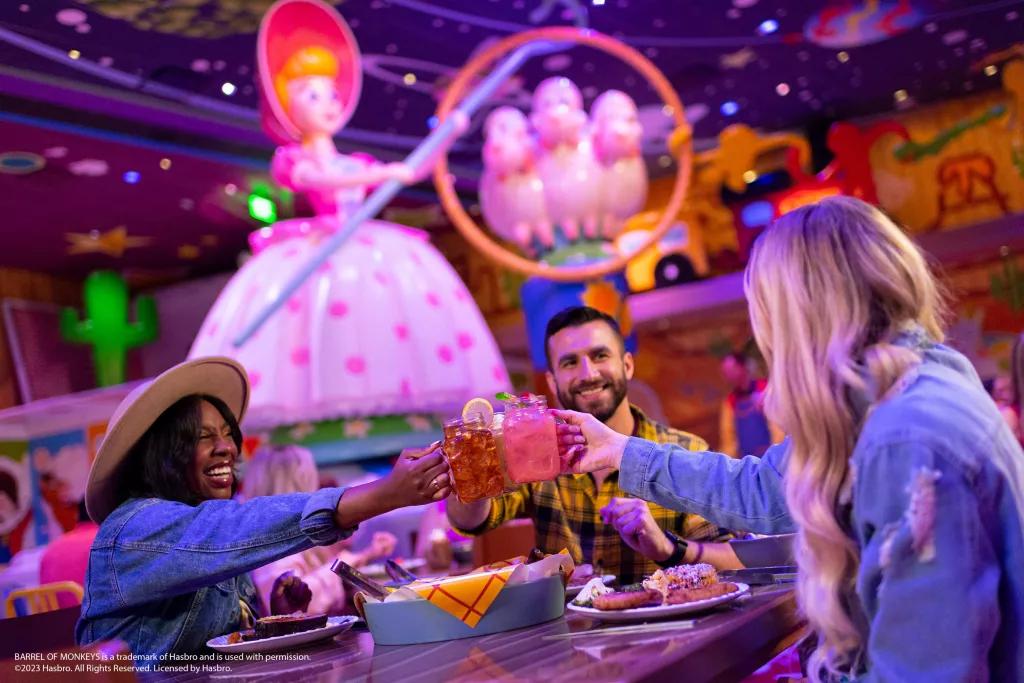 Children should absolutely love the setting, and we wonder if any of them will actually pay any attention to the food with so much to look at around them! And that would be a shame, because the food is really, really good. It should be, of course, because this isn't cheap dining territory ($45 for adults and $25 for children 3-9), but even so, we think people will get good value here and really enjoy the experience.
The meal basis is family style, which basically means you just get everything on the menu. There is a choice with the main course of meat or vegetarian (or a third, one-off option of cedar-planked salmon), but otherwise you will get to try the full array of the barbecue flavours.
Everything starts with The Prospector's Home-made Cheddar Biscuits, which come with sweet pepper jelly and are a scrummy way to kick things off. "Biscuits," of course, means savoury scones in America, hence these are not anything sweet at all. The jelly is an excellent accompaniment and makes for an appetising combo to awaken your tastebuds.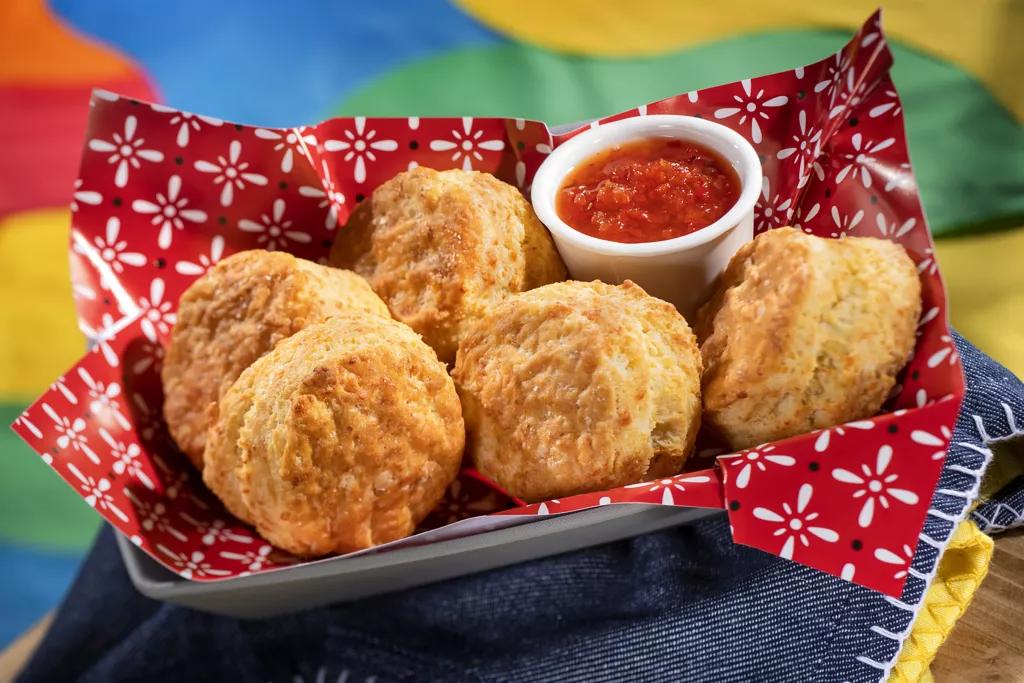 Next up is an array of three salads, which also serve as a great way to excite the appetite. They consist of a Rootin' Tootin' Tomato Salad (with cucumber, pickled red onions and a white balsamic vinaigrette); Rex's Romain & Kale Salad (with apples, dried cranberries and pumpkin seeds); and our favourite, Wheezy's Watermelon Salad, with torn mint, which provides a really zesty burst on the palate.
The big selection moment then arrives, and it's time to go meaty or plant-y. All the items are freshly – and deeply – smoked in-house, and there is a choice of three different barbecue sauces to go with them.
For meat eaters, the line-up is as follows: Evil Dr Smoked Ribs, Buttercup's Beef Brisket, There's A Sausage In My Boot and BBQ Chicken and, yes, you get all of them. This is family-style, remember, and that means you get a big platter of all the mains, and you can even order more of your favourites. The Ribs and sausage are extremely tasty, but we were bowled over by the brisket and chicken, both of which are as luscious and succulent as they come, with oodles of that barbecue aroma.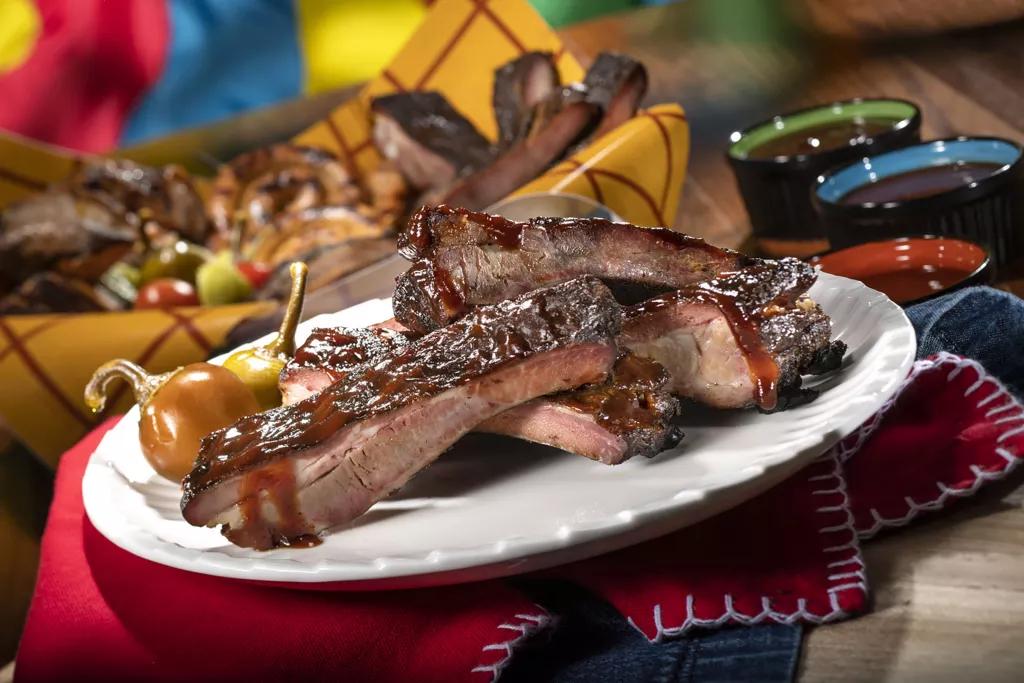 We did also try the plant-based option, and this should definitely suit the vegetarians in your family. This platter consists of the Combat Carlo-flower (a rich cauliflower dish with harissa drizzle and walnut gremolata), Scrumptious Bratwurst (a completely plant-orientated dish that looks like sausage and has the flavour, too) and Rip Roarin' Pork Chop, a barbecue-seasoned and glazed concoction made with the trademark Impossible meat.
All three made for a very satisfying main course, but the pork chop was a real winner for us for its mighty meaty-but-not style. Once again, you are free to order more of what you most like of this selection.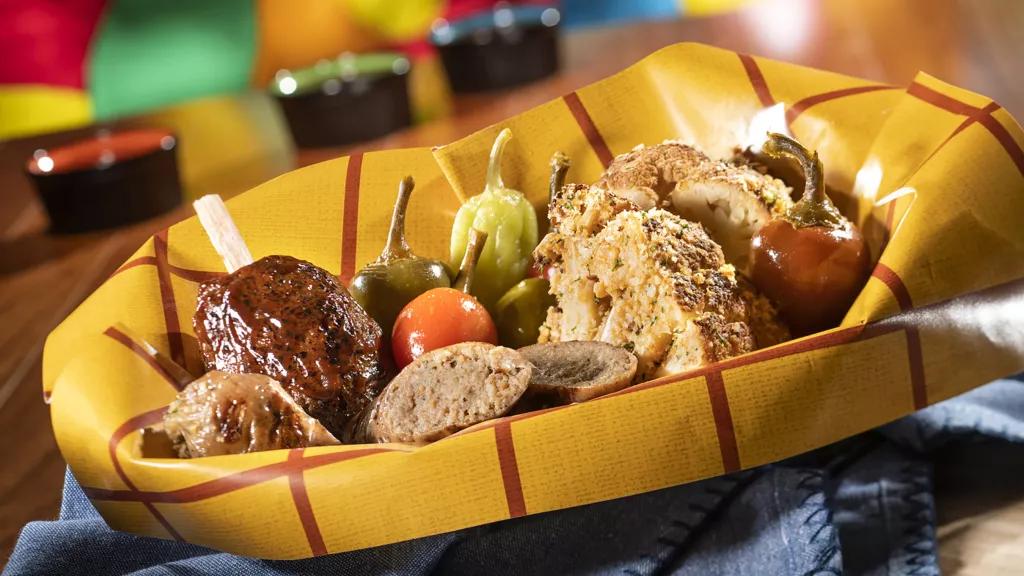 With either choice, you also select four of the eight side dishes, which include corn on the cob, baked beans, mac and cheese and potato salad. But don't worry if you can't make up your mind from all eight. After your initial four, you can order the other four, if you have the room!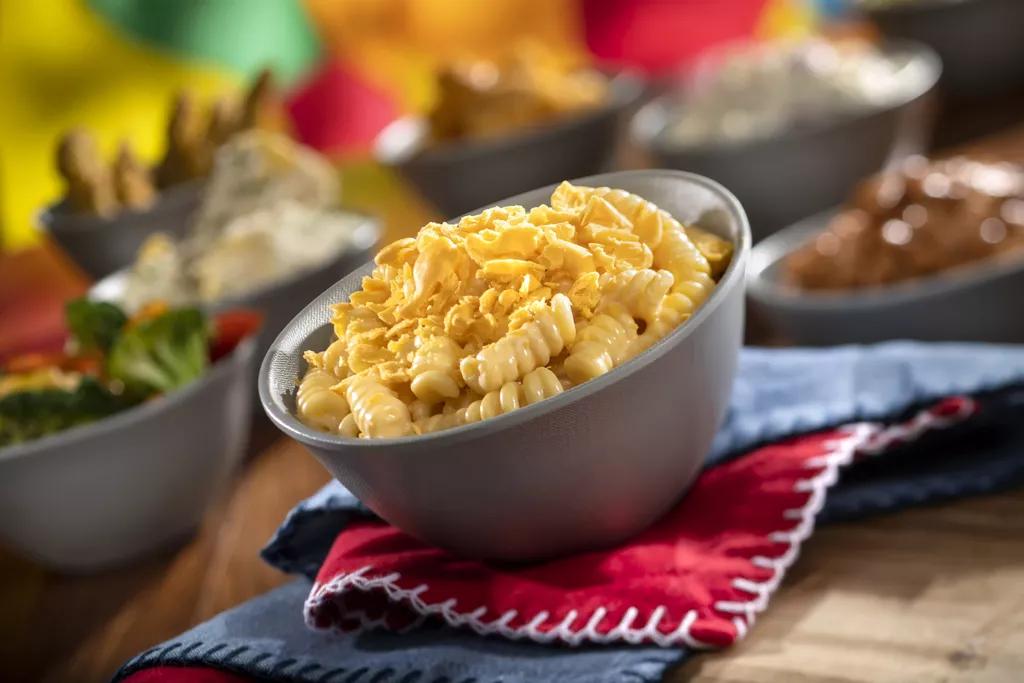 And then there is dessert. Here you have to choose one of the four options: Bo's Lemon & Blueberry Cheesecake, Billy's Chocolate Silk Pie, Goat's Apple Pie and Gruff's Peach-Strawberry Pie. To be honest, you can't really go wrong here, but, if pushed, we would have to say the cheesecake is the cream of the crop.
Kids also get the choice of the mini chocolate Cupcake a la Forky for their dessert, but mum and dad can also muscle in if this looks good to them, too.
With all that food, you'll need to wash it down with something tasty as well, and the menu offers a line-up of six signature cocktails as well as three non-alcoholic drinks, beer, cider and wine. The Snake-Eye Margarita and Rum Punch look like the go-to beverages for the grown-ups, although we also quite fancy the Frozen Peanut Butter & Jelly, made with peanut-butter whisky.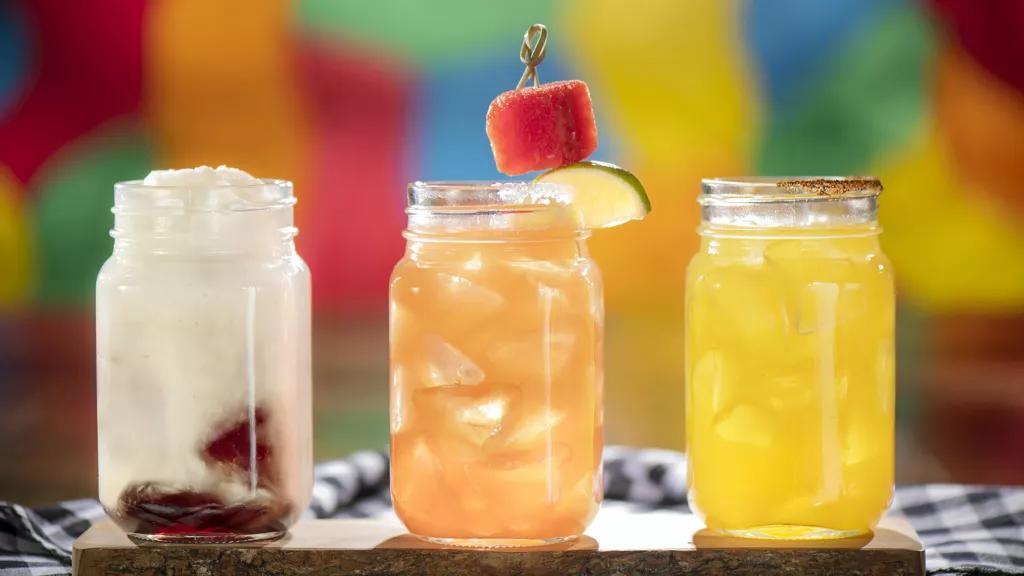 And that, folks, is the full array of deliciousness on offer at this vibrant venue. With it being so new, this is likely to draw a real barbe-queue, so it will be available by reservation only for a while, and hence you need to get the My Disney Experience app and go to the Dining section as soon as you know your theme park dates.
What is your favourite Disney restaurant? Tell us about it on the friendly Attraction Tickets forums, our Community Facebook page, on Twitter or Instagram.