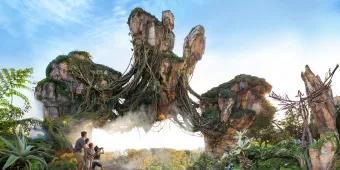 At Disney's Animal Kingdom park
Pandora- The World of Avatar is the newest area of Disney's Animal Kingdom. Spanning over 12 acres, there's lots of secrets just waiting to be discovered…
It's Completely Different at Night
A visit to Pandora during the day is completely different to visiting at night, so we'd recommend doing both for the full experience. Night-time is when the world of Pandora really comes to life, with bioluminescent plants glowing all around you. That's not all though, the floor glows too! As you walk through the land, you'll notice intricate shapes and patterns covering the ground beneath you.
You can get to know the locals
Everyone working in Pandora, has their own unique story of how they came to be on this amazing land. You can approach any cast member and ask them where they are originally from and they'll be happy to share their story with you. We'd suggest spending some time getting to know the locals- you might just be surprised to find out the weird and wonderful ways they discovered the beautiful world of Pandora.
You can transform yourself into an Avatar
Ever wondered what you'd look like as an Avatar? Well, if you head to the Windtraders souvenir shop, you can find out. Here you can transform yourself into an Avatar figure, using the ACE Avatar Maker. The high-tech machine uses a facial capture scanner to recreate your features and turn them into a miniature Avatar figure. You'll be able to choose your own hairstyle, eye colour and facial striping pattern too!
There's unique food you can't get anywhere else in the world!
If you're a foodie, you'll definitely want to dine at the Satu'li Canteen. You'll be able to sample tasty food here, inspired by "Pandora's bounty" and the Na'vi people. What's more, you won't find this delicious food anywhere else in the world, so make sure you give it a try. There's healthy build-your-own Satu'li bowls and mouth-watering bao buns. When it comes to dessert the Blueberry Cream Cheese Mousse is a must-try- the bright blue and yellow colour symbolises the Na'vi people.
And drinks!
Don't forget about the drinks! There are lots of refreshing drinks to choose from, that are perfect for cooling down from the heat. These colourful creations are also great for brightening up your Instagram page! Head to Pongu Pongu for bioluminescent frozen cocktails, Mo'ara margaritas and draft beer. Little ones will love the colourful Night Blossom drink- a frozen blend of apple, pear, limeade and passion fruit Boba balls that burst in the mouth. These drinks are all exclusive to Pandora- The World of Avatar, so you won't be able to get them anywhere else.
There's a floating Avatar
Since opening last year, Avatar Flight of Passage has quickly become one of the most popular rides throughout the entire Walt Disney World Resort, and one we'd highly recommend using Disney's FastPass+ for. This amazing attraction really is out of this world (we've tried it out!) and has to go on your must-do list. One of the secrets waiting for you in the queue area is a floating Avatar! Make sure you've got your camera at the ready, as there's lots to see here.
The drums play themselves!
Did you know that drums are very important to the Na'vi people? Throughout the day, you'll be able to enjoy several impressive performances of a traditional Na'vi drum ceremony. There are also drums that you can play yourself. Just hit the drums and they'll mysteriously play back to you! This is one that the big kids will love just as much as the little ones!
You can pet the plants
This might sound a bit strange but is worth checking out. Pandora is filled with thousands of colourful and exotic plants and flowers. The largest specimen is known as the Flaska Reclinata. If you go up to this vibrant plant and gently place your hand on its side, it begins to glow, giving out energy. Watch out, as it also sprays out streams of mist!
Want to experience the magic for yourself? Click here, to view our great value Walt Disney World Resort tickets.
For more blog posts like this try…
Find out all the latest news from Orlando in our BLOG