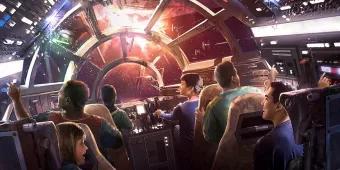 Star Wars Land- a need to know guide!
We've put together a guide of everything we know about Star Wars: Galaxy's Edge so far, from the opening date to ride details and everything in between…
1. When is Star Wars Land opening?
If you've been wondering 'When is Star Wars Land opening?' for some time now, you'll be pleased to hear that the wait is almost over. Disney have finally confirmed that Star Wars: Galaxy's Edge will finally be unveiled at Disney's Hollywood Studios at Walt Disney World on 29th August 2019! The Star Wars land was originally scheudled to open late autumn, but the opening date has been moved forward due to high guest interest, which is great news for fans. If you're desperate to be part of the action, you can start planning your holiday now as we already have 2019 and 2020 Disney tickets on sale.
If you really can't wait that long, you might want to consider visiting Star Wars: Galaxy's Edge at Disneyland California, as this is set to open earlier- on 31st May 2019.
2. It will be Disney's largest land EVER
Disney have lots of amazing, themed lands like Pandora- The World of Avatar and Toy Story Land to name a few, but Star Wars Land is set to be the biggest yet. In fact, Star Wars: Galaxy's Edge will be Disney's largest ever single-themed expansion, spanning over 14 acres at Disney's Hollywood Studios Park. There will be plenty to explore and you'll be in your element as the Star Wars galaxy comes to life before your eyes.
3. There will be two new attractions
When Star Wars: Galaxy's Edge opens later this year, there will be two main attractions for you to try. Millennium Falcon: Smugglers Run will let you board the Millennium Falcon before taking control and flying the famous space craft through the galaxy on a special mission!
Star Wars: Rise of the Resistance will be an action-packed attraction that puts you right in the middle of a dangerous battle between the First Order and the Resistance.
Your visit won't be complete until you've tried both of these amazing attractions, so make sure these are at the top of your list.
4. You'll come face to face with Star Wars characters
Make sure you've got your autograph book at the ready because you'll be able to meet some of your favourite characters at Star Wars: Galaxy's Edge. Come face to face with your heroes and strike a pose next to the likes of Chewbacca and BB-8. Be warned though, you'll also come across some of the galaxy's most infamous villains like Kylo Ren and the Stormtroopers!
5. It's set on Planet Batuu
If you're a big Star Wars fan, you've probably heard of the Planet Batuu, but this is the first time you'll be able to explore it yourself. Batuu is a remote outpost that has become a thriving port for smugglers, rogue traders, droids and those trying to avoid the First Order, which means you can expect to see lots of quirky characters while you're there.
The village you'll get to visit will be called Black Spire Outpost and this is the largest settlement on Planet Batuu. This notorious spaceport is known as a place where traders and adventurers stop on their travels. You never know who you're going to find here.
6. You'll be able to try Star Wars food and drink
Disney have already confirmed that a new restaurant called Oga's Cantina will be part of Star Wars: Galaxy's Edge. This will be the place to go when you're feeling hungry and adventurous- as there will be some pretty unusual dishes on the menu! The full menu hasn't been revealed yet, but Disney have promised that fans will be able to try the famous Blue Milk.
7. There will be a unique marketplace
As well as amazing attractions and character encounters, Star Wars: Galaxy's Edge will have a bustling marketplace with a host of shops and stalls to explore. The colourful marketplace will be inspired by the exotic markets of Istanbul and Marrakech. This will be the place to go if you want to find some unique souvenirs, as this marketplace will have merchandise that you won't find anywhere else in the world!
Make sure you look out for a stall run by a Toydarian. You'll probably recognise this winged creature from Star Wars: The Phantom Menace.
8. A Star Wars hotel is coming
If you're a huge Star Wars fan, this incredible hotel will be like a dream come true. The attention to detail is going to be amazing as this resort promises to be fully immersive. In fact, when you book a stay here, you'll actually become part of the Star Wars story!
When you arrive, you'll have to dress in the correct Star Wars attire, before getting involved with exciting missions. As the story unfolds around you, you'll encounter lots of familiar faces and experience what it's really like to be a citizen of the galaxy.
While this new Star Wars hotel won't technically be a part of Star Wars Land, Disney have revealed that the experience in the hotel will "seamlessly connect" to the unforgettable experience you will have at Star Wars: Galaxy's Edge.
Want to be one of the first to experience Star Wars: Galaxy's Edge? Click here, to view our 2019 and 2020 Walt Disney World tickets.
Liked this post? You may also like…