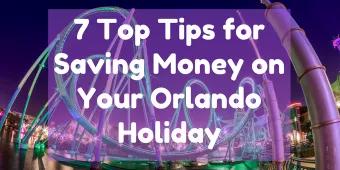 Save money without compromising the fun on your holiday!
Looking to save money on your Orlando holiday? look no further...
1. Pre-book your Florida theme park tickets
If you are planning on visiting the big theme parks multiple times during your holiday, it's much better value to book your theme park tickets in advance. Prices on the gates of these theme parks can run up to $135 (currently £104) per person per day, so it will quickly add up! You'll also get the most out of your money because you can visit 2 parks or more in one day without being charged multiple times. To save even more money when buying your tickets, make sure you…
2. Book combo tickets for the best value!
When visiting Florida, you probably have a few different parks in mind for your visit. Whether you want to visit Walt Disney World and Universal Orlando Resort, SeaWorld or LEGOLAND, combining your tickets saves you money – up to £50pp in some cases – and means you get the same park access but at a discounted rate. It's win-win! To find out how to book the best combo ticket for your holiday, watch the video below...
3. Stay at a more basic hotel
Although there are plenty of benefits to staying on-site (including free park shuttles, early park admission and free parking), staying at a resort hotel may not be feasible if you're travelling on a budget. Staying at a value hotel near International Drive means you're still in the heart of the action but you'll save serious £££'s on your hotel stay. Let's face it – you'll be out riding roller coasters all day anyway!
4. Carry smaller notes
When collecting your holiday money, make sure you ask for some smaller notes too. It's more common to tip people in the US than we are used to and having smaller notes make this much a much simpler process!
5. Split big meals
Portion sizes in restaurants in the US are often a lot bigger than you might expect. It's a common money-saving 'hack' to order a meal and split it between 2 – so don't worry, the servers are used to this and will gladly bring you an extra plate! This either works for children or in some places, can even work for two hungry adults, so make sure you check out the portion sizes as you're shown to your table.
6. Take advantage of the free Wi-Fi
With the spread of free Wi-Fi throughout the parks, hotels and in other key locations in Orlando, there's no longer any need to run up huge roaming and call charges when using your phone abroad. Make sure you turn off your roaming as soon as you leave the UK and switch to Wi-Fi only – using apps like WhatsApp and Skype you can even make free calls over the Internet to make your arrangements for anything you need to book or confirm such as restaurant reservations, transfer pickups and extra experiences.
7. Use your discount cards!
Save hundreds of dollars on eating outwith the VIP Dine4Less card. The card gives guests a 20% - 25% discount on various dining locations throughout Orlando, including big-name restaurants such as Ponderosa Steakhouse and arty local hangouts Café Tu Tu Tango. If you spend £500 or more on Orlando theme park tickets, we'll give you this card, $1000 dollars worth of shopping discounts AND a Dollar Off Drinks card absolutely free! Find out more about how these cards can save you money.
So, there you have it, our 7 top tips for saving money on your Orlando holiday! Leave us a comment on Facebook with your favourite money-saving tip.
Liked this post? You may also like…