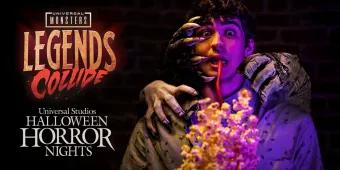 The first haunted house has been revealed!
This all-new haunted house will debut at Universal Orlando's Halloween Horror Nights, featuring three Universal monsters together for the first time.
What could be scarier than a Universal Monster? Three of course! 
This year, Universal Orlando Resort will be bringing together The Wolf Man, The Mummy and Dracula for the first time ever, exclusively for Halloween Horror Nights. 
What do we know about Universal Monsters: Legends Collide? As you make your way through this haunted house with your scream squad, you'll end up in the middle of an epic battle as The Mummy, The Wolf Man and Dracula carry out their mission of finding the amulet that will break their curse. 
And they'll stop at nothing to find it, destroying anyone who gets in their way… including you!
Find out more in this sneak peek from Universal Orlando: 
This is the first of 10 haunted houses to be announced for Halloween Horror Nights 2022, with the rest set to be announced over the next few months. Previous houses have included Stranger Things, Jordan Peele's Us and Trick r Treat, but we'll have to wait and see if any of them will be making a come back. 
Halloween Horror Nights 2022 begins September 2nd. Be one of the first to experience Universal Monsters: Legends Collide by booking your tickets today.