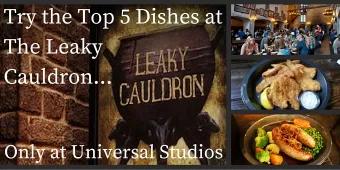 Check out these top 5 tasty pub dishes...
Specialising in traditional British pub food with a wizarding twist, the Leaky Cauldron is guaranteed to conjure up some treats.
I'm sure you already know that you can enjoy a pint of Butterbeer, swig a Pumpkin Juice or even sample a Chocolate Frog in Orlando's Wizarding World of Harry Potter, but how much do we know about Diagon Alley's Leaky Cauldron, a home from home that offers delicious classic dishes familiar to us Brits? Sales and Reservations Agent Jimmy McGee takes us through a few of his favourites...
If you're missing home (how can you when you're in the theme park capital of the world!?), and feel like you need something to remind you of what you've left behind, the Leaky Cauldron offers just the right potion (a necessary Harry Potter reference there) that will get your British taste buds whirring.
1. Bangers and Mash
Photo credit: Orlando Informer
What a way to start! Bangers and mash epitomises British cuisine -  two roasted sausages placed on top of a portion of creamy mash potatoes. The sausages are topped off with sautéed onions, with a side of vegetables to accompany it. A great meal for the traditionalists and one of our favourites at the Leaky Cauldron.
2. Beef, Lamb & Guinness Stew
Photo credit: Orlando Informer
A tasty stew with a twist, and one of the most popular choices in the Leaky Cauldron. Orlando portions do not disappoint, and you will be treated to plenty of tender pieces of lamb and beef in a thick Guinness tinged broth with a side salad to break up the hearty stew. Surely you didn't expect a restaurant with Cauldron in the name to not offer a stew?
3. Fish & Chips
Traditional British Fish & Chips is known worldwide, and it couldn't be a simpler dish. Three or four flaky but juicy cod fillets cooked and fried to perfection in crispy batter with a side order of chips. This is one for the non-adventurous wizards that just want something easy and guaranteed to satisfy.
4. Toad in the Hole
Photo Credit: Orlando Informer
Sure to puzzle the US residents who are not so familiar with the term, but enough to get their attention. The toad in the hole has always been a British favourite, and this really would make you feel you're back home, tucking into a homemade meal. Accompanied with minted peas, and assorted vegetables, this is another very popular choice at the Leaky Cauldron.
5. Soup & Salad
Ending with something lighter, a very popular choice due to its price, but more specifically it offers something different to the options listed above. Definitely for those who want something a little lighter in case they plan on going on the rides shortly after eating!
For those who just want a snack, they also serve up traditional Scotch Eggs with a little side order of apple beet salad. The Leaky Cauldron really does have a British heart, and is sure to be popular with all cultures, but especially us Brits!
Try all this food and more at Universal Studios Florida with our range of great value tickets. To find out more, click here.
For more blog posts like this try...