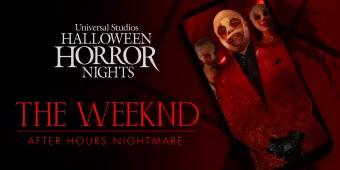 His nightmare is now yours
This brand-new haunted house will be based on The Weeknd's 'After Hours' album in an exciting and terrifying collaboration with Universal Studio's Halloween Horror Nights.
An all-new haunted house has been announced for this year's Halloween Horror Nights and it is music to our fears! 
Award-winning artist The Weeknd has joined forces with Universal to create The Weeknd: After Hours Nightmare. In this house, grotesque creatures and terrifying scenes will come to life as the eerie sounds of the reimagined After Hours album play in the background, featuring songs like Heartless, In Your Eyes, and the record-breaking Blinding Lights.
The house is said to be inhabited by slashers, toad-like creatures, bandaged maniacs and other horrifying characters that have come straight from the dark and vivid imagination of The Weeknd himself, inspired in part by his music videos and short films. 
This attraction has been described as "an unprecedented haunted house that is going to shatter the expectations of our guests and immerse them in an unforgettable experience that is equally unexpected and terrifying" and we can't wait to find out what that means! 
We're ready to be scared out of our minds at this year's Halloween Horror Nights at Universal Orlando Resort… are you? Take a look below at the other houses that have been announced and book your tickets for this must-do event!