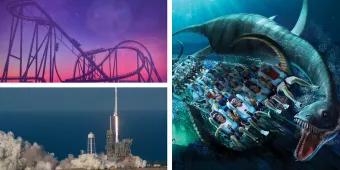 Virtual reality, exciting shows and late night parties!
If you're visiting Orlando this month, here's what you should add to your 'to-do' list…
Kraken Unleashed:
Those of you that have been to SeaWorld before, will know that the Kraken is one of the park's scariest rides. If you haven't already heard, it's currently undergoing an epic transformation, that will make it even scarier than before! The exhilarating attraction is already holds the record for being Orlando's only floorless rollercoaster, and will soon become SeaWorld's first virtual reality coaster when it opens on 16th June. The addition of virtual reality headsets will make the experience more immersive, letting you enjoy the ride in a completely new way. Prepare to plunge into the depths of the ocean, where you'll come face to face with the mighty beast! You'll reach heights of 150-feet and speeds of 65mph, so this one definitely isn't for the faint-hearted.
When? 16th June
Frozen Summer Games:
If you're a fan of Disney's Frozen (who isn't?), then Blizzard Beach is the place to be! Even though it's summer, the Winter Games Committee have decided to take advantage of a freak snowstorm at Blizzard Beach, and host the Frozen Summer Games. Guests must choose whether they are team Kristoff or team Olaf, before taking part in a series of exciting challenges. Join in the fun with a snowball toss, where pairs compete in a snow-themed water balloon toss, followed by an Ice Pail Relay and a Ski Pole Limbo! Make sure you bring your camera, as you'll get the chance to meet Kristoff and the loveable Olaf too.
This fun-filled special event is included with theme park admission, so you'll be able to enjoy all of the activities at no extra cost.
When? Running until 13th August
Pop:
A brand new, one of a kind show has launched at SeaWorld Orlando. Pop is an incredible collaboration between SeaWorld and Bubble Legendary, and is unlike anything you've seen before. Guinness World Record holder Fan Yang takes to the stage to perform his mesmerising bubble artistry routine, which is inspired by the ocean and the beautiful sea creatures that live there. As well as enormous bubbles of all shapes and sizes, you can expect a custom musical score, state-of-the-art lighting and colourful lasers.
When? Running until 4th September
Summer of Mars:
Summer of Mars is an out of this world event at the Kennedy Space Center, featuring Mars-themed shows, special astronaut appearances and much more! NASA's goal is to send humans to the red planet in the 2030's, and guests will be able to learn all about the missions that have led to this huge aim, and what's in store for the future. One of the highlights of the summer event is the chance to see the Mars Rover concept vehicle. This amazing 28-foot space craft has been specially designed for navigating the challenging landscape of Mars, and could even be the vessel that the next generation of space explorers travel in! This is a once in a lifetime chance to get up close to the Rover, before it begins a tour of the USA from mid-July. If you're visiting soon, it's worth making time to see.
When? 5th June-4th September
Live Rocket Launch:
The Kennedy Space Center is famous for its live rocket launches, and if you're visiting this month, you'll be able to witness the incredible sight for yourself. On 15th June, the Space X Falcon 9 BulgariaSat-1 will take off from the launch complex and you could be in the crowd gathered below! The viewing area is available on a first come first served basis, so get there early if you want to enjoy the view.
When? 15th June
Busch Gardens Summer Nights:
Busch Gardens invites you to "party louder and play later" at their reimagined Summer Nights event. The popular event has had a bit of a makeover for 2017, with exciting new party zones, and a brand new ice show added to the line-up! One of the things we love most about Summer Nights, is that you get to ride some of the park's most thrilling roller coasters after hours! Falcon's Fury, Cheetah Hunt and SheiKra are scarier than you could possibly imagine in the dark, so if you're a bit of a thrill seeker, you won't want to miss this amazing event.
There will be three themed party zones for you to enjoy:
Fiesta Fiesta- offers a Latin experience with a flavoursome menu
Luau- is inspired by the islands, and has a tasty Hawaiian menu and refreshing tropical cocktails
Vibin' Village- transports you to Africa, with tribal entertainment, authentic cuisine and craft beer
The new Turn It Up! Ice show is a stunning celebration of summer, featuring contemporary performances, aerial movements and pop music. Summer Nights is running for a limited time only, so make sure you don't miss out on the fun.
When? 16th June-6th August (Open until 9pm Sundays-Thursdays and until 11pm Fridays and Saturdays)
Electric Ocean:
An all-new night-time celebration is coming to SeaWorld Orlando, giving you the chance to see the park in a whole new light. When the sun goes down, the park comes to life with bioluminescent lighting, lively music, fireworks and pathway entertainment, immersing guests in a "glowing sea of wonder". SeaWorld haven't revealed too many details about the new show, but we think it already sounds pretty impressive, and can't wait to see what's in store when the show debuts later this month!
When? 17th June-5th August
Already dreaming of your next Orlando holiday? Click here, to view our full range of Orlando attraction tickets.
Liked this post? You may also like…