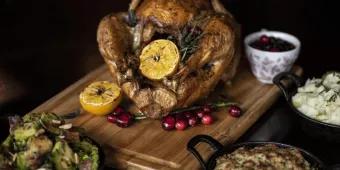 By AttractionTickets.com's Florida Experts, Susan and Simon Veness
We have the lowdown on where to enjoy America's iconic holiday meal
In just two weeks' time, most of the USA will sit down to their biggest meal of the year. It will feature a full roast turkey and all the trimmings, but it has nothing to do with Christmas.
Instead, this uniquely American occasion will celebrate a 400-year-old festival that originated between the early settlers of Plymouth, Massachusetts, and the Wampanoag people who lived there. It still needed the intervention of President Lincoln to make it an official holiday in 1863, but Thanksgiving has been firmly on the November calendar ever since, and its annual observance is now the cause of much culinary extravagance (not to mention indigestion!).
Officially held on the fourth Thursday of the month (November 24 in 2022), it is a major family get-together in households from Florida to Oregon, and Hawaii to Alaska, and most will feature the traditional Thanksgiving menu that legend insists stems from that 1621 meeting of settlers and native Americans.
Now, we have no idea if that rose-tinted historic account has any real validity or not, but we do know that the Fourth Thursday offers a dining opportunity like no other, comfortably the biggest food holiday of the year. It is a worthy rival to the classic British Christmas dinner, with a reputation for both quantity and originality, and it introduces some intriguing dishes that are likely to be new to visitors from Europe.
The centrepiece is, of course, the turkey, in much the same way it is for most households in the UK. Fully brined, basted and roasted, this is the stuff of several hundred years of tradition. As Bernard Matthews always used to say – Bootiful!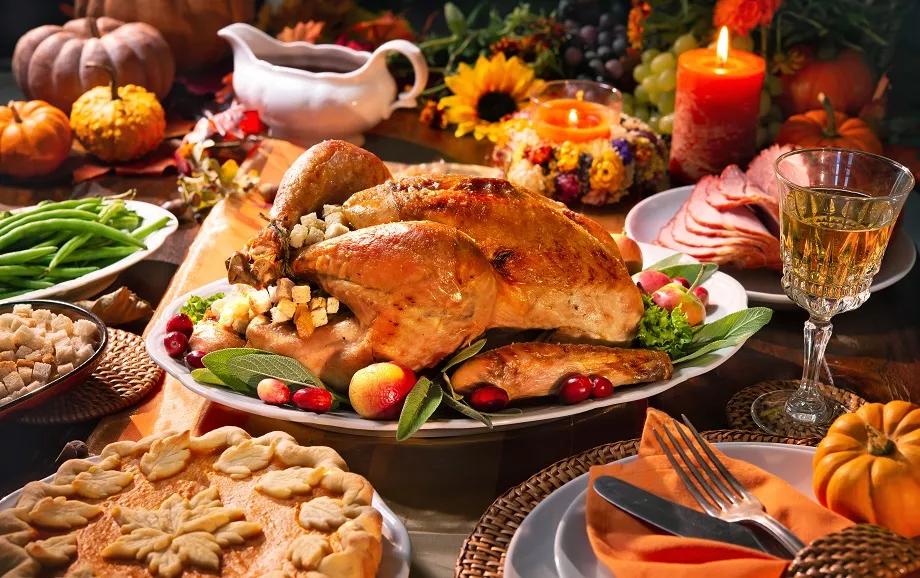 But the side dishes are almost as important, as they make up the bulk of the meal and form a time-honoured array of accompaniments that go perfectly with the turkey.
Starting with mashed (not roast) potatoes, the rest of the usual line-up consists of sweet potato casserole topped with toasted marshmallows (yes, really), green bean casserole, gravy and bread stuffing, as well as cranberry jelly, cranberry sauce and, in some instances, cornbread. Oh, and it just has to be followed up with pumpkin pie for dessert, a delicious smooth and spiced mixture of pumpkin, evaporated milk, eggs, cinnamon, nutmeg, ginger and allspice.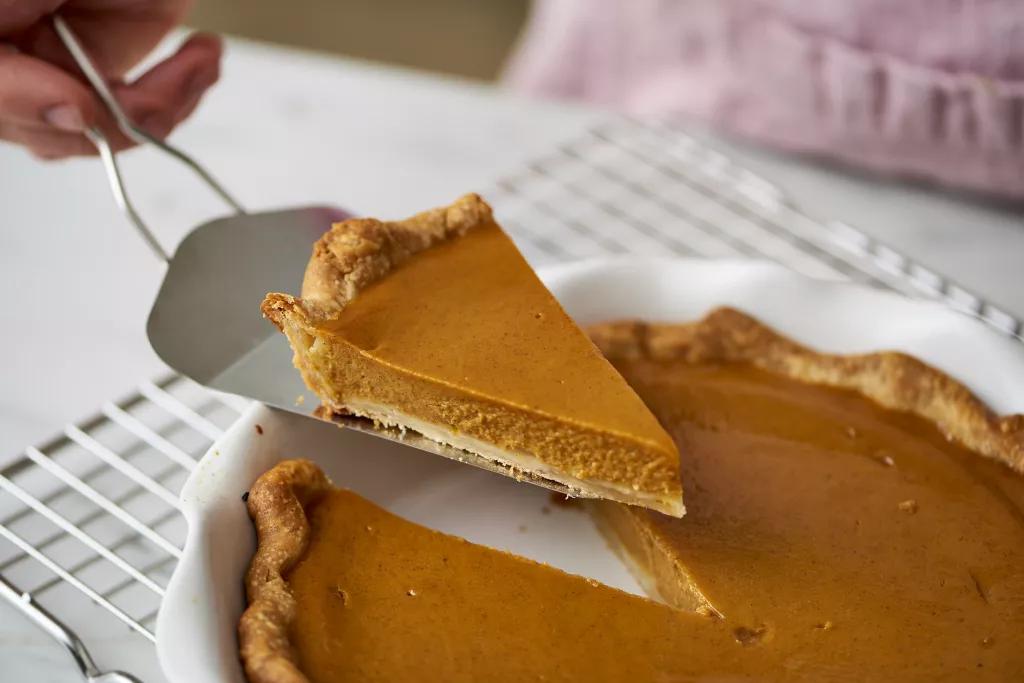 If it sounds like a LOT of food, that's because it is. But, if you're dining in typical family fashion, you're not supposed to eat it all at once (BIG rookie mistake!). The idea is you are making enough for two or three days, plus meals to send home with your guests, as Leftover Dinner is another Thanksgiving tradition.
But, unless you are staying in a villa – and feeling brave in working in a kitchen you don't know well – you are more likely to want to know how and where to enjoy this annual feast.
Happily, seeing as this is Orlando and restaurants know they need to cater for visitors who either can't or don't want to cook for themselves, there is plenty of choice for that all-American experience. Many hotels will offer a Thanksgiving buffet on the day itself, while other restaurants add traditional menu items for the whole week.
The key is to check out the choice and make your booking asap, as this is the day that most restaurants are likely to put up the "Fully booked" signs. Fortunately, there is plenty of choice, and there are even a handful of hotels featuring a Thanksgiving brunch that includes fresh-carved turkey, just in case you prefer to have your main meal early on rather than later in the day.
Universal Orlando has multiple offerings across its full hotel range, with either an astounding turkey-based buffet spread or a Thanksgiving Day menu in each instance (variously from 11am to 10pm). The Hard Rock, Sapphire Falls and Royal Pacific also feature an extended Thanksgiving buffet (7-11am), while Portofino Bay has an alternative Thanksgiving Day menu at Mama Della's Ristorante (5-10pm).
Check out the full details, including reservations.
Likewise, Walt Disney World has an extensive range of holiday specials across its Theme Parks, Resorts and Disney Springs area. There are seasonal treats and classics at many of the regular outlets this month, with the benefit of mobile ordering in many instances.
For November 24th itself, look out in particular for Thanksgiving enhancements or full meals at Animal Kingdom Lodge (each of the Boma, Jiko and Sanaa restaurants), the Boardwalk Inn (Flying Fish and Trattoria al Forno restaurants), Contemporary Resort (at Chef Mickey's and Steakhouse 71), and Grand Floridian Resort (at Citricos, Grand Floridian Café and Gasparilla Island Grill).
As with all the theme parks, though, be prepared for crowds approaching record levels over the Thanksgiving long weekend holiday period (Nov 24-27). If all else fails, try the Disney Dining hotline on 407 939 3463, which will be able to track any last-minute availability.
Out in the main tourist areas, there are plenty of restaurants featuring the essential Thanksgiving menu, and the Visit Orlando tourist organisation has compiled a handy list of options for that special day's dinner, breaking it down by three areas, International Drive, Lake Buena Vista (and Disney), and greater Orlando.
From our experience, each of the JW Marriott Bonnet Creek Resort & Spa (with both a three-course prix fixe option and Thanksgiving buffet, 5-1pm and 12.30-8pm respectively), Orlando World Center Marriott (from 1-8pm, offering a truly superb buffet), Rosen Shingle Creek (brunch 11am-6pm or dinner 5.30-10pm) and Caribe Royale Orlando (serving a magnificent five-course dinner 3-8pm as well as a multi-station brunch 11am-4pm) all feature the full array of traditional menu items with a stylish twist that will give you the essential tastes of the holiday.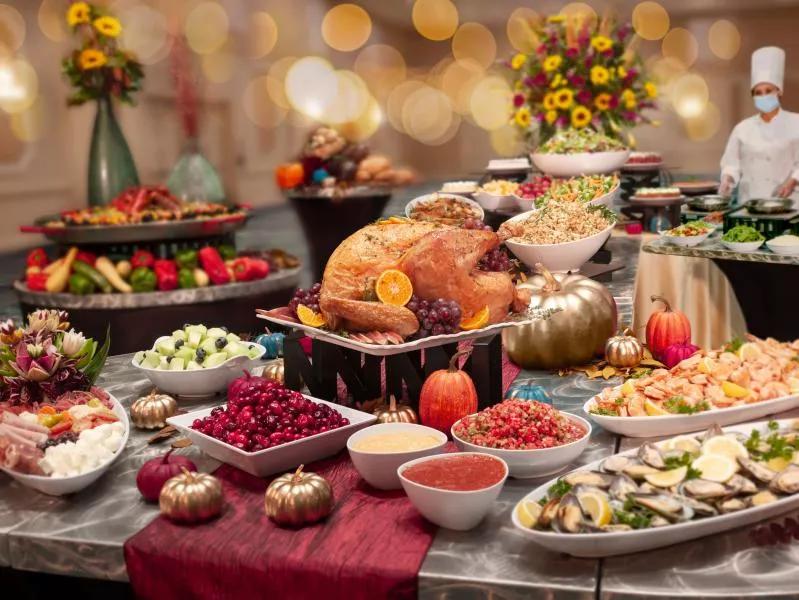 For more moderate choices, seek out the Café Tu Tu Tango restaurant (brunch from 11am-4pm and dinner 4-10pm) and Mia's Italian Kitchen (3-11pm) on I-Drive; Too-Jays Deli (11am-8pm) on Dr Phillips Boulevard; Buca di Beppo (10.30am-8pm) on Highway 192 in Kissimmee; and Brio Italian Grill next to Mall at Millenia.
Finally, for a true taste of the occasion with a gourmet twist and a nod towards British-style home cooking, take note of this year's Thanksgiving Day meal on offer at our favourite Irish bar and restaurant, Raglan Road at Disney Springs.
This classic venue serves up the full dinner platter – butter and herb roast turkey, roast garlic mashed potatoes, duck fat roasties, honey glazed carrots, bacon braised Brussels sprouts, sausage meat and walnut stuffing, plus red wine jus with cranberry sauce – for a bargain $38/adult and $18 children 3-9.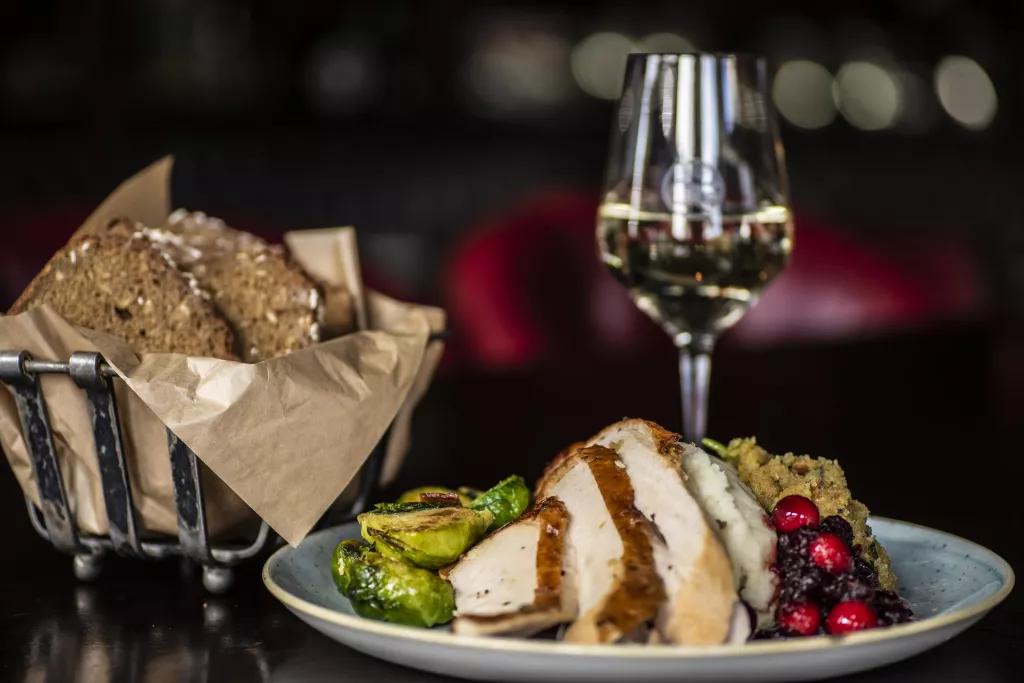 This Thanksgiving extravaganza will be served all day from 11am to 10.30pm, but it must be booked in advance.
And, as well as a slap-up meal, you can enjoy all the fabulous live music and entertainment that Raglan Road presents on a daily basis. How's that for an Irish-American occasion with all the trimmings!
Have you experienced Thanksgiving in the US before? Tell us about it on the friendly ATD forums, our Community Facebook page, on Twitter or Instagram.