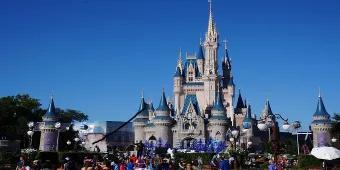 What you should bring on your next Orlando holiday
There's lots to plan for when going away, so we've put together this handy guide for what items to bring and clothes to wear on your Orlando holiday...
When gearing up for your much anticipated holiday to Orlando, you are bound to find yourself thinking about just what you will need to bring, and indeed what you should be wearing during your time there.
With all the different locations and parks that you will likely be visiting during your time in Florida, there will be a diverse range of items that will need to be packed into your suitcase, so we have put together this guide to make things a little easier for you; a checklist for all that you might want and need.
What to wear
Let's start off with what items of clothing you will need to bring with you and wear during your Orlando holiday. Considering the weather and the different parks available, such as Disney World, Universal Studios, and a number of water parks, there are certainly some must have items. 
Shorts, vests, and lightweight clothing
If you happen to be visiting during the hotter summer months, some lighter and cooler garments will certainly be necessary. We spoke to Michelle Ordever of The Purple Pumpkin Blog who strongly recommends this. She said: "For coping with the heat and humidity - lightweight clothing is a must - shorts, or at the most cropped trousers/leggings with a vest top or t-shirt will be fine for touring the parks."
Cardigan or light sweatshirt
The temperatures in Orlando can really get up there during the summer, but many of the indoor attractions and restaurants will be quite cool thanks to a constant supply of air conditioning. So make sure to have a cardigan or light sweatshirt with you to pop on should you need it. 
Evening Wear
Kelly Dunning from the travel blog Global Goose offered us some great advice saying that, "After walking around the theme parks all day in the heat, you will also probably want a lightweight cotton dress (or pants and a shirt for the guys) to change into in the evenings after showering so that you can feel nice when you go out for dinner."
Swimming shorts/Bathing suit
Disney World may be Orlando's most famous attraction but there are also plenty of water parks in the area, so you will want to wear a bathing suit during your visit. And with attractions like Disney World also having rides that might get you wet, a pair of swimming shorts might just be more comfortable.
Jeans/leggings
Of course, you won't necessarily be travelling during the hottest point of the year so wearing a pair of jeans or leggings would certainly be advised during the cooler months, which are November through February. These will also come in handy in the evenings no matter what time of the year it is.
First time visitors badge
Josh Bender of travelwithbender.com suggests that travellers heading to Orlando should make sure they don a visitors badge at the parks.
"One of the best things to wear at the theme parks in Orlando is a first time visitor's badge (or a birthday badge if it's your birthday). For example, in Disney World you can grab a badge for free from guest services. Across the Magic Kingdom, park staff spent the whole day pointing out the badge and welcoming us… perhaps this is why they also just waved us through the FastPass queue all together."
Hat
A hat would certainly be advised when wandering around the parks in full glare of the Florida sun. Not only will this help to keep you cool, but can also help prevent any burns on your face, and sun stroke as well.
Comfortable sandals or shoes
Not much will be able to keep your feet dry at certain Orlando theme parks, so wearing a comfortable and sensible pair of sandals will be important. You will be walking a lot when visiting the attractions so make sure you are happy being in them for large portions of the day.
Sandals alone won't be enough of course, as travel blogger Sharon Gourlay, of wheressharon.com, told us: "The most important thing to bring and wear on an Orlando holiday is definitely comfortable shoes! If you are planning to visit the theme parks then you are going to be doing A LOT of walking and it's going to get painful fast without good shoes."
And Kelly of Global Goose agrees that wearing a comfy pair of shoes will be of great benefit.
"You will be doing a lot of walking around the parks, so wear comfortable shoes. I wore sneakers and they served me well - I covered around 20-30 thousand steps per day. I wouldn't recommend flip flops - your feet will be sore and blistered by the end of the day. Also, on some of the roller coasters that go upside down you will have to take off your flip flops and sit on them so that they don't go flying off!"
Smart shoes for the evening
Of course, you won't be spending your entire time marching up and down the many Orlando theme parks. There are plenty of restaurants and night based activities to be visited, so make sure to have a pair of smart shoes to wear in the evening.
Raincoat
Fingers crossed you will be blessed with fine weather during your stay, but there is always a good chance you might be caught in a Florida downpour, so having a light raincoat tucked away in your bag will be a smart move.
Plastic poncho
"If you are visiting in the school holiday season (July-August) you need to prepare for three things - heat, humidity, and rain!" says Michelle of the The Purple Pumpkin Blog.
"Florida may be called the Sunshine State, but having a sub-tropical climate means that daily rain showers can occur. Be prepared by bringing a poncho with you to the parks, so that you can throw it on when the rain starts to fall, and carry on enjoying your day."
Many people do indeed prefer to wear a plastic poncho instead of a coat when they visit Orlando and its theme parks. Not only are these cheap but it won't take up much room in your bag or add extra weight to you as you stroll around. 
What to bring
So you have your Orlando theme park tickets, you have your outfits, but obviously it's not all about the clothes on your back and those in your suitcase that matter when planning a trip. You will also want to know just which items to bring with you to enhance your holiday. Here are a few suggestions.
Refillable water bottle
Kelly from Global Goose says to "Bring a water-bottle you can carry with you in your day-bag, as there are fountains where you can fill it up all over the parks. You can also bring some snacks if you don't want to always buy theme park food - as it is really expensive."
It's going to be thirsty work having the time of your life in Orlando, so this is important advice.
Backpack/bum bag/money belt
A back pack will come in handy when out and about in Orlando, allowing you to store drinks, food, and other valuable items that you might need. But Gretta Schifano of travel blog Mums do Travel smartly suggests to "have a money belt for keeping your valuables safe, as you won't be able to take bags on to all of the rides with you."
Bringing an item like this, or even a bum bag for keeping a few more items in will be very beneficial during your stay.
Sun cream and after sun
Gretta also suggests packing plenty of sun cream for your trip. This is a must have item, especially for those from cooler climates. Make sure to also bring some after sun for helping your skin cool down once the day is done.
Michelle from the Purple Pumpkin Blog also stresses this point, saying: "Don't forget sun safety by applying sun cream regularly, getting out of the heat (inside venues in the parks are air conditioned), and drinking plenty of water. As long as you come prepared, you'll have a great time at the Orlando theme parks whatever the weather!"
First aid kit
Hopefully this won't be needed but we advise to bring with you a small first aid kit when you travel out as you never know what bumps and scrapes could occur. Plus, having some plasters for any blisters will be sensible.
Sunglasses
Of course it's very sunny in this part of the world so a pair of sunglasses to protect your eyes will be a good addition to your list. The last thing you want is to spend your time squinting around the parks instead of enjoying your time away.
Cool bag
Gretta and Mums do Travel also recommend bringing along a cool bag for your Orlando visit, suggesting that they are a great way to save a few pennies.
"If you'd like to save money at the theme parks, pack a cool bag and an ice pack, and buy food and drinks from a supermarket for lunchtime picnics. You can store your cool bag in a locker at the park until you're ready for lunch."
Spray bottle
If you pick up a spray bottle before heading out, or simply grab one from one of the parks, you are bound to thank yourself later. A squirt from one of these every now and then can be a great way to stay cool and provide relief from the hot summer sun.
Zip lock bags
You are bound to have valuables with you even when outside of your hotel, and with the various water rides around, putting your phone or wallet into a plastic zip lock bag could save a few tears down the road.
Disney Guide
Picking up a park guidebook will help you out in more than a few situations. Plenty are available, official and unofficial, and can help you make the very best out of your visit to places like Disney World where there is so much to see and do.
Last advice
There you have it, you should hopefully now be in good stead for your holiday to Orlando, and we will leave you with just one last bit of advice, this time for getting the most out of your spending money, courtesy again of Travel with Bender.
"If you want to get into the theme park spirit, but not break the bank, buy your merchandise at Walmart or a local gift store before you get to Disney World. Who is going to know? All of us wore Disney shirts that we picked up for between $6 and $12 from Walmart. We even bought Mickey ears and other items too."
Ready to start planning your Orlando holiday? Click here, to view our great value Orlando attraction tickets.
Liked this post? You may also like...