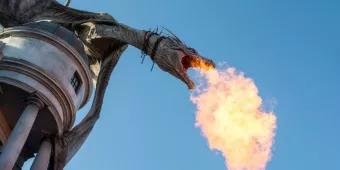 Top 10 Harry Potter hacks!
If you're planning a visit to the Wizarding World of Harry Potter, make sure you read our handy 'hacks' before you go…
1. You can get a private tour of Hogwarts!
This one has to go at the top of our list because it's one of our favourite Harry Potter hacks. The Harry Potter and the Forbidden Journey ride takes you on an exciting adventure through Hogwarts castle and there's plenty to see, like Dumbledore's office and the Mirror of Erised to name just a few. While you're desperately rushing to get on the ride, you might find that you miss some of the finer details.
Don't worry though, you can ask one of the ride attendants outside for a tour of the castle, where they'll point out all of the amazing things that you might have missed. These tours are only generally available when the park is quieter, but it's always worth asking, so make sure you do when you visit. This is also a great option if you're visiting with little ones who may be too small to ride.
2. Cast secret spells
If you want to cast your own spells at the Wizarding World of Harry Potter, you can purchase an interactive wand! You'll be given a map showing you exactly where to go to create some magic, but did you know there are lots of secret spell locations that aren't on the map? Head to Scribbulus Writing Implements in Diagon Alley and aim your wand at the window on the right to cast a secret spell. We don't want to give too many secrets away, but if you're having trouble finding the spell locations, just ask any of the staff members who will be happy to give you some help.
3. Get sorted into a Hogwarts house
That's right, at the Wizarding World of Harry Potter, you'll get the chance to find out which Hogwarts house you belong in. Filch's Emporium of Confiscated Goods is where you'll find the famous Sorting Hat. Put it on to find out which house you belong in and then you can stock up on souvenirs in your house colour to take back home.
4. There's a Pygmy Puff naming ceremony
What's a Pygmy Puff you ask? Well, these adorable fluffy creatures are popular pets in the Wizarding World. If you just can't resist and want to take one home for yourself, be prepared for a special adoption ceremony! The cashier will ring a bell calling for the attention of everyone in the shop. You'll then be asked to give your new pet a name and the adoption is complete. You can find these magical creatures at Weasley's Wizard Wheezes.
5. Call the Ministry of Magic
While you can't actually visit the Ministry of Magic, you can speak to them on the phone. When walking through London, you'll spot an iconic red phone box. Harry Potter fans will know that this acts as the visitor's entrance to the Ministry in both the books and movies.
Here's where the hack comes in! Step inside, pick up the receiver and dial 62442 aka MAGIC and you'll be put straight through to the Ministry. Make sure you take a photo while you're there!
6. Check out the secret menu
This is one for the grown-ups, who are looking to try a little tipple in the Wizarding World. While there are lots of drinks to choose from at the Hog's Head pub (like the famous Butterbeer!), there's also a secret drinks menu to be discovered. To find out what's on the menu all you have to do is ask the bartender. The secret menu includes specialities like Fire Whisky and the Hog's Tea- a seriously strong cocktail which is similar to a Long Island Iced Tea.
7. Learn a secret handshake
This is a great hack when visiting the Wizarding World of Harry Potter, as not many people know about it. Each Hogwarts house has its own handshake and during your visit you can learn them for yourself. All you have to do is ask someone dressed in house robes and they'll be happy to teach you. The Hogwarts Express train conductors are also good people to ask for a demo.
8. Send owl post
Everyone knows that in the Wizarding World, owls are used to deliver all of the mail. If you want to send your own magical mail you can. Head over to Owl Post in Hogsmeade where you can write a letter to your friends at home and get it stamped with the official Hogsmeade postmark before sending it off.
9. Halve your wait time
The Harry Potter attractions are some of the most popular at the Universal theme parks, which means if it's a busy day, you can expect to wait a while before you ride. Our top hack for cutting down queuing time is to make the most of the single rider lines. Both Harry Potter and the Escape from Gringotts and Harry Potter and the Forbidden Journey have single rider lines, so if you don't mind splitting up, you can massively reduce your wait time by riding separately.
10. Disappear onto Platform 9 ¾
We love this hack, because if you know about it in advance you can be prepared to capture the moment on camera. At King's Cross Station, when guests walk through Platform 9 ¾ it actually looks like they are disappearing! If you stand back and get the angle right, you'll be able to video your friends and family disappearing before your eyes.
Want to experience the magic for yourself? Click here, to view our great value Universal Orlando Resort tickets.
For more blog posts like this try…
Find out all the latest news from Orlando in our BLOG