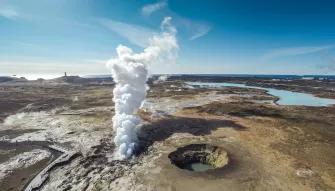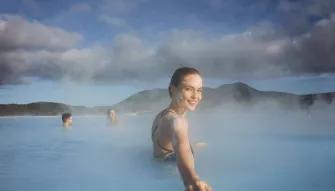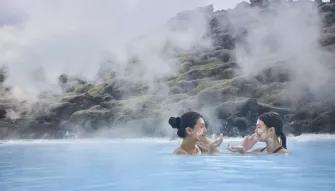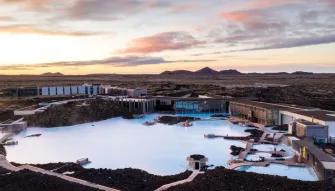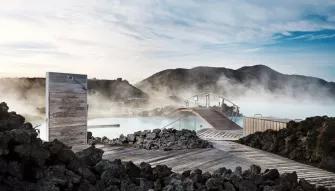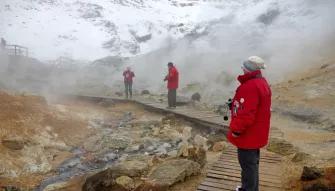 Wonders of Reykjanes Geopark & Blue Lagoon
Not Available
This ticket is currently not available
This could be because:
We have sold out
New seasonal tickets are not yet available
In the meantime:
Call us on 0800 223 0324
Sign up to hear the latest news and offers:
Sign up for our newsletter
New
no ticket modal
Full details
Experience the best of Iceland's natural beauty with a visit to the Wonders of Reykjanes Geopark followed by a soothing dip in the famous Blue Lagoon. Discover geological marvels and relax in the rejuvenating waters of this incredible tour.
Our guide to Wonders of Reykjanes Geopark & Blue Lagoon
The Reykjanes Geopark is located on a peninsula divided between two continents. This unique placement of the Reykjanes Peninsula on the drift zone between the North American and the Eurasian continental plates makes it a true Volcanic Wonder.
On the drive along the Reykjanes peninsula, you are constantly in the presence of the roaring Atlantic Ocean, endless lava fields, and volcanic craters. An alien landscape, decorated by windblown palagonite and petrified troll formations.
Your adventure starts by the youngest volcano in Iceland, Fagradalsfjall Volcano, and the surrounding lava fields. The hike up to the view point takes about 40 minutes, where you will be able to explore the devastating yet beautiful aftermath of this recent volcanic eruption.
From 2021 there have been three eruptions on the peninsula, the most recent one ended on 6th of August 2023. 
After the volcano hike, you stop by the bridge between continents, where you can walk between the continental plates that divide the peninsula. This stop underlines this unique placement directly on the Mid-Atlantic Ridge.
Before being dropped off at the Blue Lagoon, you will stop by the largest mud pool in Iceland, Gunnuhver. You can feel the ground shake from the enormous power released from the boiling water and steam released.
The bus from Blue Lagoon to Reykjavik is at 20.15.
Start times
10am
Duration
About 11 hours
Terms and conditions
Terms and conditions for Wonders of Reykjanes Geopark & Blue Lagoon
You will receive a voucher for this experience. Please read it thoroughly.
You will be required to present a printed copy of your voucher at the time of tour departure..
Pick-up from hotels and guesthouses starts 30 minutes before the tour departure time. You will be advised specific times upon reconfirmation locally.
Returning from your tour, you will be dropped off at the pick-up point you were collected from or at the closest possible point.
Children MUST be aged at least 10 years old to participate on this tour. 
One paying adult is allowed to supervise and be responsible for no more than two children.
This tour requires has a moderate difficulty level and guests should be in reasonable health. Please check with your doctor prior if you have any medical issues.
Warm clothing, waterproof jack and sturdy shoes are recommended. Thermals are suggested for colder days.
The drink at the in-water bar is for adults only and not included for the children.
Hiking cramptons and poles are highly recommended.
Please take water with you as this will not be provided on the tour.
Cancellation Policy: Free cancellations for bookings cancelled with the operator up to 72 hours before your chosen activity date. No refunds are given for cancellations/amendments made within 72 hours.
FAQs
Frequently Asked Questions for Wonders of Reykjanes Geopark & Blue Lagoon
Ticket Information
Is there a minimum age limit at the Blue Lagoon?

Yes, there is a minimum age requirement of 2 years to go into the water. Toddlers are certainly allowed on the premises with their parents/supervisors. Children from age 2-13 are welcome to go into the water and enjoy the Blue Lagoon with their family or their guardians. Due to the origin of the Blue Lagoon seawater, it's colour sudden changes in temperature and rough surface, children from age 2-8 must wear inflatable armbands in the lagoon. These are provided free of charge. Please note that each guardian is only allowed to supervise two children under the age of 10. For safety, and out of respect for other guests, please keep an eye on your children at all times. There is no children day-care or other special children facilities at the Blue Lagoon.

Is it possible to visit Blue Lagoon without going in the water?

No, it's not possible without purchasing one of the admission tickets. However, if you are travelling with other people (family or group) that are bathing, and you can't for whatever reason follow them, you are certainly welcome to enter the facilities with them and wait at the cafe. You can dine at LAVA restaurant, have light refreshments at Blue Cafe and shop in the Blue Lagoon store.
Facilities & Amenities
Is there WI-FI access available at Blue Lagoon?

There is a WI-FI in the building, free of charge for guests.

Do they provide bathrobes at Blue Lagoon?

You can rent thick cotton robes at Blue Lagoon. For those who are travelling light, it's worth mentioning that Blue Lagoon shower gel and Blue Lagoon hair conditioner is complimentary in the showers. Also, there is both female and male swimwear available for renting. The female swimsuits are one piece and the male swimwear is shorts. Swimwear is worn in and around all areas of the bathing area in the lagoon.
Accessibility
How accessible is the lagoon to a wheelchair user?

You can access Blue Lagoon easily both indoor and outdoor. There are stairs with a handrail that leads into the water. There is also a pool access lift by the indoor lagoon entrance area.
Opening Information
What day and time of the week tend to be the least crowded at Blue Lagoon?

Blue Lagoon is one of the most popular tourist attractions in Iceland. There are limits on how many guests can visit at each time and, most often, the Blue Lagoon is fully booked until late afternoons 1-2 days in advance. We highly recommend that you pre-book your ticket well in advance, to be sure that you can fit the Blue Lagoon in your Iceland travel schedule.
Food & Drink
Is it possible to bring your own food to Blue Lagoon?

No. Guests are kindly asked to respect that all chairs and tables are intended for customers at the Lagoon bar or Blue Café. Exceptions are made for small children (baby food) or special needs.

Do I need to take water with me to Reykjanes Geopark?

Yes, please make sure you take water with you when you do this tour as they are unable to provide any to you.
Clothing & Accessories
What is best to wear when visiting the Reykjanes Geopark?

The weather can be unpredictable, so it is best to wear or take clothing for all occasions. It can be warmer at the bottom of the Volcano and colder (even snowing) at the top of the Volcano. A waterproof jacket, hiking boots, thermals (during winter), and additional warm clothes are highly recommended.

Do I need to take walking poles with me to Reykjanes Geopark?

Hiking cramptons and walking poles are highly recommended to take with you when doing this tour.