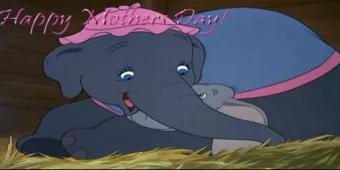 Happy Mothers Day - In Disney Style....
As Mothering Sunday approaches, we take a look at our favourite motherly Disney characters. Some you can meet at Walt Disney World and others you can curl up on the sofa and enjoy on DVD! Happy Mother's Day Disney fans!
We wanted to take the time to wish all the amazing mothers out there a very Happy Mother's Day! Although there won't be any Mother's Day celebrations at Disney World today- or anywhere else in the States for that matter, as Mother's Day falls on the 11th May in America, we thought we'd give our Disney fans a little Disney treat, by honouring the motherly characters from our favourite Walt Disney films!
Some of these Disney mothers you'll be able to encounter at the Disney parks and if you happen to be at one of the parks for Mother's Day, why not make it your Mother's Day pursuit to meet and greet as many Disney mothers as you can? For those not so close to the Happiest Place on Earth today that could do with a Disney dose today, flip on the Disney Movie channel or get your Disney DVD collection out and watch these amazing Disney mothers come to life in our favourite Disney films, with our favourite motherly characters! 
Hunch Bank of Notre Dame's Esmerelda
Mother of Zephyr
Princess and the Frog's Eudora
Mother of Princess Tiana
Aristocats Duchess
Mother of Berlioz, Toulouse and Marie 
Brave's Queen Elinor
Mother of Merida
The Incredibles' Helen Parr, aka Elastagirl, aka Mrs Incredible
Mother of Violet, Dash and Jack-Jack
Tangled's Queen of Corona
Mother of Rapunzel
Dumbo's Mother
Mother of Dumbo
And of course, the ultimate mother from the ultimate Disney classic...
The Fairy Godmother of Cinderella!
If you're lucky enough to be in Florida on the 11th May, be sure to get yourself some Disney tickets and have yourself two Mother's Days this year! Check out Attraction Tickets Direct's range of theme park tickets and be sure to purchase before you travel!
Keep checking back at ATD's Latest News for more details on Disney World Mother's Day 2014 celebrations.
Happy Mother's Day.