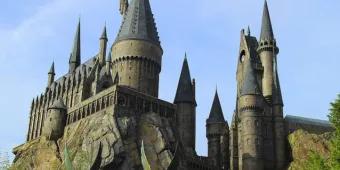 How to make the most of your experience at The Wizarding World of Harry Potter
We've put together a superfan's guide to The Wizarding World of Harry Potter, so you don't miss a single swish-and-flick of magic during your visit...
Like many Universal Orlando visitors, one of the most thrilling areas to visit is the Wizarding World of Harry Potter. Whether you're a fan of the franchise or not, the Wizarding World of Harry Potter is truly something to behold and will change the way you view Harry Potter - and magic itself.
For the superfans out there who are booking Orlando theme park tickets, we've put together a spell-binding guide to the Wizarding World of Harry Potter, so you don't miss a single swish-and-flick of magic during your visit.
Split the visit over two days
As Hogsmeade and Diagon Alley are in two separate areas (although they are connected by the Hogwarts Express), co-blogger Charles at The Barefoot Nomad recommends giving yourself two days to explore as there is so much you're likely to miss if you try to visit both areas in one day. This is particularly useful if you are staying on-site at a Universal hotel and have the one-hour early entry privilege.
"It is possible to visit both Hogsmeade and Diagon Alley in one day, but you'll likely be rushed, and you'll miss a lot of the carefully crafted details. You'll also miss everything else both parks have to offer. If you can, take at least two days to visit, and don't forget about the Park-to-Park passes."
Zina from Let's Lasso The Moon recommends visiting Hogsmeade on day one (so that you can get your interactive wand) and Diagon Alley on day two, that way, you can already have your wand ready to make the most of the magical wand interactions throughout the Wizarding World. "Early entry is only available at Universal's Islands of Adventure, so even though you're heading to Diagon Alley over in the Universal Studios Florida park on day two, you'll still kick off the day with an hour in Hogsmeade".
"Come ready to cast spells with your Harry Potter interactive wands. While other people are waiting in line at Ollivanders or for the rides during early entry, you'll be reciting spells (without waiting in line) throughout Hogsmeade."
Blogger Nina from Nina Near And Far also recommends visiting for two days: "The Wizarding World of Harry Potter is full of small, enchanting details. I loved visiting for 2 days because on the first day I wanted to run everywhere and see everything. On the second day, I retraced my steps and discovered so much more than the day before!
Bring a modestly-sized backpack to store in the lockers
With such a long day ahead, it's tempting to bring a hefty bag with you to ensure you have everything you need, especially if you have kids in tow. But Zina recommends taking a small bag for convenience and because the lockers are modest in size. "While the lockers are deep, the height and width are modest. If you bring a small travel-sized backpack to carry your family's things, you'll be able to conveniently pull the bag in-and-out from one ride to the next."
Ollivander's Wand Shop
If you know anyone who has visited The Wizarding World of Harry Potter, you're bound to have heard about Ollivander's Wand Shop experience. "Our line was divided into a group of about fifteen people and taken into the experience," says Melissa, blogger at Number 2 Pencil. "The wand-maker selects one person from each group, or in our case a set of siblings, and they have the special experience of having a wand choose them, just like Harry Potter."
Melissa also recommends going a second time if you can, especially if you don't get picked. "I'm so happy we did, the experience was slightly different the second time through, so it really added to the magic." As each wand has its own description posted, she also recommends taking a picture so you don't forget the fine details.
If you decide not to get your wand at Ollivander's, there are plenty of wand carts dotted around where you can purchase one, but bear in mind, these aren't interactive wands.
"We picked our wands up at a cart in Hogsmeade at the Islands of Adventure, near Harry Potter and the Forbidden Journey," said Charles. "There was almost no wait at the stand, and they had the most popular wands on display. Since the wand chooses the wizard, Dumbledore's wand chose our daughter, and Sirius Black's wand chose our son. The stand attendant was patient and helpful, and our kids got their wands much more quickly than if we'd gone to Ollivanders."

Get an interactive wand
"Buy an interactive wand. Just do it," says Mara from Ciao Bambino. She recommends buying the wand from Diagon Alley. "Buy it there, not at the much smaller shop in Hogsmeade. I'm not being ironic when I say that this shop is utterly magical and a highlight of the whole Harry Potter experience.
"Interactive wands come with a map that will show you where to cast spells at various places throughout Diagon Alley and Hogsmeade and make things happen in the windows. Since you're a beginning wizard, sometimes it's a bit tricky to get them to work, but Universal has roaming staff on hand to help with the particularly hard ones. Keep an eye out for secret unmarked spells as well."
If you're a true Harry Potter fan, you may have already purchased a wand from Universal Studios Hollywood. If you have, Cristin from Smart Mouse Travel has a tip for you: "If you have an interactive wand from Universal Studios Hollywood it will work at Universal Orlando in both Diagon Alley and Hogsmeade." The only downside is that you won't have an accurate map to cast spells.
Cristin also suggests taking a 'wrong turn' into Knockturn Alley, where there are lots of creepy things to see and do at Borgin & Burkes. "Knockturn Alley is similar to Diagon Alley, but shops are geared toward Dark Wizards. It is cold, dark and has some really fun spots to make magic with your wand."
Explore the shops
Nina says to really pay attention when looking around the different wizard shops. "Weasleys Wizard Wheezes, Owl Post, Quality Quidditch Supplies, and Honeydukes are just a few of the shops that you can explore in the Wizarding World of Harry Potter. Take the time to explore inside and out, as many of the window displays are enchanted.
"Keep in mind that at the end of the day, The Wizarding World of Harry Potter is a theme park. The shops are for you and me (muggles) so they're not exactly the same as the shops in the books or the movie – but they do come pretty close!"
Consider getting a Universal Express Pass
Charles says the Forbidden Journey ride was an absolute must for anyone visiting the area. "As a huge roller coaster fan, going on the Harry Potter and the Forbidden Journey ride was my favourite thing to do at the park. It truly captured the feeling of the movie and gave us a brief taste of what it would be like to fly a broomstick around Hogwarts, take on Dementors, get chased by dragons and zoom around the field playing Quidditch. Even our younger daughter, who has no love for roller coasters, thought the ride was awesome."
If you want to skip the queues, it's also a great ride for using an Express Pass says Zina. "After you have your interactive wand from Ollivanders in hand, your family can easily skip the line building up at Hogwarts Castle with your Universal's Islands of Adventure fast pass.
"Even with early entry, the wait time for this epic ride can be long. We flashed our Express Pass at the entrance of the ride and were directed down a specially designated corridor.
"When the corridor reconnected with the main line, we walked past well over a hundred people. After waiting at the loading dock behind a few other families with the Express Pass, we got right onto the ride. It. Is. Awesome.
Here's a bonus tip from Charles: "If you want to get onto the rides quicker, and don't mind riding without the rest of your group, use the single rider line. This will save you a lot of time in queues, especially on the busier rides like Escape from Gringotts and The Forbidden Journey."
Don't get in line for the Flight of the Hippogriff until after 9am
If you're planning on riding the Flight of the Hippogriff, Zina suggests not queuing until after 9am. "There are two rides open in Hogsmeade during early entry: Harry Potter and the Forbidden Journey and The Flight of the Hippogriff, but the Express Pass isn't valid at The Flight of the Hippogriff until after 9am.
"In other words, you can get in the regular line at 8:35 am and wait for thirty minutes, or you pop right to the front of the line at 9am with your Express Pass. Skip the wait and enjoy that Butterbeer with your family instead."
Beat the queue for the Escape from Gringotts ride
If you're planning on riding the Escape from Gringotts ride, Zina recommends heading here first when you get to Diagon Alley. "Once you exit Kings Cross Station, pass the purple Knight Bus, and enter Diagon Alley you'll want to head straight towards Gringotts Bank. The line for the Harry Potter and the Escape from Gringotts ride grows quickly, so go here first!"
Beat the Butterbeer queues
You can't go to The Wizarding World of Harry Potter and not have a Butterbeer! "It's non-alcoholic, and comes in three types: regular, hot, and frozen," says Charles. "The butterbeer portions are fairly large, so if you're buying for a small child, consider sharing. Our eight-year-old couldn't finish hers, but luckily I was able to help!
Even better, there's a secret entrance at the back of Three Broomsticks that will let you get into the bar, which is part of the restaurant. This can save you a wait in the Three Broomsticks restaurant line. Just go down the alley on the side of the Three Broomsticks to find the entrance."
Ride the Hogwarts Express both ways
Many visitors don't know this, but according to Cristin, the Hogwarts Express has a different experience each way, so it is worth trying to ride both. You will also need to make sure you have Park-to-Park tickets.
Don't be afraid to go later and stay until closing
Although Charles and his family got to the park early and beat the crowds that way, they found that evenings could also be surprisingly quiet. "We found that the crowds really dropped off around 6 pm, in the three hours before closing, and stayed quieter until the park shut down. This, or early morning, is the perfect time to take in the busier rides and attractions at The Wizarding World of Harry Potter since most people have experienced and left this area of the park already."
Make sure you check the closing times, however, as this could change depending on the season and the park you're in.
Final thoughts and takeaways
"The next time we head back to The Wizarding World of Harry Potter, we'll make sure to go on the Harry Potter and the Forbidden Journey as soon as we get there and then explore the rest of Hogwarts," says Charles.
"Next, we'll have an early lunch at the Three Broomsticks (with plenty of butterbeer) before heading out to see the rest of the park. Later in the day, when most of the crowds have left the area, we'll head back to Hogwarts and go on the Forbidden Journey ride once again because it's just that awesome."
Cristin also has plans for the next time she visits with her family. "We have been able to visit The Wizarding World of Harry Potter at Universal Orlando several times. What I most look forward to doing on our next trip is immersing ourselves again in the experiences of Diagon Alley and Hogsmeade. We love to spend all day walking around, admiring the shops, and doing magic with an interactive wand from Ollivander's. As huge Harry Potter fans, the ability to be part of the story for a while is truly magical."
Magical details and secrets to look out for at the Wizarding World of Harry Potter
You Need To Visit has a fantastic list of magical details and secrets from the books and movies to look out for on your visit to The Wizarding World of Harry Potter. We've rounded up some of our favourites that are sure to make your trip that extra bit special.
Outside Leicester Square station, you'll see a red telephone box. Go inside and dial the word 'MAGIC' (62442) like Harry and Mr Weasley did in the Order Of The Phoenix. Unfortunately, you won't transcend underground into the Ministry of Magic, but you'll hear an automated message from the Ministry.
Before heading into Diagon Alley, you'll see the old home of the Black family, 12 Grimmauld Place. If you look in the upstairs window, you'll see Kreacher the house elf peeking out from behind the curtains.
As well as spotting Kreacher, make sure you look out for the Leaky Caldron before heading into Diagon Alley. It's meant to be invisible to muggles, but you can spot it between the bookshop and record shop on Charing Cross Road – just like it says in the books.
To make The Wizarding World of Harry Potter super authentic, there are lots of the 'muggle' and 'wizard' actors who will stay in character when you talk to them. They are really friendly and will happily answer any questions you may want to ask them. You'll want to make sure you speak to the Knight Bus driver (and Dre Head, the shrunken head!), and also ask a Kings Cross guard or muggle where platform 9¾ is and watch how they react!
When you're queuing for the Escape From Gringotts ride, be sure to speak to the interactive, animatronic, bank goblin. Try asking him if he knows Harry Potter or if he's a house elf and see what he says. Also, you can exchange your money into wizarding currency (but not Galleons like in the real wizarding world, unfortunately).
Kings Cross station was created to be as authentic as possible, so much so, the times on the train timetable correspond with the real train times and destinations back in the real Kings Cross in London.
It wouldn't be Platform 9¾ without being able to vanish through the pillar, right? If you stand back from the entrance to the tunnel leading to the train, you'll see a luggage trolley. Look through it and with a little bit of magic, it looks like people are actually disappearing through the wall!
Did you know you can get a private tour of Hogwarts Castle? All you need to do is ask one of the attendants outside the castle. This is a great alternative if you're unable to go on the rides or you have very young children. It's subject to availability and how many people are in the castle already, however.
Send a real postcard from the Owl Post. As well as being able to choose Harry Potter-themed stamps, every postcard gets an exclusive Hogsmeade postmark. It'll be a great souvenir to receive when you get back home.
Image credit: Ravi Shah, Flickr; Free Vector Graphics by Vecteezy!
Want to experience the magic for yourself? Click here, to view our great value Universal Orlando Resort tickets.
Liked this post? You may also like…