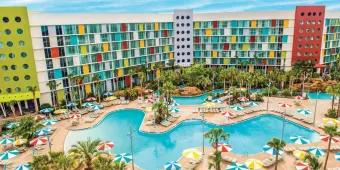 Universal Hotels: a comparison
Written by our Universal expert, Liz 
Whether you are looking to stay at a Universal hotel for the duration of your holiday or just a few days to enjoy the proximity to the parks and the benefits, choosing the right Universal hotel for you can sometimes be tricky.
For the longest time Universal Orlando Resort had 3 lovely 4 and 5-star hotels. But as the popularity of the parks increased and the desire to stay on-site grew, they have added five hotels and three additional categories to cater for all budgets and tastes.
Universal Hotel Amenities
So how do you go about choosing? Does compromising on price mean compromising on quality?
One thing to know about the Universal hotels is that although they are all owned by Universal, they are run and operated by Loews, a very well-known, high-end hotel brand. So the short answer is: no! All staff are trained by Loews and uphold the highest standards no matter the category of the hotel. The service you will receive from staff will be the same whether you are staying in a value hotel like Endless Summer Resort or at a premier property like the Portofino Bay Hotel.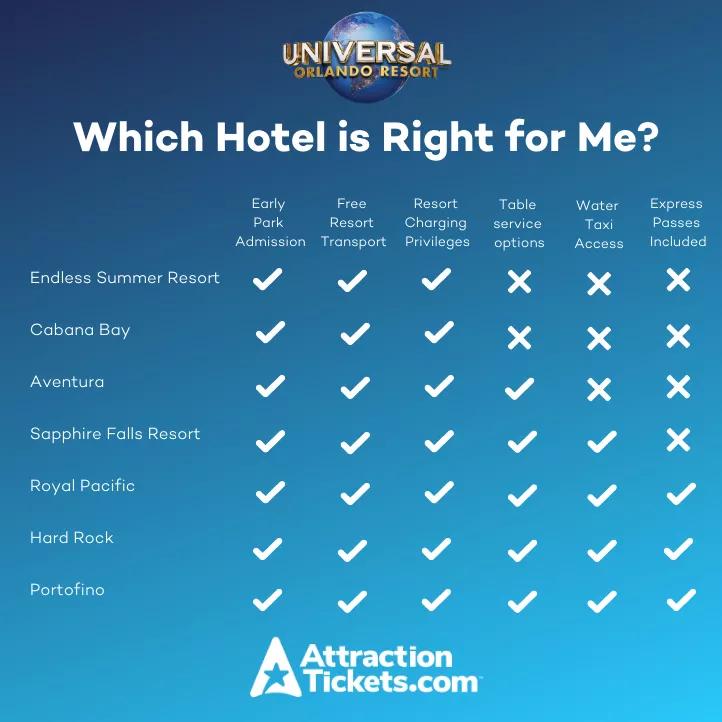 Never compromising on quality, the difference between the hotel categories at Universal will mostly be seen in the type of amenities they offer and on the hotel benefits. It is not to say that the amenities in the value properties will not be top notch, but they will be simpler and more geared to a self-service style of travel. In the value and prime value properties for instance, you will see a launderette and pizza delivery instead of room and laundry services, the dining options will be a grab-and-go food court rather than a table service restaurant and so on. You can see a full overview of all the resorts in this video:
In order to help you in your decision-making process we have put together a top line guide of each category and hotel so you can choose what hotel fits best what you need from your holiday.
Universal Hotel Tiers
Universal Value Hotels
The newest additions to the portfolio are the value properties of Endless Summer Resort Surfside Inn and Suites and Endless Summer Resort Dockside Inn and Suites. Sitting one in front of the other, they have a fresh, vibrant and light feel to them with an option of standard rooms which sleep up to four people, and very affordable 2 bedroom suites, which are great for larger party of up to six people or if you would like some extra space to really stretch out and relax in your room. You can take a look inside the hotel here:
They are located just 5 minutes away from the parks and offer regular shuttle services running every 10 to 15 minutes all day long until 2am. Not only that, but they are located just off International Drive, extremely close to the Premium Outlets, Fun Spot and I-Drive Nascar but also to convenient dining options including the all-time classic I-Hop, where you can enjoy a truly scrumptious breakfast that will have you set for the whole day!
Staying here gives you some great benefits like Early Park Admission and free transportation to all the Universal parks, free delivery of merchandise from the parks to you room and charging privileges so you can charge everything you purchase at Universal (including CityWalk) directly to your room by using your room key. On top of all of that you also receive free Wi-Fi anywhere in the hotel (including your room) allowing you to stay connected with your friends and family back home. Both Dockside and Surfside will have a pool, with the much-enjoyed pool bar, and you can even hop between the two hotels if you wanted to use the pool or any of the other areas in the hotel opposite yours. Food courts and coffee shops are in the main areas of both hotels, but Dockside does also have a lobby bar should you want a night cap after a long day of fun in the parks.
Endless Summer Resort is great value for money and conveniently located if you want to be able to move easily in and out of Universal and also explore all the great things International Drive has to offer either with your own car or by using the I-Ride Trolley which stops just outside the resort.
Universal Prime Value Hotels
In the Prime Value category there is one of my all-time family favourites, Cabana Bay Beach Resort.
This hotel has so much to offer and the price is also pretty affordable considering its location and the cool 50's vibe that runs throughout the property.
Though the theme carries throughout the hotel, there are two sides to it. One is chic motel-style with balconies running along all the floors overlooking either the pool or the parking whilst the rooms on the Volcano Bay side are all indoors. Here you have an option between standard, family suites and 2-bedroom suites. The thing that I would point out about this hotel is that upgrading to a family suite is often very affordable but also, if you want to enjoy a special view, their Volcano view rooms will not disappoint. I had the fortune to experience a 2-bedroom Volcano view suite and the moment I opened the door and stepped into the living area I was greeted by a floor-to-ceiling jaw dropping view of the volcano spewing water surrounded by the evening-lit wave pool and water rides. It was worth the view at any time of the day and made our holiday extra special!
Having a family suite at Cabana Bay Beach Resort means that you will have a kitchenette and living area to enjoy. When the kids are tired and want to have an afternoon nap, they can simply sleep in the bedroom whilst you can relax in the living area without worrying about waking them up. For us, this was a blessing.
This hotel has two pools each with their own pool bar, as well as a lazy river, bowling alley, arcade, food hall, lobby bar, free gym and, to my utter delight, a Starbucks.
There is so much to entertain the kids and for the adults to relax! Take a look at this video where we take you around our favourite Cabana Bay spots:
The benefits of staying in Cabana Bay Beach Resort include Early Park Admission to all the parks, private path and security checks to Volcano Bay, charging privileges wherever you are in Universal directly to your room, free delivery of merchandise from the parks, free Wi-Fi, regular shuttle busses to CityWalk, Universal Studios and Islands of Adventure every 10 or 15 minutes and a walk path should you fancy a stroll instead.
Cabana Bay Beach Resort is a great property for families, but if you are a couple or simply prefer a more modern theme, Aventura hotel is in the same price range and offers the same benefits (with exception of the private entrance to Volcano Bay).
This hotel is right opposite Cabana Bay Beach Resort with a stylish and modern Miami feel to it. Aventura hotel is all about technology with in-room tablets controlling your media and lights, a virtual reality gaming room, pool, gym and more.
What I love the most about this hotel is how it is developed in height with floor-to-ceiling windows giving you a full view of your surroundings. Right at the top sits Bistro 17, the rooftop bar with a view, and what a view! From here you overlook all the Universal Parks and further onto International Drive. Let me tell you, the sunsets are epic!
The lobby area is home to a food court with lots of choice, a Starbucks and a lobby bar. All open space with tall ceilings, creating a sense of lightness and bringing to the hotel a sleek modern feel. Take a look inside here:
All the Universal hotels look and feel much more than the star rating and price range they are, but this one in particular, whether you decide for a standard room or any of the suite options, really feels it could easily be a higher category. If you want a great looking hotel with a perfectly balanced price, then this is the hotel for you.
Universal's Preferred Hotels
Loews Sapphire Falls Resort is a relaxation made hotel. It has a lush Caribbean feel with one of the biggest pools in Orlando and an unmissable pool bar. Take a look at it in detail here:
In this category you will be able to enjoy a lovely table service restaurant with alfresco dining overlooking the lush waterfall and lagoon where the gentle water-taxis cruise up and down, taking guests to and from the parks. It is a beautiful hotel, light and vibrant at the same time. Although a peaceful hotel, Sapphire Falls offers plenty for the family with pool activities and movie nights but also top-notch lobby bar with a huge selection of rums and, let me tell you, the food here is impeccable too!
There is so much to love about this hotel but at the top of the list for me is the proximity to Volcano Bay (just 5 minutes on the walking path) and the water taxi to Universal Studios, Islands of Adventure and CityWalk. These run every 10 to 15 minutes all day long and into the night. It's a lovely way to get to and from the parks but also, it helps you skip the queues for the security checks as these are cleared before you even board the water taxis. Once you're at the parks, you can go straight in!
Other benefits include Early Park Admission to the parks, free delivery of merchandise to your room, charging privileges wherever you are in Universal directly to your room and free Wi-Fi.
Universal's Premier Hotels
Last but most definitely not least are the premier hotels, the 3 original hotels Universal built and the ones with all the perks. The big shout out here is that all three of the premier hotels offer Unlimited Express Passes for Universal Studios and Islands of Adventure, for the whole duration of your stay. This is an incredible benefit because at any point in time, without having to pre-book any of the rides and times, your simply turn up to whichever attraction you wish to experience and skip the queues over and over again. Believe me, when you have children (or are a child at heart yourself) being able to go on the Escape from Gringotts ride in the Wizarding World of Harry Potter five times in a row skipping the queues all the time is something you will never forget. Be warned though, once you try it, there's no going back to queueing like normal!
You would think that with such a perk the prices would be sky high, but for a family of 4 it often works out cheaper to stay at one of these hotels than to buy the Unlimited Express Pass tickets on their own, let alone the hotel stay! For us this is a no-brainer especially in peak season. Plus, by queue jumping to your heart's content, you will have more time to relax in these fabulous hotels.
Other benefits you will receive when staying in any of the premier hotels are: Early Park Admission; priority seating at most restaurants in CityWalk, water taxis to Universal Studios, Islands of Adventure and CityWalk, shuttle buses to Volcano Bay, free Wi-Fi, free gym, delivery of merchandise to your room and charging privileges.
Although these are the oldest hotels Universal owns, they are all refurbished regularly (which is also the case for the lower categories) making them feel always fresh and top notch.
Royal Pacific Resort takes you right to the pacific islands of Polynesia. Full of warm woody décor, orchids, elephant features and lush greenery it is a beautiful hotel to stay at and only 10 minutes' walk from the parks. Of course, you also have the free transportation should you want to rest your feet. There are several dining options here including a sushi bar and my favourite, Jake's American Bar which often has live music.
Hard Rock Hotel, on the other hand, is built as a cool VIP rock star mansion with a restaurant aka 'the Kitchen', pool with under water music, pool bar, and cool memorabilia in every corner of the hotel.
It's less than 5 minutes' walk to Universal Studios in fact, it's quicker to go to Universal Studios on foot than to catch the water taxi, also available at this hotel! If you have any guitar players in your group, or just fancy a cool memento of your holiday, I would recommend at the end of your stay asking the staff at the reception to make your room key into a plectrum. They would be more than happy to provide you with extras if you wish!
Finally, right at the top end of the choices on offer, the luxurious Portofino Bay Hotel. Staying here is like being transported to the Italian Riviera as this hotel is a faithful reproduction of the entire village of Portofino. The story goes that Stephen Spielberg, one of the creative consultants behind Universal, went to Portofino on holiday and was so enamoured by it that he convinced Universal to make it into a hotel. It has 3 pools, a spa, 4 restaurants and a stunning bay from which you can occasionally enjoy opera singers serenading guests from the balcony of the lobby.
Staying in this hotel allows you to be in the centre of all things Universal, with all the benefits, but at the same time it is a respite from the hustle and bustle of the theme parks.  
If you have any minion fans, I recommend the Kid's suites here that are themed after Despicable Me, but ward of warning, they are very popular and get booked up quick!
Reasons to book with AttractionTickets.com
We're the UK's no.1 Florida ticket seller, with more than 19 years experience and award-winning service
Official partner of Universal Orlando Resort
Always cheaper than the gate
Real tickets, not vouchers, so so you can get straight in
Get 3 Parks for the Price of 2 when you book in advance
Low deposits with flexible payments
Free Covid Cancellation Cover. Full T&C's on our special offer page. 
So, whether you are on a budget or wish to get a good bargain for your Express Passes, if you want something relaxed or dynamic, close to the parks or a little oasis of tranquillity, Universal will have an option that suits you best making your holiday one to remember with joy for years to come! Find out more on our Universal Orlando Resort Hotels page.