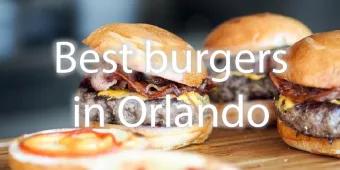 It's #burgerday !
Celebrating the best of all things burger in Orlando....
Today is national burger day, which gives us the perfect excuse chat in the office and scour the Internet in search of the best burgers in Orlando! It's a hard job, but somebody's got to do it. With almost everyone in the office having visited Orlando at some point in their lives, there's pretty fierce competition and a variety of opinions on what the must-eat burger in Orlando is. We've narrowed down a few of our favourites here…
Krusty Burger at Universal Studios Florida, Universal Orlando Resort
Thank you to www.eater.com for this photo.
The Krusty Burger is great, not just because it's a delicious meaty burger but because you feel like you're getting to eat part of the Simpson's Springfield set! If you're a Simpsons fan, you'll know its Bart's favourite burger, and we think it might be ours too. The original Krusty burger is the classic; a 6oz burger smothered in cheese and pickles between soft white bread but we prefer 'The Clogger' despite its name! It's a double crusty burger with bacon and it's delicious, but so big it's almost difficult to eat!
Pecos Bill Tall Tale Inn and Café at Magic Kingdom, Walt Disney World Resort
Thank you to DisneyFoodBlog for this photo.
The Angus Burger at Pecos Bill Tall Tale Inn and Café in The Magic Kingdom is our pick for WDW burgers, mainly due to the amazing condiment bar the restaurant provides. Yep, that means that you can buy your burger and load up on as many condiments, pickles, salsas, cheese, salad items and sautéed mushrooms as you like! The top recommended burger is the one that comes with onion rings, bacon and barbecue sauce – the whole shebang basically. Just make sure you hold on tight to your burger, with all those condiments it's likely to try and fall to bits!
Yak & Yeti Restaurant at Animal Kingdom, Walt Disney World Resort
Thanks the to the DisneyTouristBlog for this photo.
This one's a bit different, as you would expect from an Asian fusion restaurant! The Kobe Beef Burger is our burger of choice here, which comes with your choice of shiitake mushrooms and scallion compote or Asian-style coleslaw. It's served with sesame-soy mayonnaise and crispy shoe string fries. Definitely one to try if you're looking for something a little different in your burger!
What do you think is the best burger in Orlando? Join the discussion on our Facebook and Twitter!