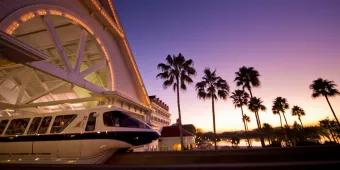 Top tips for getting to the Orlando theme parks
If you're planning a holiday to Orlando, and want to visit as many of the amazing theme parks as possible, check out our handy guide to find out how to get from park to park…
Hotel Transport:
If you're staying in an on-site hotel in Orlando, you'll be able to make the most of exclusive benefits, like early park admission and complimentary transportation. Universal offer a free water taxi service between each of its hotels (except Cabana Bay), the Universal theme parks and Universal CityWalk. There's also free shuttle buses that run from all of the Universal hotels to the parks.
Similarly, guests staying onsite at select Disney hotels, can benefit from complimentary resort transportation, in the form of air-conditioned buses, the world-famous Monorail, or a relaxing boat ride. It's worth knowing that the on-site hotel transportation starts before the parks open, so you can be one of the first to walk through the gates, and the last to leave with buses operating until 2am. You don't have to be a hotel guest to benefit from the free transportation either. As long as you're visiting one of the parks, you're welcome to use the free transport to park hop.
Walk:
It might not be for everyone, but if you're staying at an on-site hotel and are able to, walking is another option. While this isn't realistic for the Disney parks, the Universal hotels are much closer to the parks, making walking a feasible option. You'll be able to save money and enjoy the Floridian sunshine as you make your way over to the parks. Here is a rough guide of how long it would take...
Top tip: If your theme park tickets include admission to both Universal parks, our favourite mode of transport to get between the two is the Hogwarts Express!
Car Rental:
If you're visiting with the whole family (in particular- little ones), and are planning on visiting several parks, hiring a car might be the best option. This gives you the freedom to come and go as you please, without relying on public transport. You'll also have space to pack any extras you want to bring, like food and drink and maybe even a change of clothes for when you come off the water rides! Parking costs around $20 per day, but it's worth considering if you add up the cost per person for public transport, and for the convenience  If you want to visit the SeaWorld parks, our 3-park SeaWorld, Busch Gardens and Aquatica ticket offers unlimited FREE parking!
Taxi/Uber:
If you don't want to drive yourself, you can ask your hotel to book a taxi to take you to the parks. This can work out quite expensive, when you consider the journey to and from each park, every day. A much cheaper option for travelling to the parks or park hopping, would be to book an Uber. As an example, an Uber for up to 4 people from Disney's Magic Kingdom to Universal Studios Florida, would cost between $16-$22 (around $5.50 each). If there's more than 4 people in your group, you can opt for an Uber XL, which costs slightly more. While the cost for this can still add up, it's worth considering whether the convenience of being driven straight to the park gates is worth the extra cost.
Bus:
If you're looking for a low-cost way to travel to the parks, LYNX public buses are one of the most affordable options. A single fare will cost you $2, but you can also get a 7-day pass for just $8! You'll need to pay with the exact change when boarding, so make sure you come prepared. You can get the bus from several locations depending on where you're staying, and can travel between the Disney, Universal and SeaWorld parks. We'd recommend planning your route in advance to avoid any confusion. To plan your route now, click here.
I-Ride Trolley:
The I-Ride Trolley is another affordable transport option. A single ride costs $2 for an adult and $1 for a child, or you can get an unlimited day pass for just $5. Popular stops on the Red Line Trolley route include SeaWorld, Orlando Premium Outlets- International Drive and Orlando Premium Outlets- Vineland Ave. There are 78 Red Line I-Trolley stops in total with a bus arriving approximately every 20-minutes. Click here, to plan your route.
Click here, to view our great value Orlando theme park tickets and start planning your dream holiday today!
For more blog posts like this try…