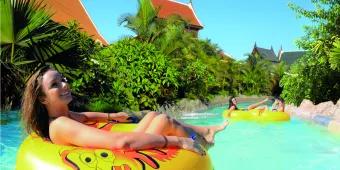 Think you know everything about Siam Park? Think again!
Siam Park is well-known for being one of the best waterparks in the world, but did you know these fun facts about the Tenerife attraction?
Waterslides, the beach, the Mai Thai lazy river - there's so much to discover at Siam Park in Tenerife. And the attraction just keeps on surprising us! Check out these interesting facts about Siam Park, and start planning your visit now!
No Plastic
Siam Park is incredibly eco-conscious, encouraging others to "eco-think" about their impact on the environment. One of the ways they achieve this is by selling only biodegradable and compostable bottles in their facilities, taking the decision to remove all single-use plastic bottles from the park last year. This means that, should you need to purchase water in Siam Park, you know you'll be making a decision that's best for the planet. 

World-Class Food & Drink
The food and drink options at Siam Park go way beyond the traditional theme park offerings. In fact, you can enjoy some really tasty, world-inspired cuisine in the attraction. Head to the Tea House Bar and Creperie for French affair, where there is a huge variety of fantastic teas, coffees and crepes.
Sweet Siam is the sweetest establishment at the attraction, where you can feast on the best cakes and ice cream.
Meanwhile, Thai Bar is the perfect place to have a drink or celebrate a cocktail looking up to the stars on comfortable couches. The restaurant also has a unique ambience and scenic views of the Mai Thai River. Sip on the best champagne, sangria or a cocktail...or two! 
The Beach Club gives guests that tropical feeling, complete with traditional Thai architecture at its beach club location. And the Beach Bar allows you to enjoy summer all year long with the best barbecues, cocktails and hot dogs with mojitos! 
Featured on Take Me Out 
The British reality dating show "Take Me Out" is partly filmed in Tenerife - for those viewers that know, this is actually the fictional Isle of Fernando's! One of the many beautiful places they usually go on their first date is in fact, Siam Park. Experience the romance and unwind on Siam Beach with your loved one, too. 

Planning to visit Siam Park soon? Read our blog on why we think Tenerife is the perfect February destination, thanks to the warm climate and fantastic things to do.