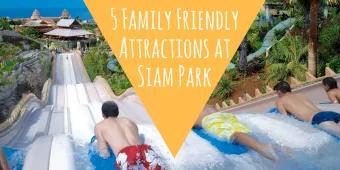 Make a splash in Tenerife...
Little ones get their first taste of adventure at Siam Park!
1. Naga Racer
Don't miss this fun toboggan ride at Siam Park (pictured above!), where all the family can compete against each other in an exciting race down the huge slides. Lying on a specially-designed mat, guests race headfirst down the 6 adjacent slides, so it's the perfect ride for competitive family members!  
2. The Giant
It might not look totally family-friendly when you see it from above, but the bravest of little ones will definitely want to take on The Giant! Riders spin and slide down this epic tunnel ride in a yellow ring before bursting out into the bright sunshine of 2 'bowls' at the bottom of the slide, which spin you round before splashing into the clear blue pools at the bottom.  
3. The Wave Palace
Siam Park is home to an amazing wave pool which is actually the biggest artificial wave pool in the world! It makes you feel like you're really at the beach, and not in a water park. Except…the waves are even better here! Whether you're a thrill-seeking family who want to play in the 3m waves or you have little ones who just want to dip their toes in the surf, everyone will love the warm water which is kept heated to 24c all year round….bliss!
4. The Lost City
For small explorers, there is nowhere better in the park than The Lost City, an exciting mix of splash zones, slides and climbing frames designed especially for little ones. There are towers, bridges, netted climbing frames and waterfalls for the children to explore while the parents sit back and relax in the shallows.
5. Jungle Snake
Dip in and out of the adventure on the exhilarating Jungle Snake ride, which takes you on a journey of submerged tunnels and open flumes as you slide down in a yellow ring, alone or in pairs. The theme is the jungle, so expect lots of spectacular tropical views! There are 4 journeys to choose from and each one gives the riders a different view of the park and a different ride experience too – so make sure you try them all.    
Planning a family holiday to Tenerife? Make sure you book your tickets for Siam Park in advance to save money and time on your holiday! To see our range of Siam Park ticket deals, click here. 
Liked this post? You may also like...