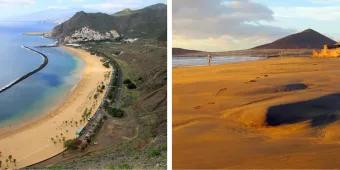 A guide to all the best beaches in Tenerife
Tenerife beaches are some of the best in the world and here we guide you through the ones you need to visit during your next holiday there.
Tenerife is a sunseeker's paradise and now the Spanish island has become renowned for its variety of top class beaches.
Fine gold sands imported from the Sahara, a range of water sports offerings, warm temperatures all-year round and stunning scenery are just some of the reasons the island has become a hotspot for beachgoers.
Fabio from Tenerife Travel Secrets, adds, "Tenerife is known for being one of the most beautiful islands in the world due to its unique landscapes, but also for the beaches. Tenerife has 7 beaches awarded with the blue flag. This is an award given to those beaches that fulfil the minimum requirement to satisfy the visitor, such as cleanliness, access and infrastructure. Seven blue flags in one island means that this is an ideal place for vacationers."
No matter whether you want some downtime the day after visiting Siam Park in Tenerife or want to continue with the thrills by trying your hand at some of the water sports offered, Tenerife has a beach to suit your needs. Here we take you through the best beaches you can visit and guide you through some of the things you can do there.
Playa de las Americas
Arguably the most famous of Tenerife's beaches is Playa de las Americas because it is part of the island's party capital.
On top of the energetic nightclubs and vibrant beach bars, the beach is one of the best around with its golden sand attracting thousands of visitors every year.
The waters are calm and are perfect for bathing, but there are plenty of other activities visitors can try as well.
Activity to try
Surfing
There are many water sports on offer at Playa de las Americas, and one of the most popular is surfing.
The likes of K16 Surf School Tenerife, who are the Canarian Surf Federation's official school, offer visitors the chance to learn how to surf or for more experienced surfers take them for a day's surfing at the beach.
K16 Surf School provide wetsuits, surfboards, liability insurance and expert knowledge from professional teachers who speak English, Spanish, French and Italian.
Playa de las Teresitas
North of the village of San Andrés and near the capital of Santa Cruz de Tenerife, Playa de las Teresitas boasts a mile-long stretch of golden sand.
The golden sand was imported from the Sahara and the warm, shallow water is perfect for watching shoals of small fish who visit to take refuge in the artificial reef.
Tenerife Travel Secrets highly recommends visiting the beach, "Being a volcanic island the majority of the beaches have sand of black colour and/or pebbles.
"One of the exceptions is the famous Playa de las Teresitas, which has sand brought from the Sahara Desert. Las Teresitas is a place where there is a wide range of activities such as paddle boarding, beach volleyball or you can simply enjoy the golden sand and the sun."
Activity to try
Visit Loro Park
Loro Park theme park in Tenerife is located in Santa Cruz and therefore is well worth visiting during a trip to Playa de las Teresitas.
Loro Park is Europe's answer to SeaWorld in the US as it houses over 30,000 animals in a range of habitats.
The killer whale show at Orca Ocean is certainly one of their jewels in the crown, as are the 200 plus penguins living on an iceberg and the Gorillas Jungle.
The shark tunnel lets visitors get face to face with some of the world's deadliest predators and the dolphin and seal shows are a must-see as well.
Playa Del Duque
The well-kept golden sands of Playa Del Duque are the most popular of Costa Adeje's beaches in the southern part of the island.
Exclusive resorts and boutiques flank the trendy beach, which was awarded a Blue Flag and boasts crystal clear, warm waters.
The Blue Flag award isn't the only award this beach has won – it has in fact previously won the EU's top beach award for its cleanliness and outstanding facilities.
Activity to try
Dining
Costa Adeje is home to a number of amazing restaurants and one of the best is Restaurant 88.
Diners can taste the best South Tenerife food on offer with a stunning backdrop of sea views. Visitors get panoramic views of the Atlantic Ocean whilst tucking into the freshest sushi and other delicious meals. The gourmet Asian cuisine also makes for a really romantic meal.
Jet Ski safari
Another great activity to try at Playa Del Duque is to go on a jet ski. Water Sports Tenerife has a centre based at Playa Del Duque and visitors can go on a Jet Ski safari around the nearby coastline.
The actual circuit is based at Playa Torvisca, but a boat picks you up from Playa Del Duque. The trip can be just an hour long or can last for two hours and 30 minutes and go past the amazing cliffs of Los Gigantes.
El Médano
Fabio from Tenerife Travel Secrets says, "Another one that it is really famous is El Medano and La Tejita which has good waves and wind, the right recipe for surfers, windsurfers and kite surfers."
El Médano and its golden stretch of sand is famed for boasting perfect conditions for windsurfers, but its stunning mountainous scenery and turquoise seas also make it a must-visit for beachgoers.
Unlike most of the island, there are no designer shops or English bars. Instead there are local bars and restaurants just off the beach.
Activity to try
Windsurfing
El Médano is known as the windsurfing capital of Tenerife as the resort has 290 breezy days a year for windsurfers to fill their sails.
The sea temperature remains warm throughout the year, which is another bonus and there are lots of places offering visitors windsurfing lessons.
Image Credit: Mate Marschalko, vil.sandi, Andreas Habith (flickr.com)